Aidy Bryant Just Got Married & Her Engagement Story Will Make You LOL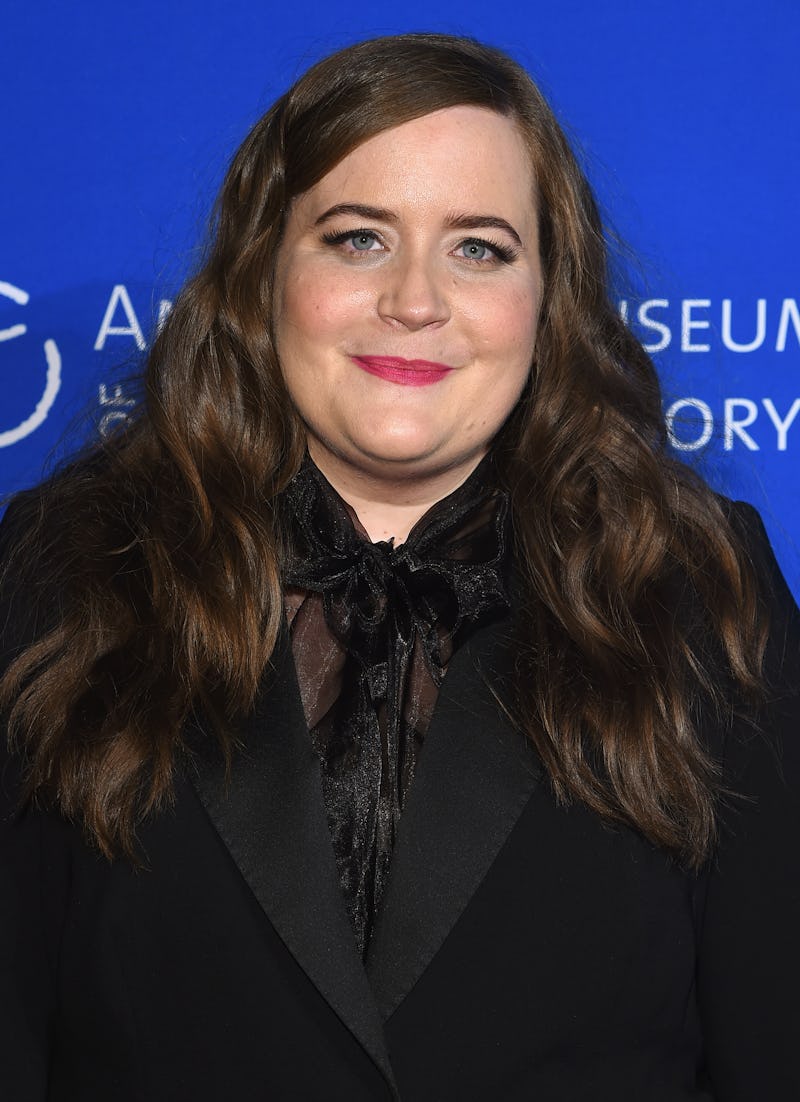 Jamie McCarthy/Getty Images Entertainment/Getty Images
Aidy Bryant surprised her fans on April 30 with a very sweet announcement. The Saturday Night Live star got married to her longtime love, Conner O'Malley, as Us Weekly reported. Who is Aidy Bryant's husband? He has a lengthy career in the entertainment industry, just like his wife.
Based on his IMDb page, O'Malley is an actor and writer who has a big background in comedy. He was a writer for Late Night with Seth Meyers from 2014 to 2016. During his time on the late night show, he also made frequent appearances on the show in an acting capacity, playing roles such as "Ryan Lochte Superfan" and "Gørbøn Hausinfrud." O'Malley has also appeared in guest starring roles on shows such as At Home with Amy Sedaris and The Chris Gethard Show.
Bryant's husband also found a bit of fame for his short videos, one of which showed him parodying a Donald Trump supporter, as "Mark Seevers," at one of the President's rallies in early 2016.
Before O'Malley made it in the entertainment business, he had a pretty normal job, as Bryant once described. She told The Daily Beast in 2016 that her now-husband used to be a garbage collector and said that the two have definitely come a long way together since their humble beginnings. "A literal garbage man who worked for 1-800-GOT-JUNK and pulled garbage out of hoarders' homes." She continued, "It's very special, eight years later now, to be doing this and still together."
In his interview with Paste Magazine, O'Malley said that he hails from Chicago, which is where he got his start on the improv circuit. During his time in Chicago, he met his future wife. The two met in 2008 when they were both performers at the Annoyance Theater in the Windy City, as NBC Chicago reported.
As previously mentioned, Bryant surprised her followers on April 30 by announcing that she had wed her longtime boyfriend. In an Instagram post, she showcased the two of them as they walked down the aisle together after exchanging vows. She captioned the lovely photo with a simple heart emoji.
It's unclear if all of Bryant's Saturday Night Live co-stars attended the wedding. However, based on her photo, it appeared that Weekend Update co-host (and upcoming Emmy Awards co-host) Michael Che was at the celebration. As E! Online reported, some of the SNL cast members, including Pete Davidson and Melissa Villaseñor, expressed their well wishes for Bryant and O'Malley in the comments of the Instagram post.
In April 2017, Bryant, in another surprise admission, revealed that she and O'Malley were engaged during her appearance on Late Night with Seth Meyers. And the story behind the couple's engagement is super sweet and, unsurprisingly, pretty funny, too.
The actor recounted that she got home from a long day at work to find her dog in a bow tie, "I was like, 'My dog doesn't wear a bow tie! Where is he going tonight?'" She continued, with a laugh, "Basically, the second I shut the door, a man — who I discovered was Conner — frantically came around the corner and was just like, 'Will you marry me?!' No box, no 'I love you.' ... Just a man in full terror standing very far from a dog in a bow tie, just holding a loose ring going, 'Will you marry me?!'"
She told Meyers that she originally thought that the whole thing was a joke, considering comedic franticness of it all. When she realized it wasn't, she accepted the proposal, "And it was really nice."
These two seem like such a sweet and, obviously, totally fun pair. And, hey, maybe the next time Bryant stops by one of the late night talk shows, she can give fans a little bit of hilarious insight into the pair's undoubtedly lovely wedding day.