Someone Scribbled Racial Slurs On Black Cadet Candidates' Doors At The Air Force Academy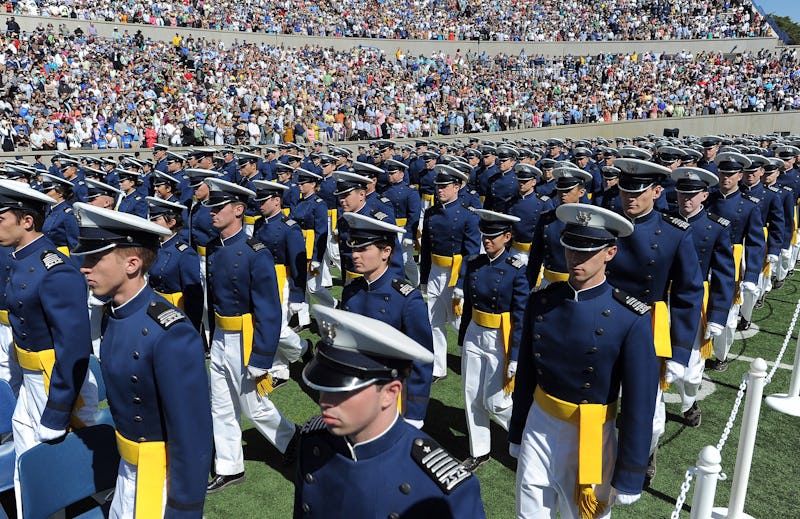 JEWEL SAMAD/AFP/Getty Images
There may have been an increase of outwardly racist incidents in the United States lately, but that doesn't mean that they're happening without any retribution. Racial slurs on cadets' doors at the Air Force Academy Preparatory School in Colorado Springs, Colorado, have now prompted an investigation into who carried out the act, with the superintendent of the Air Force Academy that "there is absolutely no place in our Air Force for racism" and that the transgression was a "red line" that "won't be crossed without significant repercussions."
The Air Force Times originally reported that the racist slogans had appeared on the doors of five African-American cadet candidates at the Air Force Academy Preparatory School, where promising potential cadets go to work on their academic skills before entering the Air Force Academy. Officials believed that whoever wrote the slurs did so on Monday, and the news came out on Thursday.
In a originally public Facebook post that has since been removed, the mother of one of these cadet candidates wrote the following message, along with a picture of her son's board: "This is why I'm so hurt! These young people are supposed to bond and protect each other and the country. Who would my son have to watch out for? The enemy or the enemy?"
Academy Superintendent Lt. Gen. Jay Silveria made an impassioned speech in response to the racist incident, speaking in support of the diversity present in the Air Force and denouncing the "horrible language and horrible ideas" written on the cadets' boards. "If you're outraged by those words, then you're in the right place. That kind of behavior has no place at the Prep School," he said, adding that the academy has no tolerance for that sort of bigoted behavior:
If you can't treat someone from another gender, whether that's a man or a woman, with dignity and respect, then you need to get out. If you demean someone in any way, then you need to get out. And if you can't treat someone from another race or different color skin with dignity and respect, then you need to get out.
He finished the speech by telling the cadets assembled to "reach for your phones" so that they could use his words for the future. He ended by repeating the most powerful line of his speech: "If you can't treat someone with dignity and respect, then get out."
The father of one of the cadets spoke with the Air Force Times, saying that the word used in the slurs "has zero power in my house" and that the incident was an act of "utter stupidity." "The real victim here is that individual [who wrote the slurs]," the cadet's father went on to say, adding:
Because that individual is going to lose a promising career in the military. That individual is going to go home disgraced. Him or her is the real victim, because they were raised with that kind of vitriol and that kind of hate. My son is not a victim, I don't view him as a victim.
If the Air Force succeeds in its investigation, that individual could indeed go home disgraced. It wasn't just the Preparatory School's superintendent denouncing the crimes, either. The Washington Post reports that Sen. Michael Bennet of Colorado issued a statement on Thursday in response to the incident, saying, "This hateful act stands contrary to everything that makes us strong as a nation. We are glad Academy leadership has made clear this will not be tolerated, and we're grateful for the example set by their response."
By denouncing this act so quickly and so forcefully, the Air Force has taken an appropriate course of action against such an appearance of racism. The superintendent's speech has begun to go viral on Twitter, because people hope that his words will become an example not only for the cadets who were there to hear them in person.