The Grammys Could Pay Tribute To Al Jarreau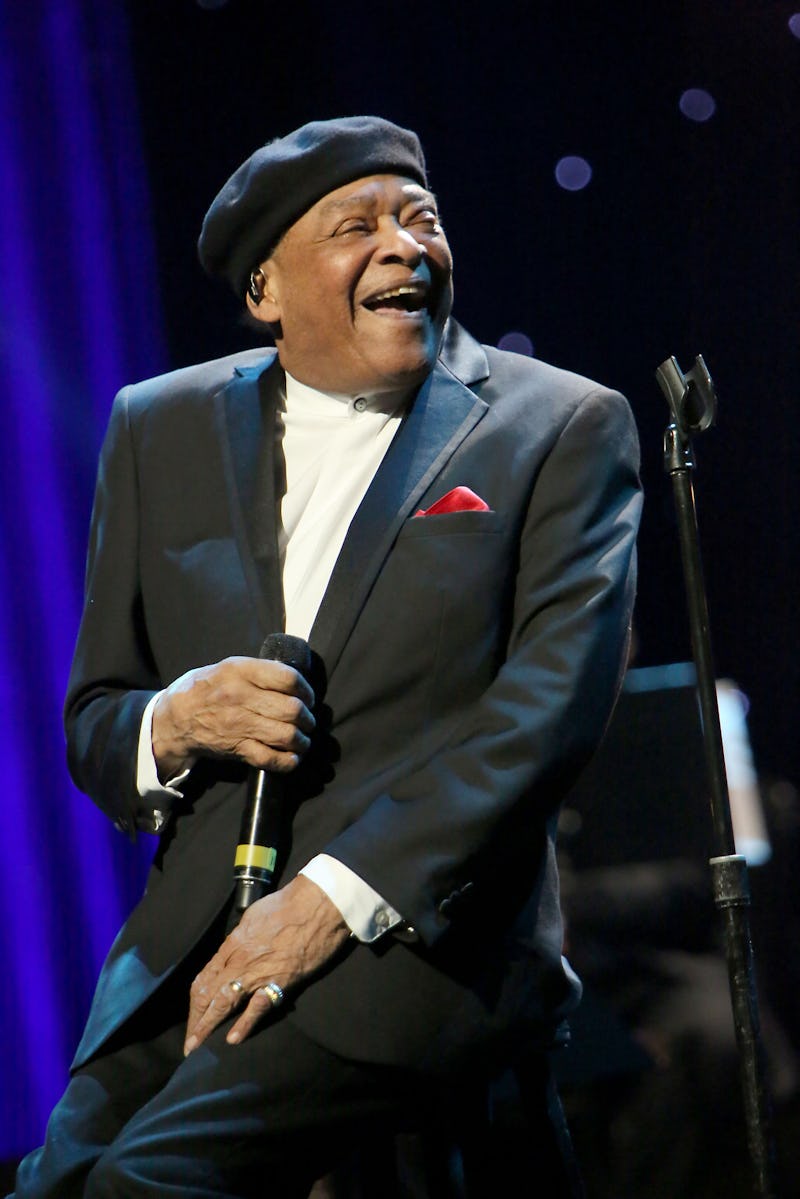 Rachel Murray/Getty Images Entertainment/Getty Images
Legendary jazz singer Al Jarreau passed away on Sunday, and his loss will be felt throughout the music world. Just last week, the 76-year-old singer announced on his website that he would retire from touring and performing due to exhaustion. The singer was an influential and inspiring artist, and given his incredible career, it wouldn't be surprising if there was an Al Jarreau Grammys tribute at Sunday night's awards show.
After all, the musician was a key figure in the jazz world since 1968, when he began performing at spots around Los Angeles. His work reached commercial success in the 1980s, after appearing on high-profile television shows like SNL and debuting his successful album Breakin Away. The singer was also acclaimed critically, nominated for over a dozen Grammy Awards, and winning seven. He was the first vocalist to be nominated in the jazz, R&B, and pop categories, and for this reason and more, a Grammys tribute would be totally fitting.
Seeing that the announcement of his death came only hours before the show, it's highly unlikely there'll be an actual tribute done at the Grammys. Yet it's very possible that the show will do a quick nod to the singer in some way, given his rich musical past. Jarreau's work spanned over five decades, and his contributions to jazz and popular music are incalculable. The singer collaborated with some of jazz's biggest stars, including Miles Davis, George Benson, and the composer Larry Baird. His unique voice and singing style led to his many Grammy wins and overall success.
The star also wrote for television often, composing the theme song for the popular 1985 television show Moonlighting. He was a busy man, and Jarreau performed right until the end, only stopping the relentless tour and television appearances recently. It would be wonderful if the Grammy Awards honored his hard work, and showcased the star's versatile career.
If the show does not have a memorial performance planned for the jazz singer, though, it is likely that those nominated in the jazz, R&B, or pop music categories might mention Jarreau in their acceptance speeches. Some of the jazz vocalists nominated include Rene Marie, Branford Marsalis Quartet with Kurt Elling, and Gregory Porter, any of whom might note the role that Jarreau plays in their own work. Those in the R&B category, including William Bell, BJ the Chicago Kid, and Jill Scott, could also mention the late performer.
No matter what category an artist is nominated in for Sunday's awards, Jarreau's career was likely an inspiration. He broke new territory, with a voice and musical style that couldn't be defined. The longevity of his career, and his love of music, are both worthy of respect from his musical contemporaries. Fans will definitely have their eyes on the Grammy Awards to see how the show will honor the singer's legacy.