An Airline Allegedly "Brushed Off" Randi Zuckerberg's Harassment Claims — So She Went To Twitter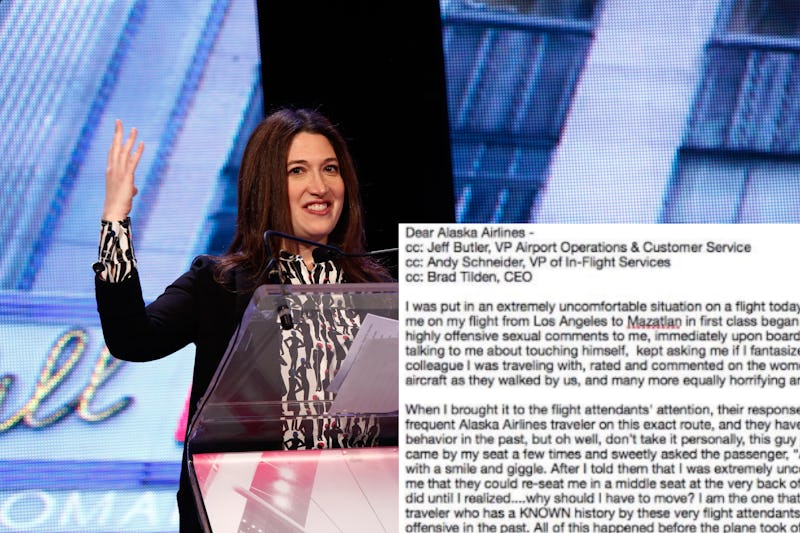 Getty / Brian Ach / Stringer
In a tweet posted to her account Wednesday evening, Randi Zuckerberg called out Alaska Airlines for allegedly enabling a passenger seated next to her who she claims sexually harassed her repeatedly on a recent flight. Zuckerberg, who is the CEO of Zuckerberg Media and sister of Facebook's Mark Zuckerberg, tweeted a letter she sent to Alaska Airline's most senior officers, writing about the "repeated lewd sexual remarks" a passenger allegedly made with no immediate repercussions. Bustle has reached out to Zuckerberg, and will update this piece upon response. Alaska Airlines has since responded to Zuckerberg's letter and shared this statement with Bustle over email:
What Randi Zuckerberg shared with us is very disturbing. The safety and well-being of our guests on Alaska Airlines is our number one priority. We're fully investigating this situation and will take appropriate steps, as needed. We want our guests to feel safe. As a company, we have zero tolerance for any type of sexual misconduct that creates an unsafe environment for our guests and crew members. Two of Alaska's leaders spoke with Randi shortly after she posted her letter. We have launched a full investigation and have revoked the accused passenger's travel privileges pending the outcome of that investigation.
In the letter she shared on Twitter, Zuckerberg alleges the passenger talked "about touching himself, kept asking me if I fantasized about the female business colleague I was travelling with." She alleges he also made lewd remarks about other passengers, claiming he "rated and commented on the women's bodies boarding the aircraft." When Zuckerberg initially alerted a flight attendant about the man's alleged behavior, she claims she was told "don't take it personally."
Over the course of their three-hour flight from Los Angeles to Mazatlan, Zuckerberg alleges the man made multiple "horrifying and offensive comments." She wrote that the flight attendants allegedly not only brushed off her concern and discomfort regarding the man's remarks, they implied that he had a history of such behavior on their flights.
"The flight attendants told me he was a frequent flier, brushed off his behavior & kept giving him drinks," Zuckerberg tweeted. In her letter, she also alleged that flight attendants playfully asked the man, "Are you behaving today?" after Zuckerberg initially complained.
Zuckerberg claims flight attendants offered her a different seat in the back of the plane (both she and the man were seated in first class). Though she considered moving, she ultimately says she decided to stay in her seat, writing, "Why should I have to move? I am the one [who] is being harassed."
Confirming Alaska Airline's statement, Zuckerberg shared on Twitter and Facebook that the airline had reached out to her and suspended the man's travel privileges pending an ongoing investigation. "While it never should have happened in the first place," Zuckerberg wrote, "I am thankful that they are taking the situation seriously.
On Twitter, many were quick to question whether the speediness of the airline's response were a result of Zuckerberg's status. "Imagine all of the women flying who don't have the same platform to be heard or affirmed," sociology professor Kimberly Kay Hoang tweeted. Zuckerberg responded that it is for that reason exactly, though she was "embarrassed and humiliated," that she chose to publicly call the alleged incident out.
As Nora Caplan-Bricker wrote for Slate in 2015, many airlines remain ill-equipped when it comes to dealing with on-flight sexual harassment and assault. Caplan-Bricker spoke with a woman named Dana who claims a man groped her while she was asleep on a flight. Aside from moving Dana to another seat, the man allegedly received little to no repercussions, ultimately deboarding the plane with everyone else and leaving.
Many female flight attendants are unfortunately all too familiar with sexual harassment. As Jamie Feldman recently wrote for HuffPost, everything from lewd remarks to unwanted physical contact are regular parts of many flight attendant's job, and it often happens with no consequences. "If someone grabs you or threatens you, nothing is going to happen," flight attendant Dawn Arthur told HuffPost. "They're on a tight timetable. They're not going to stop the plane. And then everyone's going to be mad at you; you're not a team player, you're difficult."
Taking these kinds of accusations seriously is the first step to making sure it doesn't continue to happen. Thanks to women like Zuckerberg speaking out we are slowly, but surely, getting there.