Alcohol Deaths Among Women Are On The Rise — But No One's Talking About It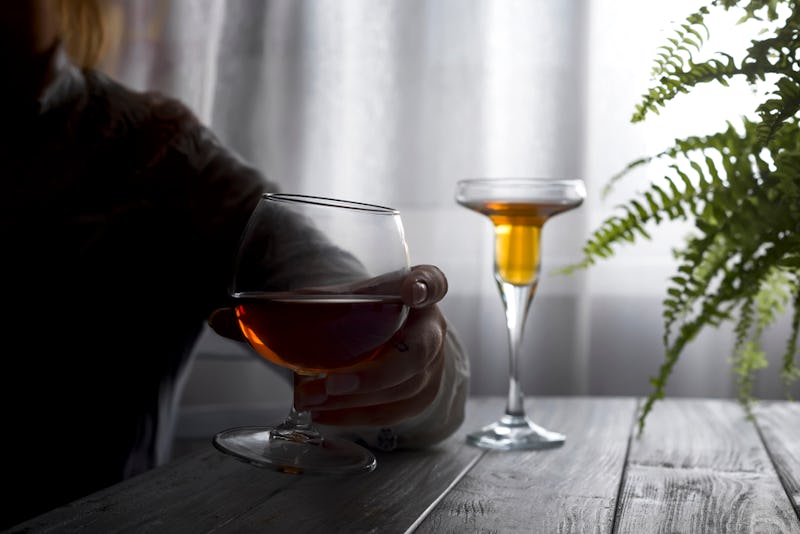 Yuliia Mazurkevych/Shutterstock
While the opioid crisis is rightfully getting attention for the destruction it's caused, alcohol use among women has quietly risen in the background, USA Today reports. Citing a study from the Institute for Health Metrics and Evaluation at the University of Washington and published in the journal The Lancet, USA Today says that during a 10-year period, alcohol related deaths among women rose 67 percent. What's more, the study reported that alcohol is the leading cause of death worldwide for people between the ages of 15 and 49.
"The story is that no one has noticed this," Dr. Max Griswold, lead author of the study, told Jayne O'Donnell for USA Today. "It hasn't really been researched before." Because people who die from alcohol use often actually die of a related disease like cancer, cirrhosis, suicide, or traffic accidents, the numbers can be hard to track. The study cited that for women over 50, 27.1 percent of alcohol-related deaths manifest as cancer, almost 10 percent higher than men in the same age group. Another report called "Pain in the Nation" from the Trust for America's Health, the Well Being Trust, and the Berkeley Research Group noted that between 2000 and 2015, alcohol-induced deaths increased by 75 percent among women.
"The strong association between alcohol consumption and the risk of cancer, injuries, and infectious diseases offset the protective effects for ischaemic heart disease in women in our study. Although the health risks associated with alcohol starts off being small with one drink a day, they then rise rapidly as people drink more," Griswold said in a press release about the Lancet study.
Another study published in the journal JAMA Psychiatry found that between 2001 and 2013 high-risk drinking among women increased by almost 60 percent and alcohol use disorder increased by close to 84 percent. These numbers might seem shocking, which begs the question: why are women drinking so much? The study speculated that the pressure on women to have it all leads to stress that could be contributing to increased alcohol consumption.
What's more, the website Quit Alcohol noted that many adult social interactions include alcohol, which can make it more difficult to identify if you or someone close to you is drinking too much. "Because society approves of drinking at almost any volume, noticing a dependence issue is that much more difficult. A woman might drink every day because the social situations dictate the practice. In reality, she may be dependent on the substance for both physical and psychological reasons."
There's also growing evidence that a number of people who develop substance use disorder actually have a co-occurring mental health condition, Jess Keefe, senior editor at Shatterproof, a nonprofit that works to end stigma around substance use, told Bustle for a recent story about drug use. The pressure on women today to be all things to all people is crushing, and many in cases, women turn to alcohol to self medicate. The drastic rise of alcohol-related deaths among women is a wake-up call that both substance use among women and co-occurring conditions need more resources and attention ASAP.
If you or someone you know is seeking help for substance use, call the SAMHSA National Helpline at 1-800-662-HELP(4357).