Aldi Is Selling FOOT LONG Pigs In Blankets & It's The Festive Upgrade 2018 Deserves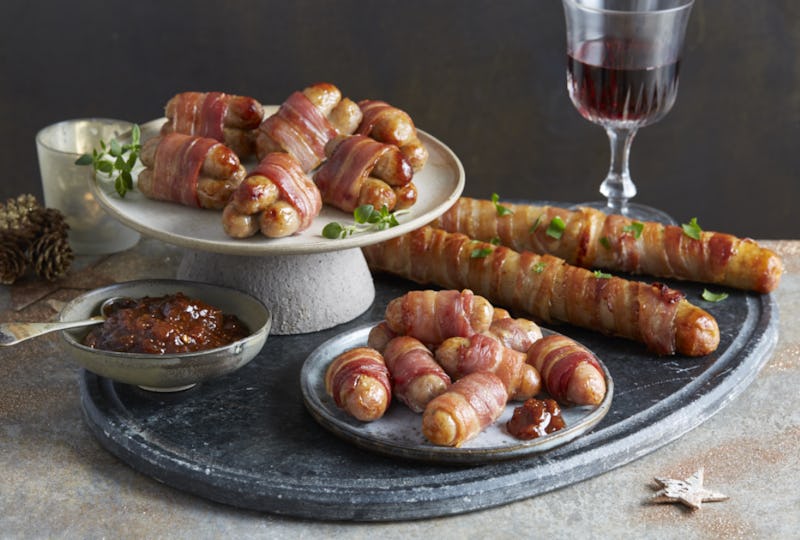 Aldi
This little piggy went to the market, this little piggy stayed home. This little piggy had roast beef, this little piggy had none. And THIS little piggy became a foot long pig in blanket. Stop the clocks. One second did I lose track of my thoughts there? Of course I flipping did because news alert of the week is that guys, Aldi is selling foot long pigs in blankets this Christmas. Breathe, calm down, brace yourself for a festive treat of epic proportions.
Yes, the little (or should I say huge) delights will come in packets of two and cost you a deliciously reasonable £2.99. Mmmmm, low cost saturated fat. The good value supermarket will be selling these bad boys from Dec. 6, and no doubt they will absolutely fly off the shelves. Yes, pigs will actually be flying this festive season.
This particular special sausagey item is joining a whole host of other seasonal items in Aldi's stores. In the interest of avoiding in store chaos/black Friday-esque rioting in the aisles, they have chosen to stagger their Christmas delights this season. Well good on 'em, I say.
Other items of note available this Christmas at Aldi are a sausage roll garland — available Dec. 12, sharing bread with camembert, also available Dec. 12, and three little pigs wrapped in blankets, available Dec. 19. So just stick those dates in your diary hun.
Aldi are not the only ones going a bit left of field with their pigs in blankets, oh no. ASDA has released a foot-long pig in blanket, but this one is a bit more on the Rubenesque side, weighing a pretty hefty 650g. Wahey!
In the interest of science, let's have a look at another super sized and grotesque in its deliciousness Christmas delight available this year.
Waitrose have made a sausage garland (not kidding) described as having a combination of three different sausages. They are "savoury sage and spinach; sweet cranberry and beetroot; classic chestnut and apple, plaited into an appetising Christmas wreath shape." Look tbh I am not sure how appetising a meat wreath is but I guess each to their own.
And for those who don't eat meat or who would rather cut down, Waitrose is making some yummy vegetarian "squashed in blankets" which is basically like a yummy bitesize squash-age roll that will hit all those umami needs at once.
But what about the vegan of this world? Surely people getting excited about meat is less and less of a thing right? I am pretty sure Christmas is now the only time I really eat meat. So I find my week day self wondering... y'all what are the vegan options?
So Violife are doing a vegan cheese board available at Asda. Yes y'all. And not only is it vegan but it is gluten free, nut free, and kosher. So you have all of your dietary requirements covered just in case. At only £5, you will get a blue style faux cheese, a cheddar style faux cheese, and a cranberry style faux cheese. Absolutely not something to sniff at.
This Christmas there is something for everyone. So basically fill your fridge with all the foods, cover all those bases, and then when Christmas is over the left overs are yours babe.