Aldi Is Launching Its First Ever Beauty Advent Calendar & It's Seriously Affordable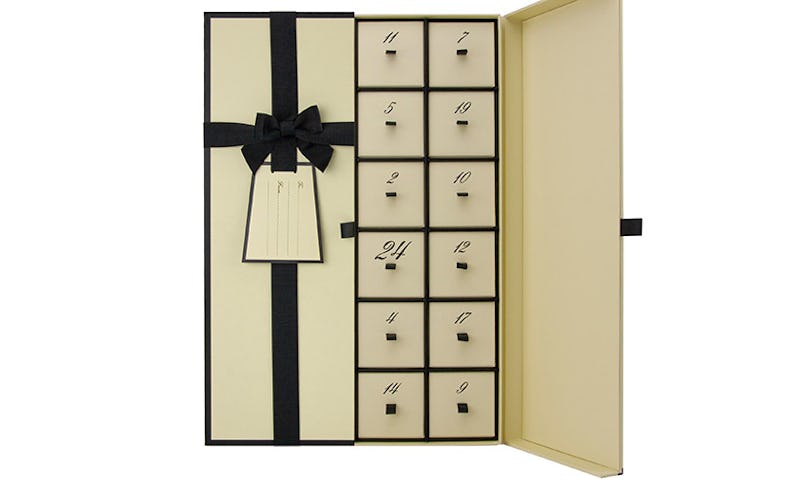 Aldi
Beauty advent calendars have quickly become a festive staple. But most aren't cheap, with some even ranging well past the three figure mark. Enter Aldi. The budget supermarket has announced the release of its very own Christmas-time calendar, selling it for a price that will please anyone looking for an affordable option this December. So what's in Aldi's beauty advent calendar and is it worth investing in?
Just like most advent calendars, Aldi's version contains 24 products from its luxury range. The full list includes five candles, seven fragrances, hand and body washes, body creams, and hand and body lotions. There's a huge range of scent options with pomegranate, amber and ginger, blackberry and bay, velvety rose, and lime, basil, and mandarin all on offer.
Of course, you can't talk about the merits of any Aldi product without first mentioning its price. The retailer has decided to sell its advent calendar for £49.99, making it an absolute steal compared to some of its more high-end counterparts. Aldi is clearly expecting a flurry of orders as it's already made the calendar available for pre-order online with an estimated shipping date of November 4, meaning that you can get your hands on it within 3-5 days after that. The calendar is also set to land in stores in November.
"Since the launch of our Luxury Collection home fragrance and bath and body care range, we've been delighted with the reaction from our customers," Aldi UK's managing director of buying, Julie Ashfield, said in a statement.
"Launching an advent calendar in this range is a result of the growing popularity of beauty advent calendars in the market and the warm response to our products. With beautiful scents and a luxurious look and feel, our Luxury Advent Calendar allows customers to enjoy a high-end product without the expensive price tag." Fans of Aldi's recent luxe candle launch will be pleased to see that several will featured in the calendar. The calendar comes at a time when more and more brands are creating beauty advent calendars for those who want a remix on the typical chocolate version. Highlights include this MAC beauty, this stunning Jo Malone package, and the iconic M&S offering.
Aldi looks set to dominate the advent calendar market. Its impressive wine selection is back for 2018. First launched in 2017, the triangular-shaped calendar houses 24 miniature wine bottles containing a mixture of red, white, and rosé. Bottles of bubbly can also be found behind a few of the doors.
This year's wine advent calendar will be available to buy from November 4 and won't be restocked once it's gone. Last year's cost £49.99 so expect a similar price this time round. Unfortunately, only one per customer is allowed so your entire household won't be able to enjoy the alcoholic festivities unless you buy each calendar separately.
There are also reports that Aldi has a cheese advent calendar too, according to People, featuring 24 imported mini cheeses. Could this Christmas get any better? No, I really don't think it can.
Enjoy the gorging.