Alec Baldwin Reveals How His Trump Role Formed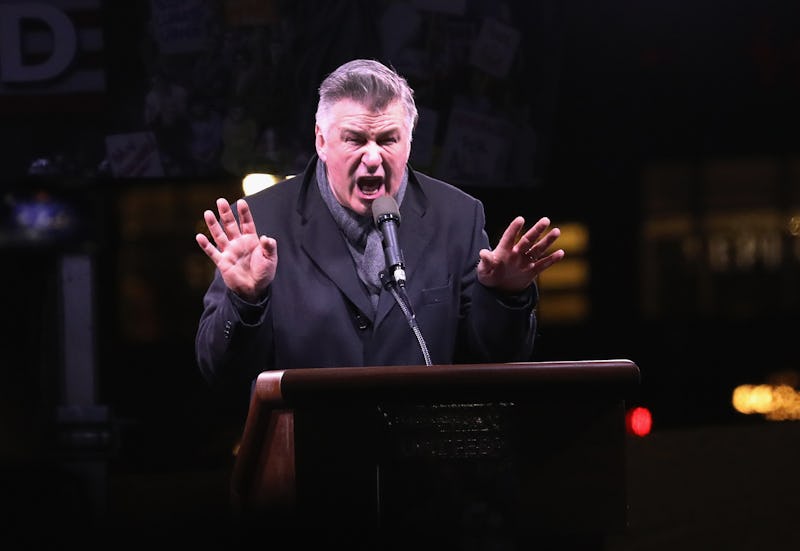 John Moore/Getty Images News/Getty Images
If you imagined Alec Baldwin spending hours in the actor's chair perfecting his Donald Trump impersonation — how else could he make it so spot-on? — you may be surprised to learn how the presidential character was created. It turns out that Baldwin's Trump impersonation was made up on the fly, during a Saturday Night Live dress rehearsal. Leave it to an actor like Baldwin to create one of the best new characters the sketch comedy show has seen in decades.
In a Wednesday interview on Jimmy Kimmel Live!, Baldwin discussed how he brought the yuuuuger-than-life character onto your television screen.
"I never imitated him or had anything to do with him," the Hollywood actor told Kimmel, revealing that he had originally turned down the role. "Any time you have any kind of mimicry," he said, "it's usually someone you appreciate."
But thankfully for the millions of Baldwin-turned-Trump fans (and to the dismay of the president himself), the actor ended up taking the part. He mentioned that Tina Fey and SNL creator Lorne Michaels "pushed me to do it."
Even as he got ready for the episode, he still wasn't sure how he was going to pull off playing Trump.
"The moment the stage manager took me to my mark for the first dress rehearsal at eight o'clock, I [still] had no idea what I was going to do," Baldwin explained to Kimmel. "The moment I walked out there, I just said to myself, eyebrow up. I tried to stick my face out, my mouth out."
Baldwin said as he was getting his makeup done (complete with the famous Trump wig), he had a moment: He kept repeating the words "China, China, China," describing the riff as being "like a scene from a mental hospital."
Now that Baldwin has the character down, he says he hopes to play Trump at the White House Correspondents' Dinner (an event the president is going to skip out on). But since Trump won't be there himself, Baldwin (along with a competitive group of other Trump impersonators) are apparently lobbying for the spot.
"There's a couple guys on the internet who are saying … 'I'm the only man who should play Trump!'" Baldwin explained. "There's a lot of Trump competition."
Kimmel said that the WHCD Trump impersonator should be the one the president hates the most (an honor that undoubtedly goes to Baldwin). But while Trump may dislike him, SNL fans are sure to love him for years to come.