Amy Sherman-Palladino's New Show Has A Major 'Gilmore Girls' Connection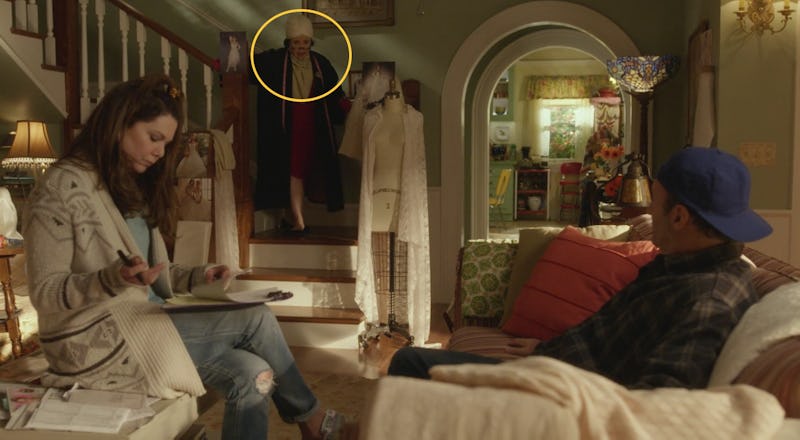 Netflix
If you want to talk about longevity in Hollywood, look no further than Alex Borstein. She has a face you'll recognize from stints on shows like MADtv (hello, Miss Swan) and Getting On, and a voice you can hear in syndication on every channel, every day as Lois Griffin on Family Guy. Her latest project, though, could be the most exciting to Gilmore Girls fans. Aside from sharing a creative team (Amy Sherman-Palladino and Daniel Palladino), Gilmore Girls and Marvelous Mrs. Maisel share Alex Borstein.
Of course, connections aside, The Marvelous Mrs. Maisel isn't quite Gilmore Girls. According to The Hollywood Reporter, the pilot, which has been airing on Amazon Prime since March and resulted in Amazon's first-ever multi-season pickup — stars Rachel Brosnahan as Midge Maisel. She's a 1958 housewife who thinks she has the life she's dreamed of… until it all comes crashing down when her husband leaves her for her secretary. She is not happy, and so she takes, drunkenly, to the stage of her local comedy club to rant and rave. Turns out that Midge has a gift for comedy, and Borstein's Susie Myerson, the club manager, knows that Midge is going to be a star. But, this isn't the first Palladino project Borstein has been in.
Sherman-Palladino and Borstein have a history of working together, because Borstein played not one but two characters over the tenure of Gilmore Girls. She was also supposed to play Sookie, but that fell through because Borstein was on MADtv at the time. In the earlier seasons of the show, Borstein was Drella, the Independence Inn's cranky harp player. Later on, Borstein played Miss Celine, Emily's resident stylist and the keeper of many a Hollywood secret.
Oh, and Borstein was also married to Jackson Douglas, aka Sookie's husband Jackson, from 1999 to 2014. The Gilmore Girls alum stayed tight with the show's creators after it ended, because the role of Susie in The Marvelous Mrs. Maisel, according to E! News, was written just for Borstein. "A lot of times they say that just to make you feel good about yourself. Well, Amy told me about the show while she was developing it a few years ago," Borstein said. "We had lunch and she's like, 'We're working on this.' I don't know if she's testing the waters to see if I'd like the area and I said, 'That sounds amazing.' I choose to believe her, maybe she did write it for me."
Borstein should believe Sherman-Palladino, because she has nothing but lovely things to say about her. "[Borstein is] a really great actress and just a great instinctual actress," Sherman-Palladino told E! News. "She was the original Sookie on Gilmore Girls and then MADtv wouldn't let her out, so we've been trying to suck her back into our evil orbit for quite a while, so now we've got her!"
Susie is one tough cookie, and her guidance certainly leads the way for Midge over the first season of The Marvelous Mrs. Maisel. A wallflower, Susie is not, and Borstein is thankful for that. " I've been so lucky with Getting On, even Family Guy, playing these women who are not a typical sitcom mom, or a typical thing you'd see. That's the same thing with Susie," Borstein told E! News. "She's three-dimensional, she's interesting, she's different, she's not just a sidekick with a wisecrack. She's not the fat girl … it's not about getting a guy, or why don't guys like me, it's so refreshingly different and real and fun. She's hardened, but there's a lot of soft mushy vulnerability inside."
Between voice work and numerous television shows, Borstein is a busy woman. Luckily for Gilmore Girls aficionados, she orbits close enough to the Sherman-Palladino planet that fans get to see her from time to time.