9 Actors Who Played Two Parts On 'Gilmore Girls'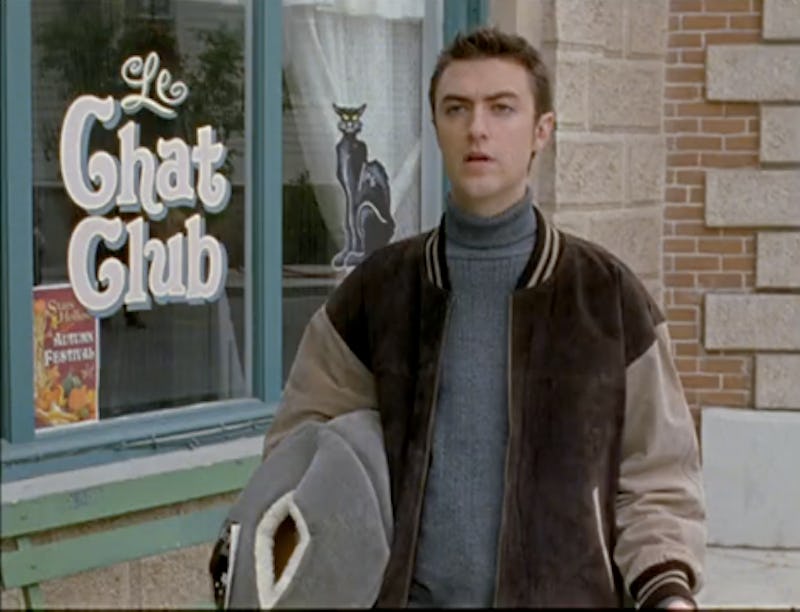 The buzz surrounding Netflix's four-episode Gilmore Girls revival has been huge, with fans ecstatic over every casting announcement and new theory. Everyone wants to know which beloved characters are coming back to that crazy corner of Connecticut, as Stars Hollow was full of memorable individuals who'd be sorely missed in a reboot. Yet while it's known that all three of Rory's ex-boyfriends are set to return, as are Michel and Lane, what about some of the Gilmore Girls actors who played two parts? Are one or both of these actors' alter egos returning to Stars Hollow?
If you are a fan of Gilmore Girls, you've probably noticed that the show contains many bit parts or small roles played by actors before they were famous, like Adam Brody and Jon Hamm. And if you're a big fan, you may have noticed that there are a few instances of the same actor playing two parts across several seasons (the most glaring double-casting being Sherilyn Fenn as both Anna Nardini and Jimmy's girlfriend — more on that below). It may seem strange, but hey, odder things have happened in the world of TV. But just what other familiar faces can fans see in dual roles on Gilmore Girls? Here are nine actors who played two parts on the show.
1. Sherilyn Fenn As Sasha & Anna
Fenn, who's also famous for playing seductive teen Audrey Horne on Twin Peaks, played both Anna Nardini (Luke's baby mama) and Sasha (Jimmy's girlfriend). While fans loved Sasha in Jess's backdoor pilot episode, "Here Comes The Son, "I think viewers can agree they were less enthused about Fenn's second part as mother to one of Gilmore Girls' least-liked character ever: April Nardini.
2. Alex Borstein As Drella & Ms. Celine
Alex Borstein was originally cast as Sookie, and is married to Jackson Douglas (aka Jackson Belleville) in real life. While the role of Sookie eventually went to Melissa McCarthy, Borstein went on to play two characters on the series: The Independence Inn harpist Drella and Emily Gilmore's fabulous stylist Miss Celine. Bonus: Borstein also voiced the terrifying wife on the answering machine of Lorelai's overly familiar new neighbor in the episode where Jess gets wet in the sprinklers.
3. Sean Gunn As Kirk & Mick
When Sean Gunn, brother to filmmaker James Gunn of Guardians of the Galaxy fame, first appeared in Stars Hollow in the second ever episode of the series, he was Mick, a DSL installer. Later in Season 1, he became Kirk, who evolved from a Doose's employee who didn't know who Miss Patty was to a Stars Hollow regular with a full history.
4. Marion Ross As Gran & Cousin Marilyn
TV legend and Happy Days mom Marion Ross memorably played both the reigning Lorelai, Richard's mother, and her petty thief of a niece, Cousin Marilyn, who specialized in getting her hands on family heirlooms. This double casting was a tad confusing for many viewers, especially during the funeral episode.
5. Riki Lindhome As A Stars Hollow High Student & Juliet
Riki Lindhome, of Garfunkel And Oates fame, played both a nosy girl at Stars Hollow High who asked Lorelai a bunch of personal questions about her teen pregnancy back in Season 3. Lindhome later returned as Juliet, a privileged Yale girl who never seemed to eat anything. Her named character stuck around for much longer — a whole four episodes.
6. Samantha Shelton As A Debutante & A Bridesmaid
Samantha Shelton played Libby, a debutante with a flask, in Season 2's "Presenting Lorelai Gilmore" and reappeared as Walker, one of Logan's bridesmaids at Honor's Season 6 wedding. The actor has also played roles in Bones and Conviction and pulls more than double duty in Bob's Burgers, where she voices multiple characters.
7. Seth MacFarlane As Zach (From Graduation) & Bob Merriam
Zach, the rich-people-hater at Lorelai's graduation, was Family Guy creator Seth MacFarlane's first live-action role. There's an interesting connection here, as Amy Sherman-Palladino's husband, Daniel Palladino, a writer, producer, and director on the series, is also a producer on Family Guy. MacFarlane also voiced Bob Merriam, Emily Gilmore's lawyer in "I Solemnly Swear" and appeared uncredited as a folk singer in Season 4's "Die, Jerk."
8. Lance Barber As Hugo & The Man At The Inn
Spotted by Redditor pretendkendra, Lance Barber of Young Sheldon, It's Always Sunny in Philadelphia, and The Comeback played a man helping build the stage for the mother-daughter fashion show in Season 2, and later Hugo, the editor of the online magazine Rory writes for, in Season 7.
9. Mary Lynn Rajskub As A Random Actor & A Troubadour
Redditor apohermion noticed 24 star Rajskub's double roles on the series. Maybe the actor in Kirk's short film and the troubadour looking for her big break in Stars Hollow, both played by Mary Lynn Rajskub, are one and the same? Who knows? She could be a triple threat, thanks to Ms. Patty.
Sure, you could see all these doubles as continuity mistakes, but when it comes to Gilmore Girls, the way I see it, the more the merrier.
This post was originally published on Mar. 18, 2016. It was updated on Aug. 28, 2019. Additional reporting by Sage Young.