Alex Rodriguez Is Jennifer Lopez's Biggest Fan As She Preps For Her VMAs Performance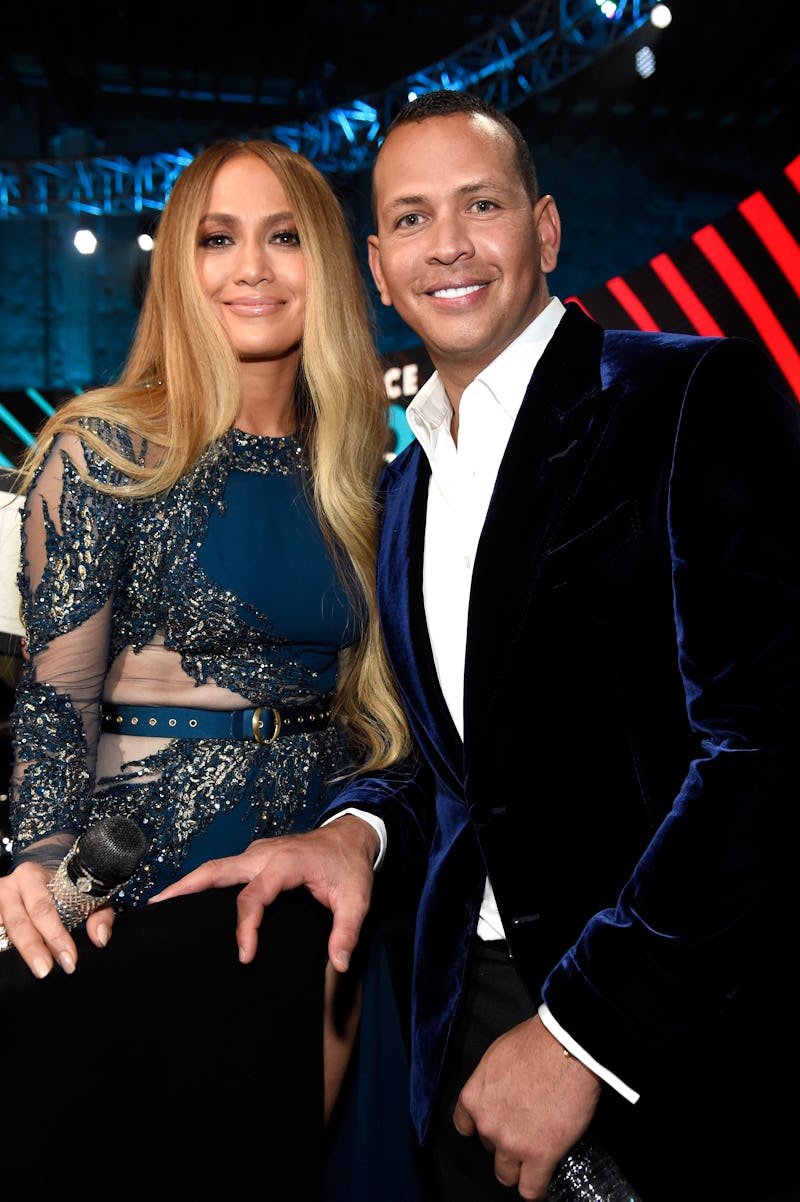 Kevin Mazur/One Voice: Somos Live!/Getty Images Entertainment/Getty Images
There are two types of people in this world: Jennifer Lopez fans and liars. There are a lot of J. Lo fanatics out there, but Alex Rodriguez may be Lopez's number-one fan. Sure, there's probably some boyfriend bias in there, but aside from that, it's undeniable that this woman is an icon.
Lopez is even being honored with the Video Vanguard Award at the 2018 MTV Video Music Awards on Monday night. Of course, this is a big feat for the superstar, but A-Rod may be the person who's most excited about it, aside from Lopez herself, obviously. He even got involved in the rehearsal himself by helping the crew push the stage around. So, he's the boyfriend, behind-the-scenes photographer, and the stagehand? This man is really bringing a lot to the table.
Rodriguez posted an Instagram video from his time backstage on Aug. 19 with a sweet caption about Lopez and the crew that helps put on her performances. He wrote,
"Somehow, I went from performing on baseball's greatest stage, Yankee Stadium, to ... working on the backstage crew? Mad respect for what these guys do behind the scenes, but I'm secretly hoping someone notices my dancing skills back here because so I can somehow be closer to see @jlo kill it Monday at the @mtv #VMA Awards."
Clearly J.Lo is the dancer in this relationship, but A-Rod does have one of the best teachers on the planet if he wants to step up his skills.
His caption continued,
"The amount of sweat, focus, drive and determination she puts in everything she does is truly inspiring. She's the embodiment of what the Michael Jackson Video Vanguard Award represents. A lifetime of achievement, and she still reaches for the sky every single day."
Not only that, but he added the hashtags "#icon #legend #superstar." These are all very much accurate. Just imagine dating someone who is an icon, legend, and superstar. Unsurprisingly, he's her biggest fan. Who wouldn't be?
On Aug. 17, the former New York Yankee shared a mirror selfie of himself taking a photo of his girlfriend at her VMA rehearsal with the caption, "Practicing my fan boy selfies for when @jlo accepts her Michael Jackson Video Vanguard Award on Monday night. @mtv #VMA #RadioCityMusicHall."
This isn't the first time that the sportscaster fanned out over her rehearsals. In April, Rodriguez posted behind-the-scenes video of Lopez working on her dance moves. He praised her for rehearsing and even used some hashtags to promote her performance: "Never stop practicing. Ready for the @LatinBillboards tonight on @Telemundo. #ElAnillo @jlo."
Recently, Rodriguez shared a video of Lopez singing her iconic song "Let's Get Loud" at a restaurant in Capri, Italy, just like most of the other fans in attendance probably did.
Then back in June, A-Rod used that preferential boyfriend seating to record an up-close video of JLo performing in Las Vegas with the Chain Smokers. He couldn't help fawning over her in the caption, writing, "My girl killing it with the @thechainsmokers #dinero."
At this point Rodriguez's Instagram account is turning into a Jennifer Lopez fan account with some sports mixed in, but that's not a bad thing. He really does have the most supportive sentiments for his superstar girlfriend and all of her accomplishments.
In May, he shared a photo of her all decked out in costume and wrote, "Congratulations to this gorgeous woman, who once again killed it with her performance @billboard Music Awards tonight in @Vegas."
A-Rod doesn't just fan out over the music. He's also supportive of Lopez's acting roles as well. He shared a video of the actor (on a private plane) looking like her Shades of Blue character Harlee Santos and wrote, " I miss #Harlee already."
Lopez isn't the only performer that A-Rod stans over. He was just as supportive of Lopez's daughter Emme and his two daughters, Ella and Natasha, at their dance recital. He even took a group photo with Lopez's ex-husband Marc Anthony.
So many people love Lopez. She's a pop culture icon. Of course, Rodriguez is her biggest fan, especially since he spends so much time with her getting a glimpse at all the effort that goes into her performances. There's no doubt that he'll be there to cheer her on when she takes the stage at the VMAs.