Alexandria Ocasio-Cortez & Bernie Sanders Are Hitting The Road Together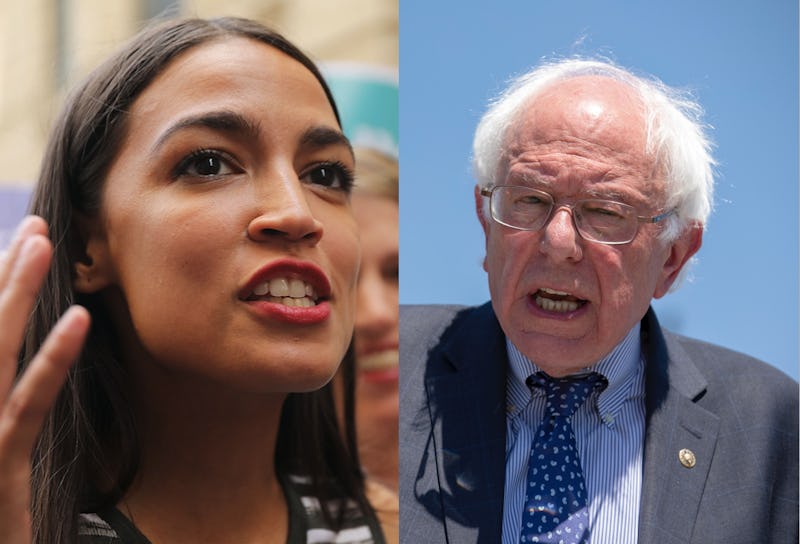 Spencer Platt; Alex Edelman/Getty Images News/Getty Images
One of the most promising Democratic candidates is taking her political capital on the road. Democratic congressional candidate Alexandria Ocasio-Cortez and Bernie Sanders are campaigning together in Kansas in July to make a case for their left agenda in red states.
"All over this country, you have people who understand that we need to [change] the minimum wage to a living wage; that health care is a right; that we need to rebuild our infrastructure," Sanders, a Vermont senator, told The Washington Post. "Those are popular issues in the Bronx. These are popular issues in Vermont. In Kansas, they've gone through the Brownback agenda, and they do not believe you should give tax breaks to the rich and cut Social Security."
Ocasio-Cortez became a leftist political darling when her underdog, grassroots-led campaign defeated Rep. Joe Crowley in the Democratic primary in late June. Before his defeat, 10-term incumbent Crowley was mentioned as a possible successor to House Minority Leader Nancy Pelosi, who has served in Congress since 1987. Ocasio-Cortez will face Republican candidate Anthony Pappas in November, and it's likely she'll win. The district has been represented by a Democrat since the congressional district was redrawn in 2011.
Beginning on July 20, Ocasio-Cortez and Sanders will travel to Kansas for two events. First, they'll be supporting James Thompson in Wichita. Thompson is seeking the 4th Congressional District after losing the seat by six points in a 2017 special election. Ballotpedia reported that 1992 was the last time a Democrat was elected to the seat.
"I'm extremely, extremely excited to have the senator and Alexandria Ocasio-Cortez in town for an event," Thompson told The Washington Post. "They can say that, but my opponent here is a corporate socialist who's been redistributing wealth to people who don't need it."
Next, Ocasio-Cortez and Sanders will be in the Kansas City suburbs for an event for Brent Welder, who is running for the Democratic nomination in the 3rd Congressional District.
The seats are currently held by Republicans who vote along party lines almost always. According to ProPublica's legislator tracker, Rep. Kevin Yoder of the 3rd Congressional District cast 6.7 percent of his votes against the party. ProPublica found that Rep. Ron Estes of the 4th Congressional District voted against the Republican Party even less: 2.2 percent. The Democratic primary in Kansas is Aug. 7, and the general election is in November.
After her victory, Ocasio-Cortez began to support fellow leftist candidates around the country. According to The Washington Post, Ocasio-Cortez has sent campaign staff to help Kerri Harris, who is challenging Sen. Thomas Carper for his senate seat.
In July, she sent a tweet in support of Abdul El-Sayed's campaign for the governor of Michigan. Ocasio-Cortez will campaign for him in Michigan later this month. "Alexandria's victory was a proof of concept for campaigns like ours," El-Sayed told the Post.
Ocasio-Cortez's pull is undeniable. In a report by HuffPost, even just a mention of her endorsement can bring in tons of social media engagement and fundraising. For example, HuffPost reported that Welder — one of the candidates she'll be campaigning for — saw his weekly fundraising pull triple after an email featuring Ocasio-Cortez's endorsement. The fundraising haul increased from $17,000 to more than $56,000.
The effect can be felt in Ocasio-Cortez's backyard as well. New York gubernatorial candidate Cynthia Nixon raised $25,000 after Ocasio-Cortez touted Nixon's challenge to Gov. Andrew Cuomo to her email list, according to HuffPost. New York state Senate candidate Julia Salazar raise more than $20,000 that week as well.
Sanders said Ocasio-Cortez's campaign is proof that a political revolution is building. "It worked in Baltimore, where three incumbent state senators were defeated by progressives. That is really something," Sanders told the Post.