Alexandria Ocasio-Cortez Majorly Clapped Back At A Guy Who Claimed She Lied About Her Life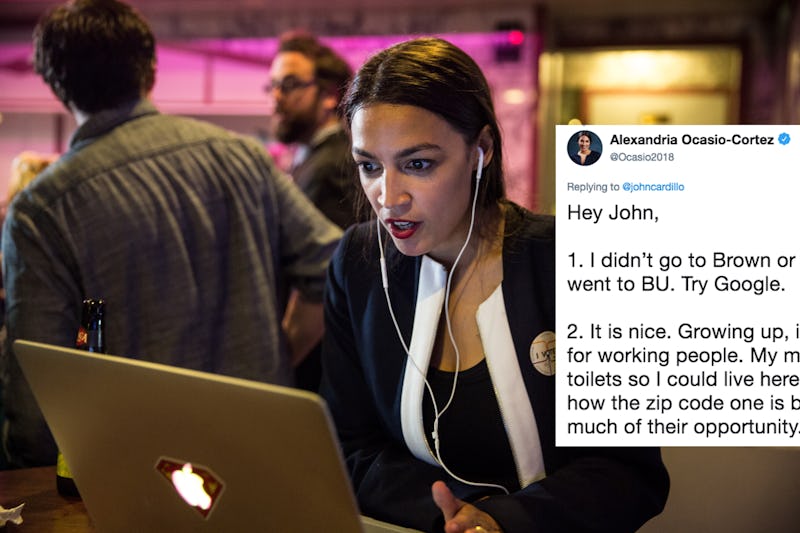 Scott Heins/Getty Images News/Getty Images
The beauty of Twitter, and what sometimes can be so dangerous about it, is that when you tweet about high-profile people, there's a good chance that the person in question is going to hear about it. Such was the case on Sunday, when House representative nominee Alexandria Ocasio-Cortez tweeted back at a naysayer who was trying to discredit her upbringing.
"This is the Yorktown Heights (very nice area) home @Ocasio2018 grew up in before going off to Ivy League Brown University," radio show host John Cardillo tweeted on Sunday afternoon. "A far cry from the Bronx hood upbringing she's selling." He shared a photo that he claimed was of Ocasio-Cortez's family home.
Cardillo was calling into question Ocasio-Cortez's oft-repeated refrain of being from the Bronx. But Ocasio-Cortez, whose campaign is very forthcoming about her childhood on its website, quickly shut down Cardillo's attempted criticism.
"Hey John, 1. I didn't go to Brown or the Ivy League," Ocasio-Cortez responded on Twitter. "I went to BU. Try Google. 2. It is nice. Growing up, it was a good town for working people. My mom scrubbed toilets so I could live here & I grew up seeing how the zip code one is born in determines much of their opportunity."
In a follow-up tweet, Ocasio-Cortez offered some insight into why Cardillo may have attempted to undermine such an important tenet of her campaign — her story. "3. Your attempt to strip me of my family, my story, my home, and my identity is exemplary of how scared you are of the power of all four of those things," she wrote.
Per The New York Times, Ocasio-Cortez was, in fact, born in the Bronx. She lived there, in a planned community, with her family until she was 5 years old, after which her family relocated to Yorktown Heights, a suburb of Westchester, New York. According to the Times, her family moved in quest of finding better schools.
In Yorktown Heights, Ocasio-Cortez's family lived in a two-bedroom home. She characterizes her upbringing as working-class.
Last week, Ocasio-Cortez made history for unseating a 10-term incumbent during the Democratic primary in New York's 14th congressional district. She has long made where she's from an integral part of her platform. And that continued even after her monumental upset during the primary. She went on to reference her roots when discussing President Trump.
"Well, you know, the president is from Queens, and with all due respect—half of my district is from Queens—I don't think he knows how to deal with a girl from the Bronx," Ocasio-Cortez told Stephen Colbert during a Thursday night appearance on The Late Show with Stephen Colbert.
Ocasio-Cortez's stunning primary victory is monumental for a litany reasons, and among them is the upset it may have dealt to the Democratic establishment in Congress. The incumbent she beat, Rep. Joseph Crowley (D-NY), was considered by many Democrats to be House Minority Leader Nancy Pelosi's presumptive successor. And not only did Ocasio-Cortez oust Crowley, but she did so by running on a platform considerably more left than his, and more left than most mainstream Democrats, in general.
"This is the start of a movement," she tweeted after her victory. In another tweet, she continued, "I look forward to working towards a takeback of the House on a strong platform of economic, social, and racial justice for working class New Yorkers & Americans."
In the final election, Ocasio-Cortez will square off against Republican candidate Anthony Pappas. Pappas is an economics and finance professor at St. John's University. If she wins, Ocasio-Cortez will be the youngest woman ever elected to Congress.