Alexandria Ocasio-Cortez Calls Out Media Coverage Of Hope Hicks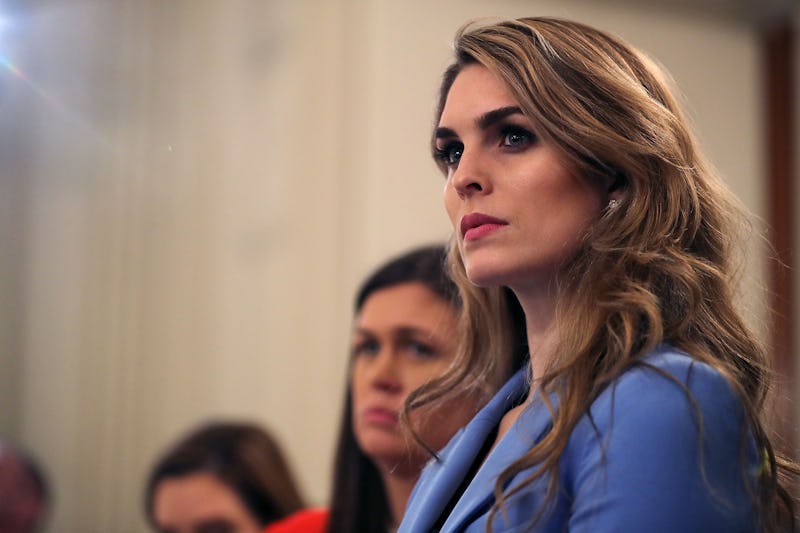 Chip Somodevilla/Getty Images News/Getty Images
They say, a picture is worth a thousand words, and certainly one image published by a national newspaper this weekend has garnered at least that many in complaints. Rep. Alexandria Ocasio-Cortez criticized media coverage of Hope Hicks along with dozens of other people after The New York Times framed the former communications director's compliance with a subpoena she received from Congress as an "existential question."
"What gets me is news breaks that this woman is weighing committing a crime before Congress & it's getting framed by the NYT as some Lifetime drama called 'Hope's Choice,'" Ocasio-Cortez tweeted Sunday. "This is a [former] admin official considering participating in a coverup led by the President. Treat her equally."
In its article on Hicks, The New York Times had claimed the former Trump administration staffer "is facing an existential question: whether to comply with a congressional subpoena." However, according to Reuters, the open disregard of a congressional subpoena is a violation of federal law. What's more, the news outlet has reported that Congress has the authority to hold those who ignore their subpoena "in contempt of Congress" and ask the U.S. attorney for the District of Columbia to bring criminal charges against them.
Earlier on Sunday, Ocasio-Cortez had taken to Twitter to ask, "Where's the 'no angel' take now?" — a response to the flattering photograph The New York Times had run in its article on Hicks reportedly mulling over plans to comply — or not — with a subpoena issued by the House Judiciary Committee earlier this year. "In the immediate aftermath of shootings, media routinely post menacing photos of people-of-color victims + dredge up any questionable thing they'd ever done. But when Hope Hicks considers not complying w (sic) a subpoena, it's glamour shot time."
The congresswoman's tweet came as a response to similar criticism levied against both The New York Times and Maggie Haberman, the reporter who'd authored the article in question, by Soledad O'Brien. The former CNN anchor called the photo of Hicks used with the article "a good example of bias" in the paper. "A picture of a person who is considering not complying with a subpoena is basically a glam shot, and it's framed as a thoughtful, perfectly equal choice," she tweeted.
According to CNN, Hicks was subpoenaed for documents and testimony along with Annie Donaldson, the chief of staff to former White House counsel Don McGahn, earlier this month as part of the House Judiciary Committee's investigation into allegations of obstruction of justice, public corruption, and abuse of power by the president and his administration. The subpoena asks Hicks to hand over related documents by June 4 and appear before the committee for testimony on June 19, the cable news network reported.
It's unclear why The New York Times thinks Hicks may opt not to comply with the congressional subpoena as the neither former White House communications director nor her lawyer were willing to provide comments for the report. Earlier in the year, House Judiciary Committee spokesperson Daniel Schwartz had told both CNN and The Hill that Hicks had said she'd intended to comply with a request for documents from the committee's chairman.