A Pundit Said He'd Pay Alexandria Ocasio-Cortez To Debate Him & Her Response Was Gold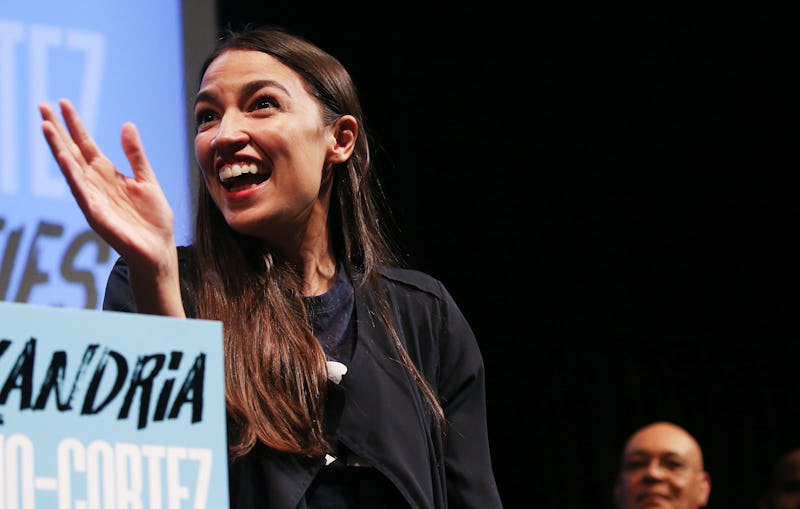 Mario Tama/Getty Images News/Getty Images
For many political commentators on the right, the victory of a self-described Democratic socialist in New York's 14th District primary was a godsend. They believe it's a clear marker that the left is going too far in its fight for liberalism. Now, a conservative pundit is challenging Alexandria Ocasio-Cortez to a debate on the most divisive political issues of the day, even offering her a $10,000 campaign donation in return. Ocasio-Cortez clapped back by comparing his offer to cat-calling.
"I would love to debate her because I have one question for her," said conservative firebrand Ben Shapiro on his podcast The Ben Shapiro Show on Wednesday. "Name an industry you would not nationalize; which ones should the government not run and why? Alright, can she name any of them?"
Shapiro, a well-known never-Trump Republican, previously worked for Breitbart but resigned in 2016 amid disagreements with the way the outlet was covering the administration, and in particular, chairman Steve Bannon's support for Trump. He currently serves as the editor-in-chief of The Daily Wire, a conservative news site. Among the site's more controversial articles are ones that cast doubt on climate change, and a feature mocking Indigenous Peoples' Day that portrayed racist depictions of Native Americans in contrast to supposedly superior European settlers.
Shapiro has a well-documented history of looking for opportunities to "own" leftist ideologues by tearing apart their liberal opinions with scathing witticism that his relatively young base of conservative supporters seems to take immense pleasure in. Which explains why on Wednesday's The Ben Shapiro Show, he tweeted an invitation to Ocasio-Cortez to join him for a one-hour debate. "I would love to have a real conversation with you about the issues," he said. "You've noted that you think Republicans are afraid to debate you or talk to you or discuss the issues with you. Not only am I eager to discuss the issues with you, I am willing to offer $10,000 to your campaign, today, for you to come on our Sunday special." He even offered to set up the debate as a charity appearance.
Ocasio-Cortez' response? On Thursday, she tweeted, responding to a Daily Wire reporter, "Just like catcalling, I don't owe a response to unsolicited requests from men with bad intentions. And also like catcalling, for some reason they feel entitled to one."
Less than 10 minutes later, Shapiro had already responded. "Discussion and debate are not 'bad intentions,'" he tweeted. "Slandering someone as a sexist catcaller without reason or evidence does demonstrate cowardice and bad intent, however."
He continued in a thread, "But sure, go with 'the Orthodox Jew who has never catcalled a woman in his life is ACKSHUALLY a sexist catcaller for asking for a discussion or debate.' I'm sure your media sycophants will eat it up." Ocasio-Cortez has not yet responded.
Shapiro already spent part of his Wednesday podcast one-sidedly debating (and mocking) Ocasio-Cortez for her conversation with former Obama staffers on Pod Save America this week. Given that she tends to spend her airtime discussing her policy platforms and legislative vision, it seems unlikely that she'll be capitulating to Shapiro anytime soon.