Alison & Mona Return In 'The Perfectionists' Sneak Peek That 'PLL' Fans Need To See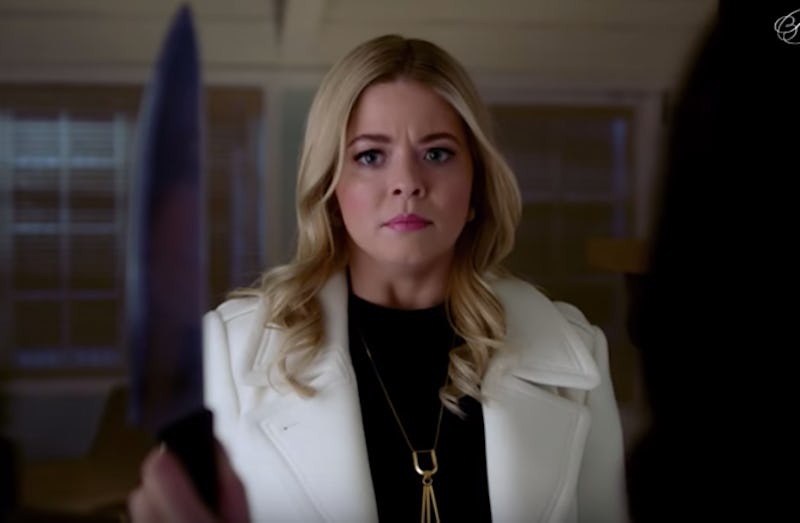 Freeform
The dangerous antics in Rosewood may be a thing of the past, but for Alison DiLaurentis and Mona Vanderwaal, the scares are only just beginning in a brand new town that's full of fresh mysteries to uncover thanks to Freeform's upcoming series Pretty Little Liars: The Perfectionists. The trailer for the spinoff series was released back in May, but now the network has unleashed a further glimpse into the show. The special sneak peek of The Perfectionists finds Alison and Mona teaming up once again — though clearly Mona is up to her old tricks, or so it initially seems.
Based on another Sara Shepard novel of the same name, The Perfectionists centers around two well known PLL vets, Alison (Sasha Pieterse) and Mona (Janel Parrish) after they decide to relocate to the town of Beacon Heights. However, if they were thinking this would be a good way to escape the horrors of Rosewood, they'll soon find that they're very much mistaken since another dangerous new mystery will begin to come out of the woodwork. (Seriously, what is it about these quaint little towns and their many, many secrets?)
The clip is brief and contains a twist even the most diehard PLL fans won't see coming, but should we expect anything less from an I. Marlene King creation?
After hearing a sound coming from the basement of her new home, Ali goes to investigate (you know, because apparently she's learned absolutely nothing from her time in Rosewood). Thankfully, there appears to be nothing there, that is until she closes the door and finds Mona standing in front of her with a knife. But don't worry — she only plans to use it to cut into some delicious pie as far as we can tell. Though it is very Mona-like of her to make something as fun as eating pie seem downright terrifying. However, that isn't the only surprise twist that happens during the sneak peek.
The teaser also serves as part of Freeform and ATTN:'s "March to the Polls" campaign to help stress how important it is to get out and vote in the midterm elections on Nov. 6. In fact, according to TVLine, which was first to debut the exclusive clip, on Election Day, Freeform will dedicate all of its on-air promo to a series of videos telling viewers how they can locate nearby polling locations.
The Perfectionists isn't scheduled to air until 2019, so unfortunately it could be a while until viewers get another taste of what's to come from the series. But if this newly released scene is any indication, it's going to possess the same action-packed and edge-of-your-seat qualities fans came to love about its predecessor. And as usual, these promos offer up more questions than answers — like where is Emily? Why did Mona follow Ali out to Oregon in the first place? And how do they find themselves involved in even more small town drama?
Curious fans will just have to tune in when the show premieres next year, but in the meantime, make sure to get out there and vote!