'Game Of Thrones' Season 8 Is Getting Super-Sized Episodes, According To The Director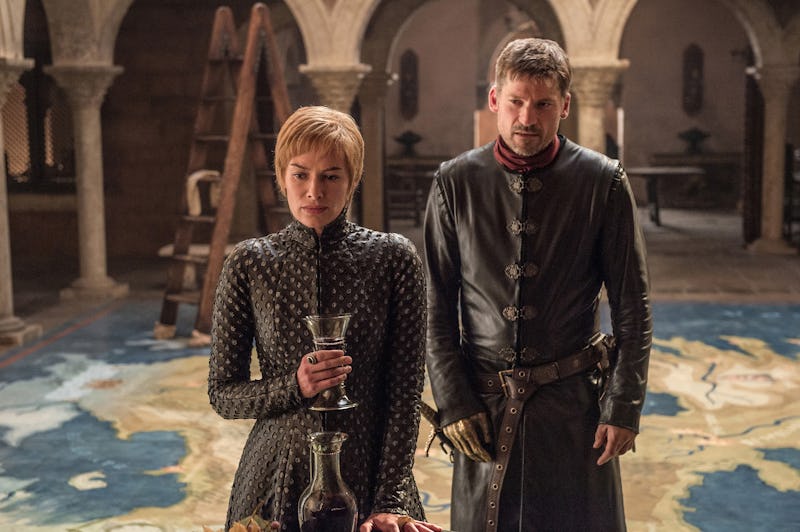 Helen Sloan/courtesy of HBO
Here's the thing about Game of Thrones — the more you watch GoT, the more you want to watch it. Between all of the numerous storylines and truly compelling characters, fans simply can't get enough of Westeros and all those who dwell within it. HBO knows this, which is why the episode length of Game of Thrones Season 8 is going to surpass the typical 60-minute mark that is usually custom for the show's Sunday night time slot.
While participating in a Reddit AMA on Tuesday, Nov. 13, Game of Thrones director David Nutter revealed an interesting detail about the upcoming final season. He shared that the final six episodes will all be longer than an hour, making sure to give fans as much content as possible. "Season 8 episodes will all I think be longer than 60 minutes," Nutter stated. "They'll be dancing around the bigger numbers, I know that for sure."
The topic of episode length for Game of Thrones' eighth and final season has been an ongoing discussion for the past several months. Given that only six episodes total remain of the entire series, many fans were hoping that each episode would be more like feature-length movies. However, back in July, HBO programming chief Casey Bloys confirmed to Entertainment Weekly that the GoT episodes wouldn't be two-hours long or anything like that. "Not two hours? Yes, they are not going to be," Bloys stated. "Not that I've seen, anyway." So odds are they'll fall within the 60-minute to 90-minute mark, which is definitely cause for celebration nonetheless.
However, this isn't the only exciting piece of news diehard GoT fans have been gifted with this week. On Tuesday, a teaser video revealed the month Game of Thrones Season 8 premieres will be April 2019. No exact date was given, but it definitely helps to narrow the options down a bit and gives us something big to look forward to in the coming year. Granted, it'll be bittersweet to see the widely popular series come to a close, but it's comforting to know that we'll be getting lengthy episodes each and every week that are pretty much guaranteed to be action-packed.
Another interesting tidbit to come from Nutter's Reddit AMA involved his response when asked if there will be any surprises throughout the final season that compare to Season 3's The Red Wedding. "As far as season 8 compared to the Red Wedding I just have to tell you — hang onto your seat cause it's going to be special," Nutter teased.
That's not really giving very much away on the matter, but given that The Red Wedding involved the surprise massacre of Rob Stark's army (including Rob himself and his mother Catelyn), suggesting that anything could even come close to that is cause for concern. This show has never been afraid to kill off pivotal characters — looking at you, Ned Stark! — and now that the show is ending for good, no character is safe from potential slaughter. Let's just hope that whoever ends up on the chopping block ends up getting a proper sendoff in any of these super-sized episodes still to come.