HBO Just Announced The Premiere Month For The Final Season Of 'Game Of Thrones'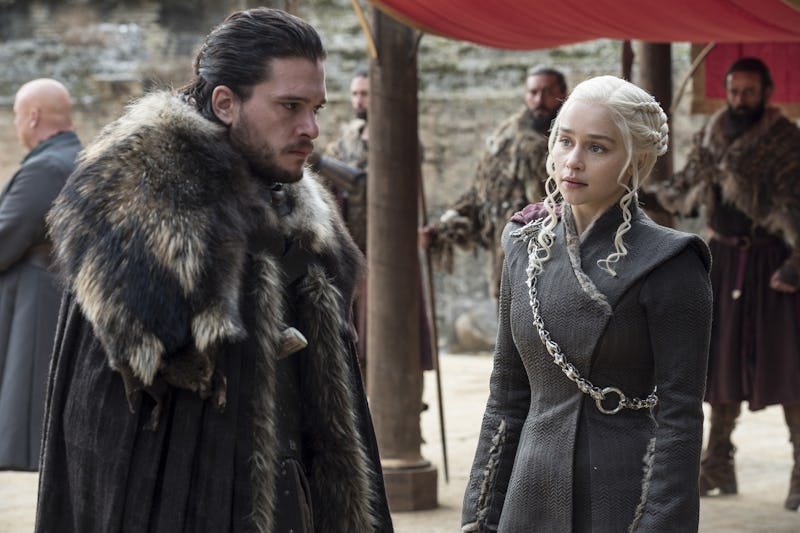 Macall B. Polay/courtesy of HBO
Winter may finally be hitting Westeros, but it's the springtime where fans will be seeing all the action take place. After months and months of waiting and wondering, the Game of Thrones Season 8 premiere month has finally been revealed, and the good news is it's not as far away as you may have feared. So let's all start marking those calendars ASAP.
The news comes in the form of a special video the official Game of Thrones Twitter account posted early Tuesday morning. While none of the video footage itself appears to be new — this show has never been one to shower us mere mortals with information all at once — however, fans were quick to spot the last part of the clip, which included the month and year the series will finally return: April 2019. Of course, the exact premiere date has yet to be known still, but this definitely helps to narrow things down a bit.
As the show usually airs on Sunday nights, that leaves us with only four possible dates to choose from. So at the very least, you can expect the final season of Game of Thrones to debut on either April 7, April 14, April 21, or April 28.
However, this small detail may not come as much of a surprise for many diehard fans. Interestingly enough, Maisie Williams, who plays Arya Stark in the series, appeared to have revealed this vital piece of intel all the way back in January, telling Metro that "We wrap in December and we air our first episode in April." A few days after the report came out, however, Williams tweeted that the quote about the Game of Thrones Season 8 premiere month was "completely false" and explained that it had been "taken from an interview I did years ago." But in the end, it turned out to be true after all, it seems.
Regardless of who said what, though, it's just nice to have a more clear time frame in mind going forward. Now there's an end date to our suffering — or, depending upon how you want to look at it, it's the start of our suffering, given that the final season is sure to result in at least a few big character deaths. Given that Season 8 will only consist of a total of six episodes, there will be a lot of ground to cover each and every week in order for all of these ongoing storylines to get wrapped up properly.
With all of this information at our disposal now, it's also easier to predict when the Game of Thrones series finale will take place as well. If the season kicks off on the earliest possible date of April 7, then the show could come to a conclusion as soon as May 12, 2019. Meanwhile, if HBO waits until April 28 to debut the new season, then the series finale could end up being prolonged until June 2, 2019.
So those are the earliest and latest possible dates for this show to ultimately come to an end. It's not something any of us are really ready for, but at least we can prepare our Westeros-loving hearts accordingly.