Here Are Trump's Many, Many Alleged Russia Ties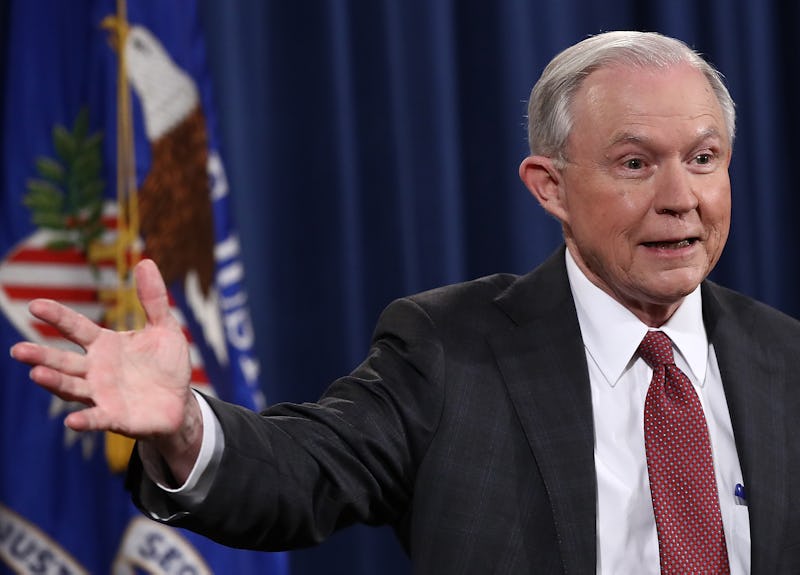 Win McNamee/Getty Images News/Getty Images
It's getting harder and harder to keep track of all the alleged connections between President Trump and the Russian government. More than a few of his closest associates — including cabinet members, campaign aides and longtime confidantes — have connections with the Russians, and because the web appears to be getting bigger by the day, it's worth taking a step back and looking at what we know so far.
The first major development in this story was the resignation of Michael Flynn, Trump's former National Security Advisor. Flynn stepped down after it was reported that he had discussed American sanctions on Russia with Russia's ambassador, Sergey Kislyak, in between the election and Trump's inauguration. Although Flynn had initially denied this, his spokesperson later told CBS that, "while he had no recollection of discussing sanctions, he couldn't be certain that the topic never came up."
Shortly after that, it was revealed that Attorney General Jeff Sessions met with Kislyak twice before the election when he was a member of Trump's campaign team. This was notable because in his Senate confirmation hearing, Sessions had explicitly stated that he "did not have communications with the Russians" during the campaign. In a subsequent press conference, Sessions amended his statement, saying that he had never spoken with any Russians about the campaign, but nevertheless, he recused himself from any future investigations into the 2016 election.
And yet, when it comes to the Trump administration-Russia ties, those episodes are merely the tip of the iceberg.
Many members of Trump's team, including current and former advisors, cabinet appointees, and at least one family member, have reported connections with the Russian government. Some of these connections are more tenuous than others, but the sheer number of them is raising eyebrows, and at the very least, warrants close scrutiny. Let's take a look.
Jeff Sessions
Sessions was the first U.S. senator to endorse Trump, and met twice with Sergey Kislyak, Russia's ambassador to the United States, during the campaign. One of those meetings took place at a State Department-approved event during the Republican National Convention in Cleveland, according to Politico; during that convention, Trump officials allegedly changed anti-Russian policy positions on the official GOP platform, several delegates told the Washington Post. In interviews with Meet The Press and elsewhere, Trump and his associates have given conflicting responses at various points in time as to whether or not this happened.
According to his spokesperson, Sessions also had a phone conversation with Kislyak on Sept. 13 — the same day a batch of hacked emails from the Democratic National Committee were released. They met in Sessions' Senate office that month, as well.
When asked during his confirmation hearing for Attorney General whether "anyone affiliated with the Trump campaign communicated with the Russian government in the course of this campaign," Sessions replied that "I did not have communications with the Russians." In a later press conference, Sessions acknowledged that "in retrospect, I should have slowed down and said, 'But I did meet one Russian official a couple of times.'"
Gen. Michael Flynn
Flynn spoke in support of Trump's nomination at the Republican National Convention, and Trump appointed him national security advisor after the election. According to Reuters, Flynn allegedly spoke with Kislyak five times on Dec. 29 — the same day President Obama announced that the United States would impose sanctions on Russia in response to Russia's alleged interference in the election campaign. The Russian government denies having interfered in the election.
Flynn denied having discussed the sanctions with Kislyak, both publicly and in an interview with the FBI, and so did the Russian government. But theWashington Post claimed that this was incorrect, and acting Attorney General Sally Yates claimed to the Trump administration that Flynn had misled investigators about this. Flynn quickly backtracked, saying "he couldn't be certain that the topic [of sanctions] never came up." Flynn resigned as national security advisor on Feb. 13, less than one month into the job.
Kislyak has said that he was in contact with Flynn before the election as well. Additionally, in 2015, The New Yorker reports that Flynn was paid a reported $40,000 to attend a gala in Moscow hosted by RT, Russia's state-funded media outlet. Photographs from the event show Flynn sitting at the same table as Russian President Vladimir Putin (and, incidentally, Green Party presidential candidate Jill Stein). Flynn says that he did not ask to be seated next to Putin, and that the two only spoke briefly while being introduced to one another.
Carter Page
A former investment banker, Page served as a policy advisor to Trump during the campaign. In September, Yahoo! reported that intelligence officials received reports that Page met with Igor Sechin, Russia's former deputy prime minister, during a trip to Moscow weeks before the Republican National Convention. The intelligence report alleged that Page and Sechin discussed lifting U.S. sanctions on Russia if Trump won the election; however, Page denies that he spoke to Sechin during this trip, calling the allegation "complete garbage."
In February, Page denied having any meetings with Russian officials in the last year. However, Politico subsequently reported that Page met with Kislyak at the Republican National Convention, allegedly during the same meeting that Sessions attended. When asked about this on Thursday, March 2, Page said to Chris Hayes of MSNBC that he's "not going to deny that I talked with [Kislyak]," adding that "I may have met him, possibly."
Prior to joining the Trump campaign, Page was an investor in Gazprom, Russia's state-owned gas company. In March, he criticized U.S. sanctions on Russia, telling Bloomberg that that "there's a lot of excitement in terms of the possibilities for creating a better situation."
Paul Manafort
Manafort served as Trump's second campaign manager for four months in 2016. Prior to that, he was an advisor to former Ukrainian President Viktor Yanukovich, a close ally of Putin who was ousted by popular protests in 2014 and is now believed to be living in exile in Russia. In August, handwritten ledgers discovered in Yanukovich's former presidential palace listed several payments to Manafort, totaling $12.7 million. These payments were not confirmed, and Manafort's lawyer told the New York Times that he didn't receive "any such cash payments." Nevertheless, Manafort resigned from the Trump campaign several days later.
The New York Times reported that Manafort — along with several other unnamed Trump officials — had communicated with Russian intelligence in the year prior to the campaign. Manafort denied this, saying that he has "never knowingly spoken to Russian intelligence officers," adding that "it's not like these people wear badges that say, 'I'm a Russian intelligence officer.'"
JD Gordon
Gordon was a national security advisor on the Trump campaign from March to August 2016. USA Today reported that Gordon also met with Kislyak at the Republican National Convention; Gordon says that it was an "informal conversation, just like my interactions with dozens of other ambassadors and senior diplomats in Cleveland." Additionally, Gordon said on Friday to CNN's Jim Acosta that he "advocated for the GOP platform to include language against arming Ukrainians against pro-Russian rebels."
Michael Cohen
Cohen is Trump's personal lawyer. Prior to Flynn's resignation, Cohen delivered a proposal to Flynn that would end U.S. sanctions and, in theory, achieve a peace deal in Ukraine. According to The New York Times, the plan was also endorsed by Felix Sater, a Russian-American businessman who's worked with Trump in the past, and Andrii Artemenko, an aspiring Ukrainian politician. Artemenko says the plan received encouragement from top aides to Putin.
An unverified dossier prepared by a British intelligence agent alleged that Cohen met with representatives from the Russian government in Prague in August or September 2016. Cohen denied this, saying on Twitter that "I have never been to Prague in my life." However, the week before the dossier was published, Cohen told the Wall Street Journal that he had been to Prague.
Wilbur Ross
The Senate confirmed Ross as Trump's Commerce Secretary on Monday, Feb. 27. In 2014, the businessman helped lead a bailout of the largest bank in Cyprus, and subsequently became the top shareholder in the bank. During that same time period, the second-biggest shareholder in the bank was a Russian conglomerate headed by Viktor Vekselberg, one of the richest men in Russia and an associate of Putin.
Ross is not accused of any wrongdoing or improper contact with the Russian government.
Roger Stone
A veteran Republican operative and longtime ally of Trump, Stone is reportedly one of several individuals in Trump's orbit being scrutinized by the FBI for alleged connections with Russia, according to the New York Times.
In August, Stone predicted on Twitter that "it will soon be [Clinton campaign manager John] Podesta's time in the barrel." Weeks later, Wikileaks released hacked emails from Podesta's account. Stone acknowledged earlier in August that he had "communicated with [Julian] Assange," the chief of Wikileaks, and the New York Times later reported that Russian hackers were responsible for obtaining Podesta's emails.
In March, Stone acknowledged that he'd talked to "Guccifer 2.0," the individual believed to have hacked the Democratic National Committee, during the campaign. The Department of Homeland Security has stated that it "is confident" that these hacks were directed by the Russian government. Though he predicted the leaks, he told The New York Times that any allegations that he had connections with Russian intelligence are "totally false."
And in an interview with NBC Today, Stone "categorically" denied having had any contacts "with anyone in Russia" or "anybody I believed to be an intermediary for the Russians."
Jared Kushner
Kushner is Trump's son-in-law and one of his closest advisors. The White House acknowledged Thursday that Kushner met with Kislyak and Flynn at Trump Tower in December.
The Republican Platform
During the Republican National Convention, the committee responsible for crafting the GOP platform changed the section on the party's position on the war in Ukraine, shifting it to a more pro-Russian stance. The Washington Post reported that this was done at the behest of Trump's campaign; members of the Trump campaign have given different and conflicting statements as to whether this is true.
Then-campaign manager Manafort categorically denied the charges, saying the pro-Russian language "absolutely did not come from the campaign." Trump himself said that "I was not involved in" the change, but when asked if his "people" were, he replied, "yeah" during an interview with ABC News. In January, Gordon told Business Insider that "neither Mr. Trump nor Mr. Manafort were involved" in those changes; however, on Friday, Gordon reversed his story, claiming to CNN that he personally intervened to make the language more pro-Russian, and that that was (allegedly) a reflection of Trump's personal views on the Ukraine conflict.
Although the meeting minutes could potentially clear this up, a co-chair of of the RNC's national security platform subcommittee told the Daily Beast that records of the meeting have been discarded.