See All The Crazy Hats At The 2017 Kentucky Derby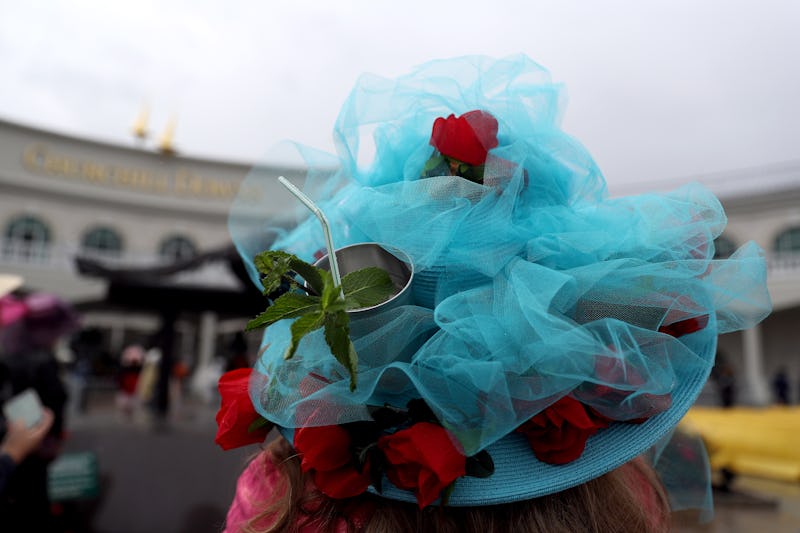 Patrick Smith/Getty Images Sport/Getty Images
If there was ever a time where fashion and sports combine, it's the Kentucky Derby. Once a year, people pull out their best attire to sit around the track and watch the horse race, and their outfits never disappoint. This year was no different. From the big and bold to the subtly stunning, here are all the crazy hats at the 2017 Kentucky Derby that deserve a closer look.
While you might not be able to predict which horse will win the race, one thing about the Kentucky Derby is for sure — the style will be incredible. People go all out with their head-toppers for the event. There's everything from homemade racetrack replicas to creations that you need to look at for a few minutes to figure out. Nothing is off limits, which is what makes the day so exciting. You just never know what you'll see.
This year might just be the best year yet for quirky hats too. It might as well been a walking art show! There's everything from classic designs that you could pick up at the store to a hat that holds your iconic Mint Julep. Don't just take my word for it though. See all the crazy designs for yourself!
1. Updated Umbrella Hat
Rain of shine, the style will be on-point.
2. Feathery Topped
This one might be small, but it is mighty chic.
Her friend got the feathery memo too.
3. Hands-Free Drink Holder
Who needs a koozie when you have a hat?
4. Poncho Hat
Because this hat is just too precious to get rained on.
5. Beard Inspo
This hat meets beard combo is just too good.
6. Oversized Petals
I'm a BIG fan of this one — pun intended.
7. Horse Topper
If you're wondering who this person is better on, just check the hat.
8. Paper Airplane-esque
The tool and the flowers make for a beautiful creation.
9. Neon Masterpiece
Now this woman knows how to make a statement.
10. Floral Bouquet
And when the event is over, the flowers can go in a nice vase.
11. Butterfly Bonanza
Could butterflies be the new flower crown? I sure hope so.
12. Pink Pearls
Hate game: strong. Sunglass game: even stronger.