Kamala Harris Confronted Joe Biden On Race & 5 Other Democratic Debate Highlights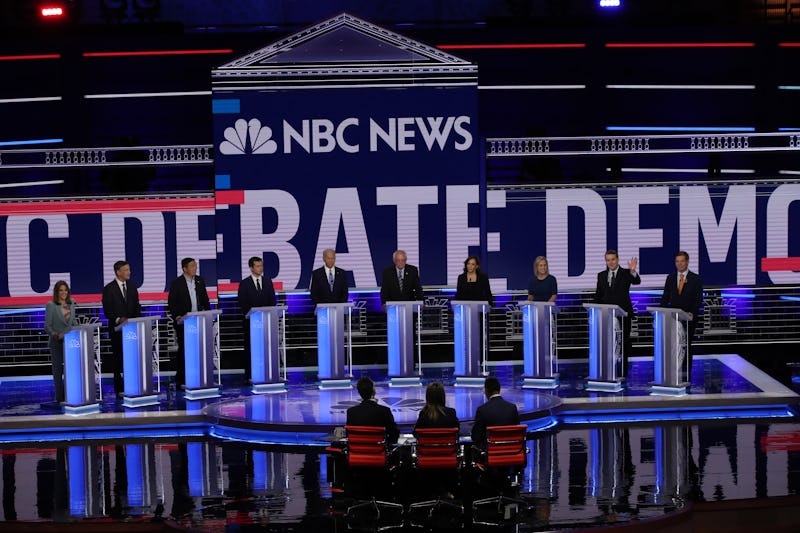 Drew Angerer/Getty Images News/Getty Images
On Thursday night, 10 of the 24 Democrats running to unseat President Donald Trump in 2020 participated in a two-hour debate in Miami, Florida. Thursday's debate was the second of two Democratic debates hosted by NBC News, and it covered everything from climate change and foreign policy to the economy and immigration. With so many candidates and debates, it can be hard to keep track of the issues, so here are all the Democratic debate highlights from night two in case you were unable to tune in.
Just one day earlier, Massachusetts Sen. Elizabeth Warren, former Housing and Urban Development Secretary Julián Castro, and eight other candidates took the stage in Miami to discuss similar issues. The debate was filled with several heated moments — and Thursday night's debate was no different. Even before the debate began, Vermont Sen. Bernie Sanders made headlines due to the fact that issues he championed back in 2016, such as Medicare for All and student debt forgiveness, have become much more popular among other Democratic candidates.
But Sanders wasn't the only candidate to watch. All of the candidates went head to head on issues like reproductive justice, police brutality, and the Trump administration's immigration policy, and it quickly became clear that they are all vying to make Trump a one-term president. Below are six highlights from Thursday night's debate.