Here Are All Kardashian Christmas Card 2017 Photos — So Far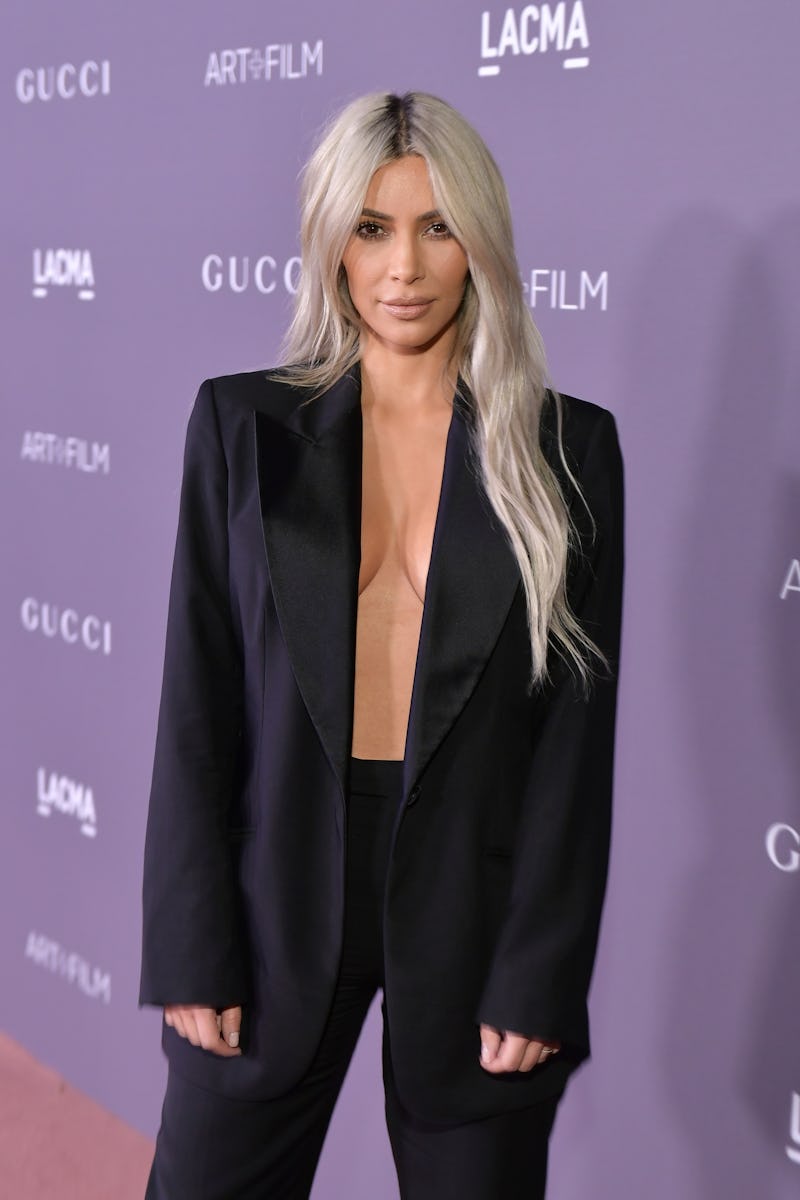 Neilson Barnard/Getty Images Entertainment/Getty Images
It's the holiday season, which means celebrities are about to unveil their Christmas cards. If there's one family that takes holiday cards seriously, it's the Kardashians. On Saturday, Kim started sharing the annual Kardashian holiday card on social media, but only one piece at a time. That's right — the holiday card will be posted one fragment at a time, every day, from now until Christmas. For fans trying to keep up with Kardashian's this winter, this seasonal surprise just made things a whole lot easier. The card is a tradition in the family, and their extravagant holiday photos have often made national news since Keeping Up With The Kardashians premiered a decade ago.
This year, the Kardashian-West family is trying something new, turning their card into an art piece. In a tweet on Saturday morning, Kim wrote: "25 DAYS OF CHRISTMAS BY @ELIRUSSELLLINNETZ STARTING TODAY". The director and photographer behind the picture, Eli Russell Linnetz, also worked on Kanye's music videos for "Fade" and "Famous." He's done photo series in the past for designers and other celebs, and the fragmented holiday card will appear on his website and Instagram as well.
Shortly after teasing the series, Kim posted the first piece of the picture, which will be slowly revealed over the next few weeks — and this post will be updated with each photo as she posts them. The first snaps are already offer some clues of what the overall aesthetic of the card will be.
Day 1
Saint West is the newest member of the Kardashian family, and has never been featured in the holiday card before. It's not yet clear if there will be a specific order in which the pictures are revealed, but the youngest members of the fam might appear first.
Day 2
The second photo shows North West and the torsos of several of the Kardashian women. It's not quite clear who is featured in this photo, but it's possible that North is looking up at her mother. Kim has been sporting platinum blonde hair in recent months, so she could be featured in the photo. In the past, the Christmas card has featured the family in elegant dresses and formal wear. In a recent interview with James Corden on The Late Show, Kardashian discussed the casual vibe of the Christmas card.
"This year's Christmas card is shot really casually, we're kind of in jeans and t-shirts vibes. Really cute, all the kids, it was hard to put together," she told the late night host, and then teased that a very special family member would appear in the card. "It's women and children this year, so my grandma was last in it in 1989, that was the last time she was in our Christmas card with all of her four grandkids. So, she was invited back in this year."
Day 3
Kim posted the third picture from the photoshoot, which is a picture of Kourtney's son, Reign Aston Disick. Reign is Kourtney and Scott's youngest child, which might mean that the family will appear in order by age after all.
Day 4
The fourth installment of the Kardashian holiday card reveals a lot more about what the card will look like fashion-wise, showing Kim in casual jeans, a plain white tank, and barefoot. Sitting next to her is North West wearing a matching outfit. Wait a second... wasn't North in the second photo? Wasn't Kim possibly in the second photo? This definitely adds to the intrigue.
Day 5
Day five doubled as a birthday wish for Saint, who turned 2 on Dec. 5.
Day 6
This time the spotlight is on Kourtney and her three children — Mason, Penelope, and Reign. Their color-coordinated outfits are too cute. This is also Reign's second appearance in the card.
Day 7
Yet another cameo from Kim K and her daughter North. It almost looks like they're pointing at something in the sky. What exactly? We'll just have to wait and see.
Day 8
The post for day eight introduced a new character, who seems to be the Kardashian's grandmother, MJ!
Day 9
The photo for day nine marks Dream Kardashian's first appearance in the family card. She's joined by her cousin Mason. How cute.
Day 10
The Day 10 photo for the Christmas card features a pensive Penelope Disick staring off into the distance. Perhaps she's thinking of the gifts she wants for the holiday.
Day 11
In this photo from Day 11, the outline of a Christmas tree is just visible behind Kim and Kanye. This mysterious snap definite does not offer any answers, but it does make you wonder just how many Kims will be in this Christmas photo.
Day 12
This is Kendall Jenner's first cameo in the family Christmas card. It's only a matter of time before Kylie Jenner appears too, right?
Day 13
Day 13 featured a close-up of Reign and marked the first appearances by Khloé and Kris.
Day 14
Officially two weeks into the Christmas card, the latest photo honors two birthday boys — Mason and Reign. Yes, two of Kourtney's kids were born on the same day.
Day 15
Clearly, Kim is playing a big role this year.
Day 16
Yet again, the card is Kim-focused, but this time, fans get to see Kanye West (not just his body), along with their two children.
Day 17
Day 17 was a big day for the Kardashian calendar, with Kris Jenner and Khloé posing with Dream. Kourtney's youngest made her debut earlier in the month, but this is was the first full shot of MJ, who is the Kardashian and Jenner sisters' grandmother. This year's card features four generations of the family.
Day 18
Kanye makes yet another appearance, and he looks so happy in this adorable shot with North West.
Day 19
In the pic for day 19 we get a look at the biggest group featured yet: Reign, Penelope, North, Kim, MJ, Kris, Khloé, Dream, Kourtney, and Mason.
Day 20
More MJ! More babies! More denim!
Day 21
If Kim just wanted to do her own family card to send to friends, this would be a great choice.
Day 22
On the 22nd day of Christmas, the Kardashians gave to fans a smiling Kanye and baby Saint. The father-son moment is too sweet.
Day 23
This Christmas card photo includes a bunch of family members. All three of Kourtney's kids are present, as are sisters Khloé and Kim. Plus, Kris Jenner and M.J. joined in the fun.
Day 24
On Christmas Eve, the Christmas Card photo included the women of the Kardashian family and their children (boys and girls)...minus Kylie. Her absence has not gone unnoticed by fans, leading to speculation that Kylie will be the focus of Day 25.
Day 25
So much for that speculation! Kim shared the final card late on Christmas day, as the sun set on the west coast, and there is still no sight of Kylie at all. Why didn't she participate in any of the cards this year? Guess we'll have to keep waiting for answers.