The Kardashians Are Totally Switching Up Their Christmas Card & Here's Your First Look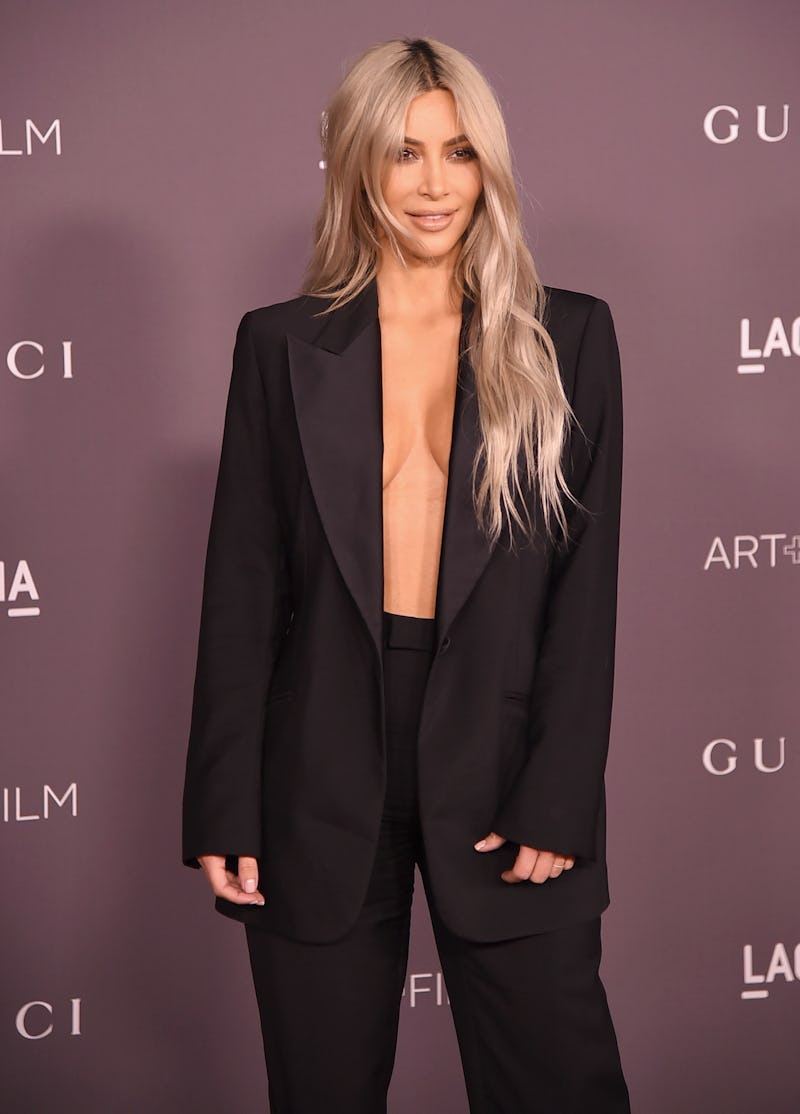 Kevin Winter/Getty Images Entertainment/Getty Images
On the heels of the recent holiday episode of her family's popular reality show, entrepreneur and social media mastermind Kim Kardashian West has begun sharing pieces of her family's much-discussed annual Kardashian family holiday card to Twitter. In her first post on Friday, Dec. 1, the reality star included a caption teasing a 25-day reveal, which has caused some fans to go wild about the potential of nearly a month full of daily Kardashian holiday images.
"25 DAYS OF CHRISTMAS BY @ELIRUSSELLLINNETZ STARTING TODAY," Kardashian said in a tweet posted a few hours before sharing the first image, which features an adorable baby Saint West standing next to a box of holiday presents. It's fitting that the first image would feature Saint, as this is actually his first time appearing in the family's holiday card.
As you may recall, the Kardashian family began their Christmas card tradition back in the '80s, and over the past decade or so, their over-the-top holiday photos have regularly made headlines across the globe. However, during more recent years the family has occasionally opted not to release an annual Christmas pic. For example, last year following Kardashian's traumatic robbery in Paris, as well as her husband Kanye West's hospitalization, understandably the family chose not to participate in an elaborate seasonal photo shoot.
Additionally, the year before, in 2015, the Kardashian also skipped the decadent holiday photo tradition and went with a more minimal shot of just the four youngest members of the famous family — Mason, Penelope, and Reign Disick, along with North West. Saint was a just a newborn baby when the card was released, and didn't appear in the photo that was most likely taken before he was born.
As for this year, yes, they're switching things up. It's a totally Kardashian move to spread a holiday picture reveal out over the course of three and a half weeks, but if the first few shots are an indication of what's to come, then fans could have two dozen more adorable pics to look forward to. Check out the first shot featuring Saint:
Back in November, Kardashian spoke about their holiday photo shoot during an appearance on The Late Late Show. "This year's Christmas card is shot really casually," Kardashian explained to host James Corden, according to People. "We're kind of doing jeans and t-shirts vibe. Really cute. All the kids and so hard to put together."
As you can see from the photo of Saint, as well as the second piece of the picture, posted to Twitter on Dec. 2, showing North and the mid-sections of two other family members, Kardashian wasn't lying about the casual vibe of the photo.
Just who exactly the other two people are in the shot isn't exactly clear. The glimpse of platinum blonde hair does suggest the person on the left could bea platinum blonde Kim K, and the one on the right looks like Kourtney, though it possibly could be Kendall Jenner. It seems like we'll just have to wait until we see more of the whole photo before one can be certain.
While on The Late Late Show, Kardashian also dropped another hint about their 2017 Christmas card saying, "It's women and children this year." So that means no Kanye West, Rob Kardashian, or Scott Disick.
Choosing to let the children star in a holiday card is always a good move, because who doesn't love seeing adorable photos of kids? Especially considering the famous family is going to be quite a bit larger in the years to come with multiple members of the Kardashian-Jenner family reportedly expecting.