All The Looks From The 2017 Grammys Red Carpet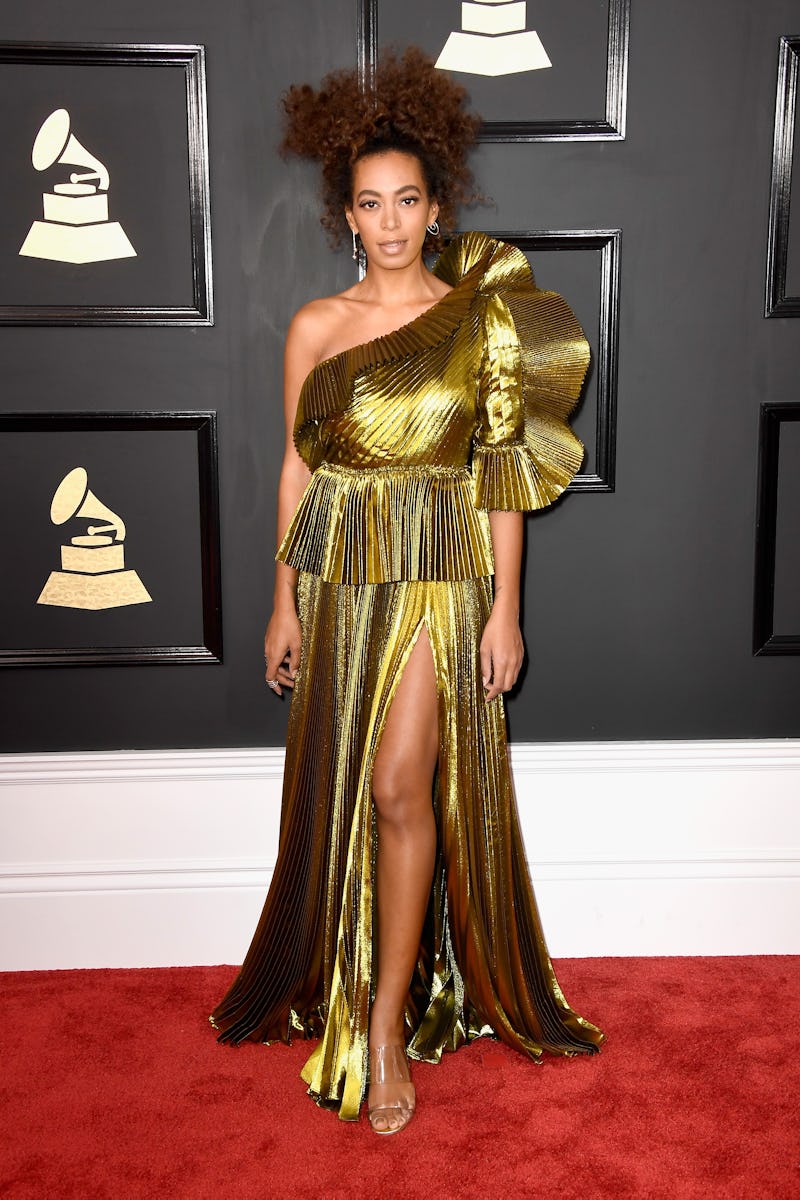 Frazer Harrison/Getty Images Entertainment/Getty Images
You might assume that all red carpet fashion is created equal, but don't be fooled: The 2017 Grammys red carpet is all about serving serious style, just like the Grammys that came before it. After all, the Grammys red carpet is the place that brought us Jennifer Lopez's iconic plunging green gown in 2000, Rihanna's hot pink puffy gown that launched a thousand memes in 2015, and Lady Gaga's wild Bowie-inspired ensemble in 2016. Simply put, the Grammys are a place where celebs show up to serve, and all music fans can do is sit back and soak it all in.
The 2017 Grammys red carpet won't disappoint, even if just by virtue of the confirmed guest list. According to E! Online, seats have been reserved for Beyonce and Jennifer Lopez, along with The Weeknd, Demi Lovato, and Rihanna. Stars like Alicia Keys, Adele, and Lady Gaga are also set to take the stage. Of course, before the show goes down, these stars all theoretically have to walk to red carpet, which means that we get to see them dressed in the Sunday awards show finest. Here's a rundown of exactly who was wearing what at the 2017 Grammys — fashion lovers, prepare to have your minds blown.
Adele
The queen looks amazing in this olive green pleated gown.
Jidenna
The classic man in his classic red carpet silhouette.
Skrillex
Skrillex opted for a subdued, casual look this time around.
Tori Kelly
The singer is a vision in hunter green on the Grammys red carpet.
Heidi Klum
Klum slayed in a micro mini and incredibly tall platforms.
Paris Jackson
The daughter of the King of Pop looked incredible in this glittering Balmain jumpsuit.
Diplo
The world-renowned DJ/producer looked handsome with two little guys on the red carpet.
Daya
The singer already won a 2017 Grammy for Best Dance Recording, and she looks amazing in this short black Balmain frock.
Elle King
The singer is dressed like an adorable fairy flower queen, and it's hard not to smile when you see this dress.
Rick Ross & Lil Yachty
The two hip hop stars are looking dapper AF tonight — and Yachty's pop of color on the teeth is kind of dope.
Rivers Cuomo
The Weezer frontman looked dapper in a polka dot tie and a corresponding pocket square.
Blink 182
Talk about a blast from the early '00s past, right?
Desiigner
The "Panda" singer looks about as happy as a person can be on the red carpet.
Jill Scott
The powerhouse singer is rocking a grey checked pantsuit on the red carpet.
Tinashe
Tinashe is all about the cleavage and cutouts, and she looks amazing.
Lea Michele
The actor and singer is wearing a coordinating two-piece gown, and the overall look is pretty dramatic.
Chris Young & Cassadee Pope
The country music stars brought their most glamorous looks to the red carpet. Pope's Julia Clancey gown has a unique plunging cowl neck and is fully of sparkle.
Patton Oswalt
The comedian showed up on the red carpet in a mostly-black ensemble and casual shoes.
Mya
The legendary R&B singer looks amazing in an outfit that totally goes with the red carpet she's standing on.
Halsey
The singer opted for an unconventional silky jacket and wide leg pants in lieu of a dress, and it's kind of rad. She also perfectly accessorized with a necklace and earrings from IPPOLITA.
Leon Bridges
The crooner and his date looked absolutely ravishing together.
Ceelo
The singer and creative icon showed up on the red carpet with a full face (and body) of gold. Keep shining, Ceelo.
Nick Jonas
The "Jealous" singer looked badass in head-to-toe Balmain.
Giuliana Rancic
The E! Live From The Red Carpet host went for something short and sweet for tonight's festivities.
Carrie Underwood
Underwood went for old school country drama in this red glittering gown.
James Corden
The host of the 2017 Grammys looked dapper on the red carpet.
Keith Urban
The country singer brought his classic style to the carpet this evening.
Little Big Town
This crew is all of the plum-toned squad goals.
2 Chainz
The rapper brought his A-game (and his incredible shimmering navy tux) to the red carpet.
Tim McGraw & Faith Hill
The country music power couple looked perfectly suited for the red carpet. Hill went for a fantastic all-red look, complimented perfectly by her bright lip color. MAC Cosmetics MUA Francesca Tolot used MAC Retro Matte Liquid LipColour in "Feels So Grand" to create the look.
Katy Perry
The pop star wore something unlike anything else on the carpet tonight.
Demi Lovato
Demi went for total glamazon vibes for the Grammys this year.
Jennifer Lopez
Jenny from the block opted for a pale pink plunging gown with a bold tulle collar for tonights festivities.
DNCE
This squad always brings their best to the red carpet, and tonight is no different.
Katharine McPhee
The actor and singer looked low-key glam on the red carpet.
Laverne Cox
Laverne Cox was all about the side splits and a dramatic cut crease this evening, and she is slaying.
Lady Gaga
Mother Monster showed up in an incredible ensemble and what looks like a "let's do this" attitude. Loves it.
Chrissy Teigen
America's most beloved Twitter user looked absolutely incredible, as per usual.
Celine Dion
The queen of all things ballad did not come to play in this dramatic green gown.
Chance The Rapper
The ever-adorable hip-hop artist in a heather grey suit will put a smile on your face.
DJ Khaled
They didn't want him to bring another red carpet look, so he brought another red carpet look.
Solange
Solange brought some serious golden confidence the red carpet, and she looks like a dream.
John Legend
The soulful singer brought his usual amount of swagger to the building tonight.
Taraji P. Henson
Henson was a ray of purple sunshine in this unusual embroidered mini dress.
Ryan Seacrest
Hollywood legend in the making and E! Live From The Red Carpet host looked handsome in his ensemble — and how cool is that jacket?
Rihanna
Rihanna showed up after the show already began, but her incredibly red carpet look fully makes up for it. Bow down to the baddest gal, because she is queen.
Rose McGowan
The actor showed up looking like an industrial goth babe, and it's worth a second look.
Another year, another Grammys, and another reason to tune into the red carpet next time.