All The Looks From The 2017 Met Gala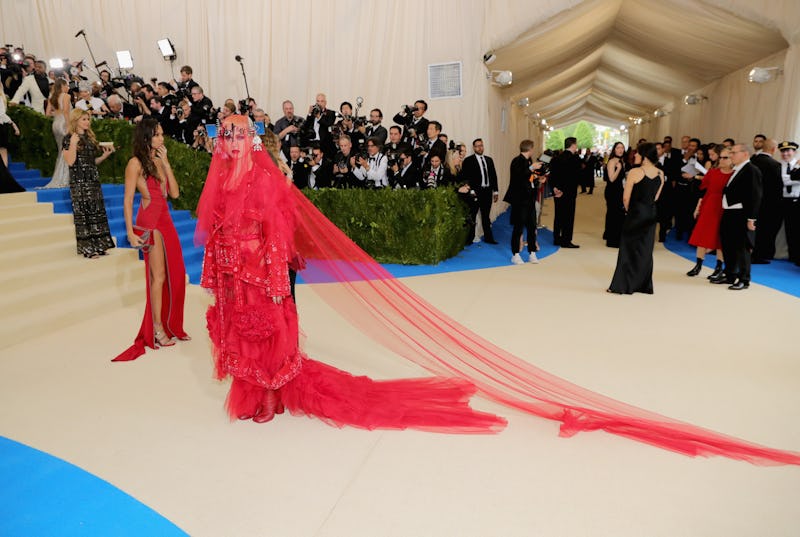 Neilson Barnard/Getty Images Entertainment/Getty Images
The first Monday in May is a very special day in the world of fashion. Some of the world's most famous and stylish celebrities come together in one place to celebrate clothing and design, all thanks to the Met Gala. And, like all the best parties, there is always a theme. For the 2017 Met Gala red carpet guests were encouraged to dress in looks that reflected this year's theme: Rei Kawakubo x Commes des Garcons. So, yes, there's a whole lot to work with there when it comes to fashion.
With guests like Kim Kardashian, Anna Wintour, Ashley Graham, and Hailey Baldwin set to attend (an eclectic group, am I right?), the possibilities of eccentric gowns and generally incredible garments were endless. Although no one is required to follow the theme perfectly, when it comes to Commes des Garcons, one can only hope that celebs would try something at least a little out there. So did this year's attendees disappoint with their outfits in the end? Were all the looks as fantastically weird and glorious as the clothing from Commes des Garcons so often is? Well, judge for yourself. Here are all the looks from the 2017 Met Gala.
Anna Wintour
A classic Chanel dress for Anna, of course.
Bee Shaffer
Look at that pattern. The detail.
Tom Brady & Gisele Bundchen
Always a dapper couple.
Katy Perry
A very subtle ensemble.
Candace Swanepoel
A serious cat eye.
Tracee Ellis Ross
Wearing Commes, of course.
Claire Danes
Pirate chic, if you will.
Laura Dern
So beautiful.
Jaden Smith
Presented without comment.
Priyanka Chopra
Now this is how you do a trench.
Emma Roberts
This color palette is everything.
Katie Holmes
The Met Gala version of a prom dress, perhaps?
La La Anthony
Now this is how you do a sheer dress.
Adriana Lima
This might even out-do Angelina's famous leg slit from the Oscars.
Kylie Jenner
Look. At. That. Embellishment.
Laura Osnes
A dramatic skirt moment is my favorite.
Elizabeth Banks
Mindy Kaling
Look at that fringe!
Allison Williams
Look at that dramatic eye!
Nick Jonas
A statement blazer is always a good idea.
Selena Gomez
Gorgeous in Coach.
Emily Ratajkowski
Mermaid vibes.
Dakota Johnson
A gothic moment on the red carpet.
Kendall Jenner
WOW.
Megyn Kelly
Stripes and patterns together are certainly a statement.
Alexa Chung
A simple Met Gala look.
Lily Aldridge
There's a lot to process in this look.
The Weeknd
A statement brooch.
Lena Dunham
Talk about featuring a strong pattern.
Diane Kruger
She looks like royalty.
Mary-Kate & Ashley Olsen
Will just leave this here.
Solange
Doing the most, always.
Elle Fanning
Cinderella vibes.
Rose Byrne
I am ABOUT this hair.
Serena Williams
What a gorgeous color on her!
Zoe Kravitz
Queen.
Kim Kardashian
A more subdued look than usual from Kim.
Nicki Minaj
Who needs pants anyway?
Hailey Baldwin
More pale pink dresses on every red carpet, please.
Cara Delevingne
EVERYTHING.
Gigi Hadid
Gotta love a fishnet tight.
Sarah Paulson
Gorgeous.
Rihanna
The best look of the evening if you ask me.
Joe Jonas
Matching with Lena Dunham, I see.
Gwenyth Paltrow
Does she age, though?
Blake Lively
Like a sparkly, sparkly fish.
Chrissy Teigen
Angelic.
Madonna
Well, that is a theme.
Lupita Nyong'o
This color is everything.
Zendaya
This entire look is perfection.
Bella Hadid
But where are the shoes?
Felicity Jones
Pretty in periwinkle.
Kate Bosworth
So pretty.
Jennifer Lopez