All The Miss America 2018 Gowns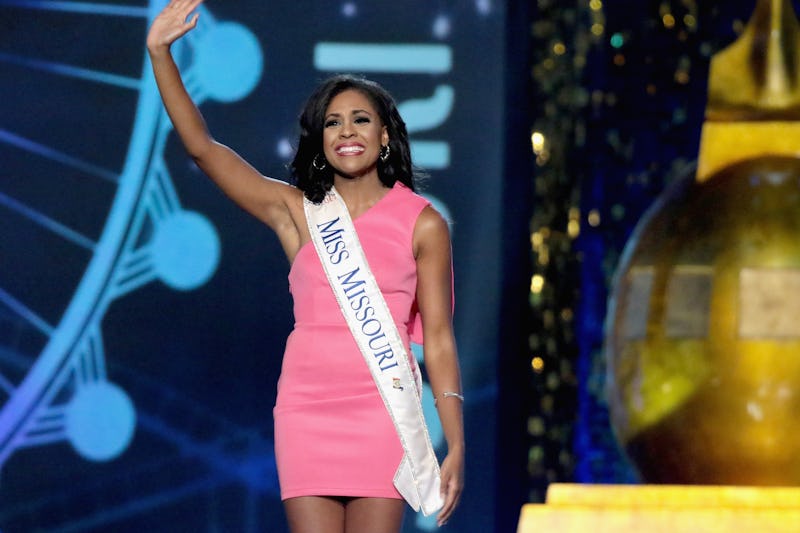 Donald Kravitz/Getty Images Entertainment/Getty Images
If you're in love with all things sparkly, glittery, and over-the-top glam, then you need to stop what you're doing and witness the looks from the 2018 Miss America pageant. While there are many segments to the show (and a lot more going on than meets the eye), there's no denying the fashion side of things and how much fun it can be to see what each contestant chooses to wear.
Sure, you might be thinking it's all a bit outdated — the prom-like gowns and the show itself. But remember, these aren't just super coiffed women smiling on a stage. Each of the 51 contestants are educated, talented, and armed with platforms they're ready to share in the interview portion of the show. The gowns are, in many ways, just the (very sparkly) icing on the cake.
Whether their looks are a blast from the pageant past (i.e., very traditional and "Miss America"-esque), or more modern and fashion forward, it's always exciting to see what each lovely lady brings to the stage. During Sunday night's show, we got to see a mix of classic white gowns, colorful dresses, and even one with a cape. Take a look at it all below.
Miss Pennyslvania Katie Schreckengast wore an incredible red gown with a diamond studded neckline. It was seriously stunning, and totally worthy of the twirl she did above.
Miss South Carolina Suzi Roberts went for a chocolate brown dress, which is a color she said she'd been dreaming about wearing on stage.
Miss Texas Margana Wood was the most modern (but still perfectly glittery) in a white geometric dress. It was an effortless look, which paired well with her relaxed side swept hair.
Miss Virginia Cecili Weber looked like a classic Hollywood starlet in this long-sleeved dress. And again, more glitter in all the right places.
Miss Missouri Jennifer Davis threw some mystery into the mix with this sultry black gown. How gorgeous?
Miss Georgia Alyssa Beasley was another contestant to rock a long-sleeved white gown. And she looked great doing it.
Miss Alabama Jessica Proctor went the classic pageant route and chose a white, sparkly dress. She said, "I wear the gown, the gown doesn't wear me." And I have to agree.
In perhaps my favorite look of the night, Miss District of Columbia Briana Kinsey wore a gorgeous lemon yellow gown. The color definitely made her stand out, as did that gorgeous sparkling top.
Miss North Dakota Cara Mund also shook things up in an elegant black dress, which featured a pretty cut out. See what I mean? There's so much glitter to love.
Miss New Jersey Kaitlyn Schoeffel also went for a classic pageant-y dress, but who cares? If you look this chic, you might as well go for it.
Miss Louisiana Laryssa Bonacquisti looked like a prom queen in her pretty yellow dress. And I'm not even mad.
Remember the cape I was talking about? That was all Miss Tennessee Caty Davis.
Miss New Mexico Taylor Rey turned it out in a gorgeous burgundy dress. It was super silky, and incredibly luxe.
See what I mean? So much glitter, and so many beautiful gowns to appreciate. If you're into all things glam, the Miss America pageant is truly a sight to behold.