Bill Paxton Was In So Many Great Movies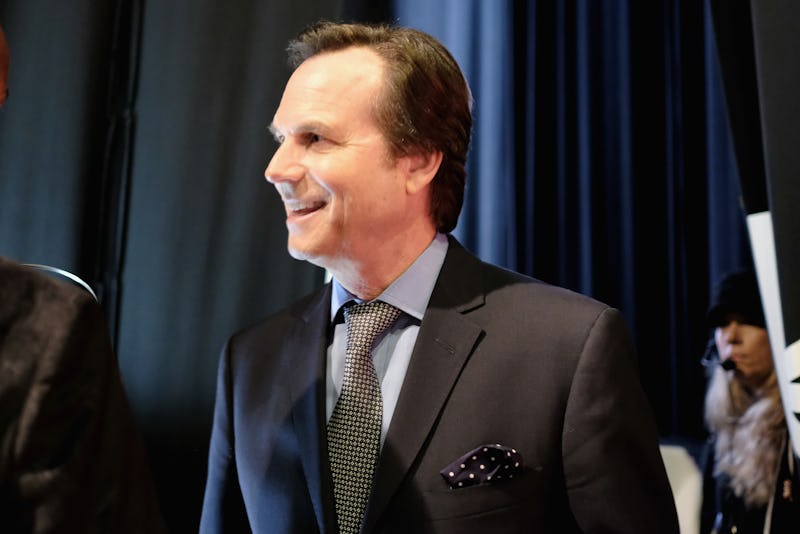 Alberto E. Rodriguez/Getty Images Entertainment/Getty Images
Oscar Sunday began on a sad note when TMZ broke the news that actor Bill Paxton died at the age of 61 on Feb. 26. TMZ shared a statement from Paxton's family that said, "It is with heavy hearts we share the news that Bill Paxton has passed away due to complications from surgery." They also mentioned Paxton's "illustrious career spanning four decades as a beloved and prolific actor and filmmaker." You may remember Paxton primarily from his popular '80s and '90s blockbusters — Titanic, Apollo 13, Twister, Aliens — but there are plenty of movies you probably didn't realize Bill Paxton was in, too.
In the statement to TMZ, Paxton's family also mentioned, "Bill's passion for the arts was felt by all who knew him, and his warmth and tireless energy were undeniable." This idea becomes obvious when you take a look at Paxton's extensive list of film and TV credits. This actor stayed busy in the entertainment industry, through all different kinds of roles and responsibilities (actor, producer, and director) for most of his adult life. That's a hefty accomplishment, which not many can claim for themselves.
In honor of Paxton's impressive career, let's take a moment to remember the movies you forgot the iconic actor participated in.
1. The Spy Kids Franchise
Paxton showed up in Spy Kids 2: The Island of Lost Dreams and Spy Kids 3-D: Game Over as Dinky Winks, the owner of an odd theme park who totally rocked cowboy apparel. His most iconic line? "Did somebody ring the dinkster?"
2. Weird Science
In Weird Science, Paxton played Chet Donnelly, the bullying and blackmailing older brother to one of the movie's main characters, Wyatt. But Wyatt and his equally nerdy pal Gary don't have to worry too much about Chet, because they've got other matters to attend to, specifically a "perfect woman" they created by using a giant doll and hacking into a government system. With the help of Lisa, said Frankenstein-like woman, Chet gets his just desserts.
3. Nightcrawler
Paxton really upped the creepy factor in this thriller about documenting and selling (and occasionally tampering with) late-night crime footage for the media. He plays a rival "stringer" (freelance photographer) to Jake Gyllenhaal's Lou Bloom. Their relationship leads to some fascinating drama.
4. Red Wing
We get a glimpse of Paxton as a warm but firm owner of ranch in this Western love story. He provides a job and lodging for an orphaned young man who has been kicked out by his current foster family.
5. Mighty Joe Young
Paxton plays Gregg O'Hara, a wildlife preserve director who feels that shipping a giant gorilla named Joe Young to Los Angeles will keep him safe from poachers. Spoiler alert, it's not easy being a giant gorilla anywhere. Regardless, Paxton was totally a babe in those safari khakis.
6. Tombstone
The Earp brothers, an Old West family of law enforcers who may or may not have been a little "crooked," are the stuff of legend. In Tombstone, Paxton plays the youngest brother, Morgan Earp, in a slightly fabled retelling of the events leading up to the legendary shootout at the OK Corral.
7. A Simple Plan
What would you do you if you found four million dollars? What if you had to split it with two other people, all while the feds were on your tail? Paxton's character, an upstanding member of small town society, must navigate through the distrust and issues that come up when an excess of money is involved.
Paxton is no longer with us, but luckily, there are tons of films the actor appeared in for us to remember him by.