Here's Every Single Time 'The Princess Switch' Referenced 'The Parent Trap'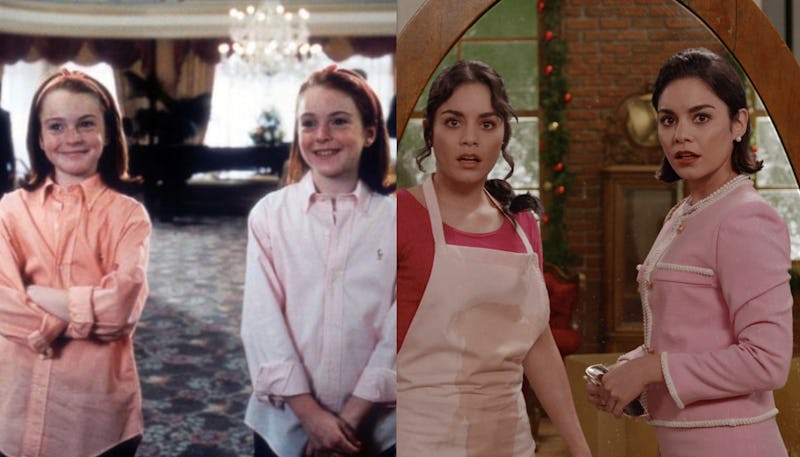 In Netflix's The Princess Switch, a familiar story gets a royal and a Christmasy twist. The movie stars Vanessa Hudgens as two characters: a duchess named Margaret Delacourt and a baker from Chicago, Stacy De Novo. Obviously, the resemblance is uncanny, and so the two women easily pull off an identity-swap when they meet — much like in 1998's remake of The Parent Trap, where Lindsay Lohan played actual twins switching places. In fact, there are tons of Parent Trap references in The Princess Switch, and that can't be an accident.
Margaret has a British accent, like Annie in The Parent Trap. So Hallie has to learn to copy the way that her more "proper" sister speaks. The same goes for Stacy's transformation in Netflix's Christmas masterpiece, and that's just where the similarities begin.
Apparently, drawing comparisons between the two movies flatters The Princess Switch's star, as Hudgens recently told People how much she loves the 1998 movie. "I've seen that movie so many times," she said. She went on, "My sister and I used to act out the scenes from the movie. It's still such a go-to of mine. If I still love it, hopefully, this will be a classic for my fans and that they'll still watch it."
Perhaps The Princess Switch will become a classic like Lohan's memorable movie did. Read on to see if you caught all of the two films' crossover moments. Spoilers ahead!