'The Princess Switch' Has An Original Christmas Song That'll Be On All Your Holiday Playlists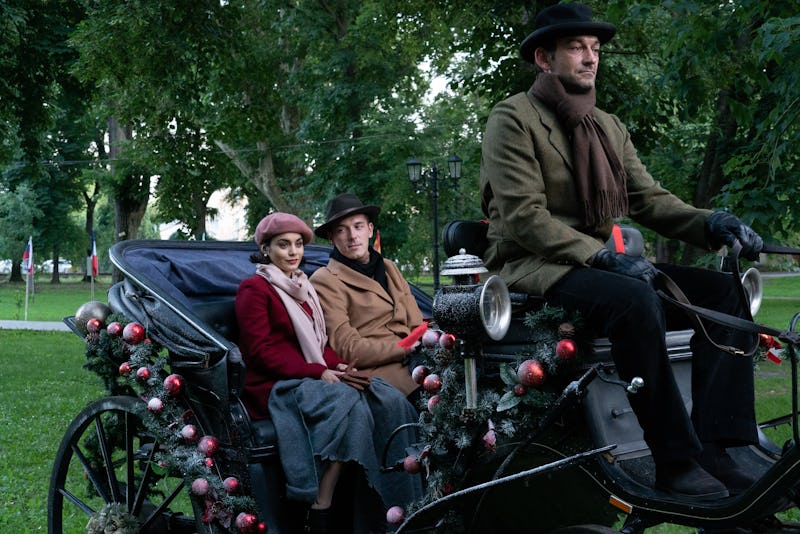 Gabriel Hennessey/Netflix
In Netflix's new original Christmas film, The Princess Switch, a baker and a soon-to-be princess switch places after discovering that they look exactly alike. Vanessa Hudgens plays both Stacy, the baker from Chicago, and Margaret, the Duchess of Montenaro. When both women end up in the fictional, vaguely European Belgravia, they each hilariously struggle to pretend that they fit into each other's contrasting lives. As mentioned before, Margaret is already engaged to Prince Edward, played by Nashville actor Sam Palladio. While he doesn't sing as his character in the movie, the Princess Switch end credits feature a song that Palladio sang, wrote, and produced.
I hopped on the phone with Palladio on the day of The Princess Switch's premiere and found out that the film's original Christmas song, "Bring the Snow," is a big milestone for the actor and performer's musical career. "It was the first song actually I produced," Palladio says, of the song, which he had pitched to the film's producers himself. Only three months before, Palladio had watched an early cut of The Princess Switch, and decided that he wanted to contribute more to the film.
"Having watched the film, I thought we all put a lot of work in and it became a great little piece," he recalls. "I was really pleased with it and really proud of it, and I just thought, 'You know what? This needs an original Christmas song.'" From there, it all took shape like a snowball rolling down a hill. The film's producers had already asked Palladio to sing some classic Christmas songs like "Jingle Bells" and such, so it wasn't much of a leap that he'd also sing an original song. Then again, it wasn't in the original plan.
"I reached out to [a producer] and I said, 'Look I'd be happy to do some singing for you, but would you be interested in me writing an original song for the film?'" And he was super excited, [but] it was a little late in the game," says the British actor. "I was just kind of rolling with it. I just thought, 'You know what? It's not, we don't need to make a big deal about it, I'm gonna jump in the studio in a couple of days, and give me a shot, see what you think.'"
Palladio says that he called up his friend and frequent songwriting partner Trent Dabbs, who's written with Kacey Musgraves and Ingrid Michaelson, as well as contributed songs for Nashville. Palladio asked Dabbs if they could get together that day, and fortunately, they could. The result is the lovely new Christmas song that opens up the credits after The Princess Switch's grand, romantic finale.
During his time playing singer-songwriter Gunnar Scott on Nashville, Palladio had pitched a few songs that he'd written. When ABC announced that Season 6 would be Nashville's last, Palladio made a decision. "I've gotta write my character's final song, I just have to," the actor remembers thinking. He and Dabbs achieved that goal, with the original song "Going Electric."
"Bring the Snow" hasn't yet been released on iTunes or Spotify yet, but Palladio says that it should come out around Dec. 7 if not earlier during that week. And if that one song isn't enough for you, make sure to keep watching the full Princess Switch credits. Palladio also sings the traditional Christmas standards that score the rest. That came as a surprise to the actor. "It's quite funny because having watched the premiere the other night, I didn't realize that they stitched them all together for the credits," he laughs. "So the whole credits is me singing for about 10 minutes." No chance that fans will be complaining about that.