Here's Every Celeb Who Wore Black At The Golden Globes In Support Of Gender Equality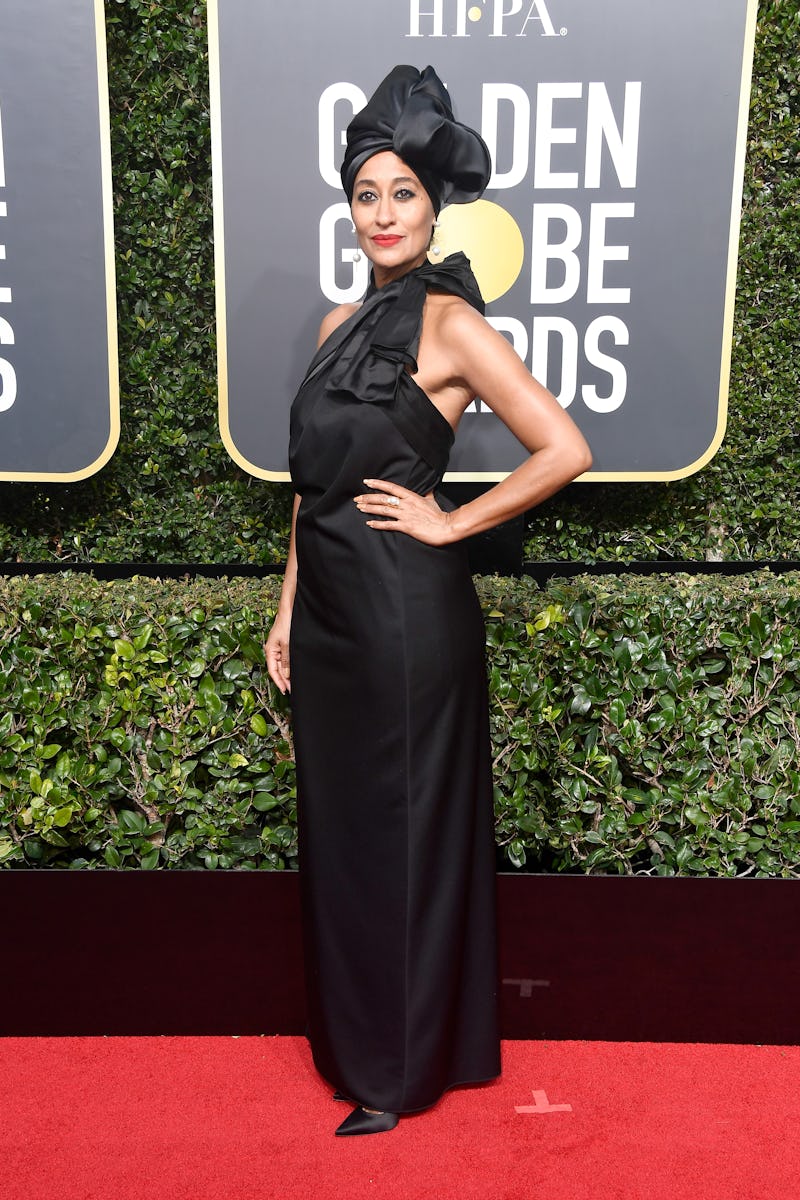 Frazer Harrison/Getty Images Entertainment/Getty Images
In the weeks leading up to the 2017 Golden Globes Awards, preliminary media coverage of the awards show popped on most everyone's news feeds and timelines. But this year the anticipation of what the stars would wear was a little bit different than usual. In the anticipatory coverage of the show, it surfaced that many nominees and attendees for this year's ceremony (both men and women) announced they planned on wearing black to the Globes in an effort to protest gender inequality, sexism, and sexual violence in the entertainment industry.
This statement comes on the heels of industry mega star Harvey Weinstein being accused of sexual misconduct by dozens of women — and the viral #MeToo movement that followed. The latter encouraged women to share their own stories of gender inequality and sexual violence in an effort to highlight the disturbing prevalence of such conduct. Both in Hollywood and beyond, #MeToo put the rampant gender inequality and mistreatment of women in the spotlight in a remarkable way. What started as one man's accusers speaking out snowballed into an avalanche of consequences for men in all corners of the entertainment industry.
When it comes to #MeToo's effect on the Golden Globes, there's of course no doubt that the black dress protest was inspired by the movement. The two are inherently connected. And while some people are still on the fence as to whether or not men wearing black to the awards really means anything (don't most of them wear tuxes, anyway?), such a sweeping gesture from so many industry names is big. While #MeToo could have easily faded away into the background, as many viral hashtags tend to do so quickly, it hasn't. It's three months later and not only has it not been silenced, but now the most powerful women in Hollywood are bringing it to one of the largest and most public stages in entertainment.
There may be those who argue that a more powerful statement could be boycotting the award show altogether, or raising money for causes supporting gender equality. But so many people banding together for one common cause is indisputably powerful in its own right, especially when those people hold so much influence. The black dresses are, as many women in Hollywood posted on social media throughout Golden Globes day, a signal that #TimesUp — for sexism and gender equality in Hollywood, as well as far beyond.
Salma Hayek
Oprah
Allison Janney
Geena Davis
Emilia Clarke
Greta Gerwig
Elisabeth Moss
Zoe Kravitz
Gal Gadot
Mary J Blige
Margot Robbie
Penelope Cruz
Sarah Jessica Parker
Nicole Kidman
Halle Berry
Reese Witherspoon & Eva Longoria
Jessica Biel
Kate Hudson
Saoirse Ronan
America Ferrera & Natalie Portman
Angelina Jolie
Mariah Carey
Laura Dern
Maggie Gyllenhaal
Viola Davis
Gwendoline Christie
Millie Bobby Brown
Octavia Spencer
Kerry Washington
Connie Britton
Jessica Chastain
Chris Hemsworth
Allison Janney
Issa Rae
Kit Harington
Katherine Langford
Samira Wiley
Sarah Paulson
Ricky Martin
Christina Hendricks
Ewan McGregor
Chrissy Metz
Nick Jonas
Heidi Klum
Darren Criss
Dakota Johnson
David Harbour
Catherine Zeta-Jones
Freddie Highmore
Tracee Ellis Ross
Kelly Clarkson
Claire Foy
William H. Macy
Edgar Ramirez
Gaten Matarazzo
Bill Pullman
Daniel Kaluuya
Jeannie Mai
Missi Pyle
Billy Eichner
Finn Wolfhard
Dove Cameron
Sadie Sink
Caleb McLaughlin
Noah Schnapp
Malin Akerman
O. T. Fagbenle
Jane Campion
Joseph Fiennes
Ryan Seacrest
Caitriona Balfe
Debra Messing
Susan Kelechi Watson
Rachel Brosnahan
Giuliana Rancic
Sterling K Brown
Laura Marano
Mario Lopez