All The Political Moments From Super Bowl 51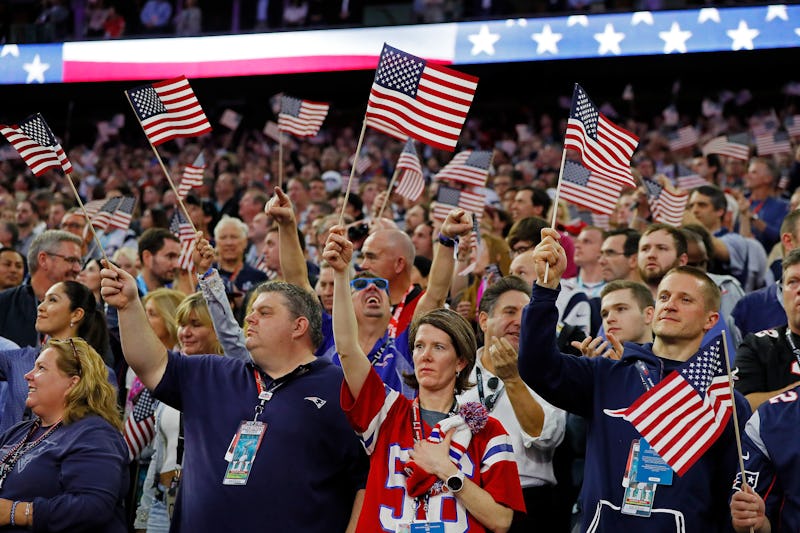 Kevin C. Cox/Getty Images Sport/Getty Images
The New England Patriots pulled off the biggest comeback in Super Bowl history, recovering from a 16-point deficit at halftime to defeat the Atlanta Falcons in overtime. For many, sports is a refuge from the political news of the day, but the 2017 games offered no such respite: There were a ton of political moments at Super Bowl LI as well — and not just because the trajectory of the game eerily mirrored that of the 2016 election.
The political element to the championship reared its head early on, when Vice President Mike Pence, who attended the game, was briefly shown on the jumbotron. Reportedly, Pence's image elicited boos both from inside the stadium and in bars across the country. Although the moment quickly passed, it was nonetheless a reminder of how politically divided — and politically involved — the country is at this point in time.
As usual, there were political commercials at the Super Bowl as well. Coca-Cola ran an ad that first aired at Super Bowl two years ago, which features a multi-lingual rendition of America the Beautiful. Though subtle, many saw a political message there: an embrace of multiculturalism in America and rejection of the exclusionary, nativist politics that have gained currency in recent years.
Budweiser aired an ad depicting the company's founder struggling with anti-immigrant attitudes while coming to America. Some supporters of President Trump took offense to this and called for a boycott of Budweiser; the fact that these folks interpreted a pro-immigrant commercial as being an affront to the president is somewhat telling.
And then there was Lady Gaga's halftime performance. Gaga has always been a political artist, and she was in full force during halftime. In addition to singing one of her most overtly political songs — the pro-LGBTQ hit Born This Way — midway through the performance, she opened her act with a cover of This Land Is Your Land.
With its inclusive lyrics ("this land was made for you and me") and deep historical connections to the American left, the song is an explicit rebuke to Trump's revanchist political worldview and has emerged as an unofficial anthem for anti-Trump protesters.
That opening song led to an even more explicit political moment, when former Secretary of State Hillary Clinton tweeted in support of Gaga and her message.
In a much broader sense, the entire game had a political overtone to it, because in a number of borderline-spooky ways, it resembled the 2016 presidential election.
To start with, Patriots quarterback Tom Brady is a Trump fan, and the feeling is mutual — in fact, the two men have known each other for 16 years, and they're golf buddies. Patriots owner Bill Belichick is also a supporter of Trump, and wrote him a letter before the election praising him for running "a tremendous campaign." The Falcons, meanwhile, are from a city that Trump insulted on Twitter during a feud with Rep. John Lewis, who represents much of the city in Congress.
The divisions were clear: For many, the Patriots felt like the Trump team, and the Falcons felt like #TheResistance. This dynamic gave the game an inescapably political dimension to it even before it began.
Remarkably, this parallel held throughout the Super Bowl, as the game's outcome, and the path it took to get there, were deeply reminiscent of the path Trump and Clinton took while running against each other for president. Like Trump, the Patriots fell far behind early on in the contest. Like Trump, they were given nearly-insurmountable odds of winning, with ESPN pegging their chances at less than 5 percent at halftime.
But like Trump, the Patriots came from behind and pulled off an astonishing win. In both cases, it was unprecedented: Prior to the 2017 game, no team that trailed by more than 10 points going into halftime had ever won a Super Bowl; similarly, no presidential candidate with as big of a polling deficit as Trump faced in October went on to win the election. Say what you want about Trump and Patriots — they both made history.
Trump sent a congratulatory tweet to the team after they won; needless to say, Trump's Twitter account is now a fixture of American politics, and will remain so as long as he's in office.
But all of these parallels might say more about us and the world we live in than than the game itself. For many of us, the 2016 campaign still isn't very far from our minds, and the radical nature of Trump's presidency — as well as the aggressive reaction it's inspired on the left — has made it nearly impossible to avoid thinking about politics for too long at any given point.
That may be the case for quite some time, so in all likelihood, this won't be the last Super Bowl that also serves as a lens into the state of American politics.