These Musicals Are So Necessary In Today's World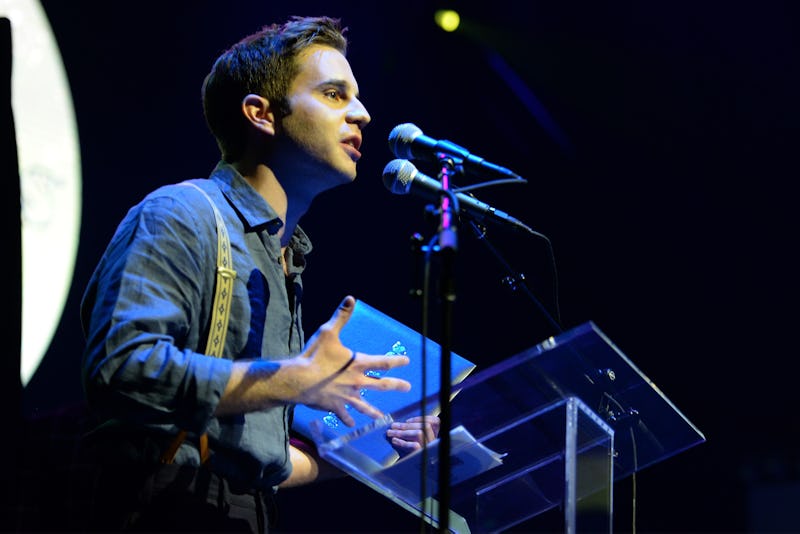 Mike Pont/Getty Images Entertainment/Getty Images
Just like TV or film, music is a medium with the power to not only entertain its consumers, but reflect the landscape they live in — for good or for bad. Just take the recent wave of albums and songs to come out, from Beyonce's Lemonade and Migos' Culture, both reflections of black lives and culture, to Lady Gaga's Super Bowl halftime performance, which was filled with political imagery, to Katy Perry's Chained to the Rhythm video, which highlights the terror many feel over the U.S. government's current policies. By and large, most of these recent politically-themed releases have either added to listeners' despair or made them contemplate the oppression currently being experienced by so many — but two new musical releases, both Broadway shows, are relevant in an entirely different way. Instead of adding to our sadness or anger, Dear Evan Hansen and Come From Away remind us that despite all the darkness going on outside, human beings are still innately good.
Written by Pasek and Paul, the team behind the Oscar-winning La La Land, the highly acclaimed Dear Evan Hansen isn't all big cheers and group hugs. In fact, much of the musical, about an anxious teenage boy who inadvertently gets involved in a tragedy's complex aftermath, is heartbreaking. Evan is a lonely, awkward kid who yearns to fit in, and the situation he accidentally inserts himself into is filled with chaos and grief. Yet as his social circle expands, Evan finds himself part of a movement — one that celebrates people's differences, emphasizes the importance of unity, and offers support to anyone struggling to get by in a world that often seems cruel or unfair.
Come From Away, meanwhile, tells a very different story — the true tale of what happened when, on Sept. 11, 2001, 38 planes were forced to land in the tiny town of Gander, Newfoundland after being diverted from their original courses due to the World Trade Center attacks. The rock musical explores the chaos that ensues when the town's population is suddenly doubled, and both the residents and plane passengers are forced to deal with their new, unwanted reality. There is frustration and fear, of course, but there is also joy, as the less-than-ideal living quarters cause people to bond and grow close. From the Gander natives who selflessly open their doors to the visitors to the passengers who befriend one another as they work through the crisis, Come From Away is filled with moments that showcase the goodness that lies within people, even in the darkest of circumstances.
Both shows are essential viewing, musicals that entertain, yes, but more than that, fill you with a sense of wonder over and appreciation for the capabilities of humankind. Dear Evan Hansen and Come From Away may have totally different plotlines, but the two shows share a central theme: people can be good, even — perhaps especially — when the world outside is not. And in today's climate, when news like President Trump's administration's transgender bathroom decision exists and there's reason after reason to be angry and upset, it couldn't be more needed to get these reminders of the power human decency can hold.
If you're not in New York, though, you might not get a chance to see Evan Hansen or Come From Away live on Broadway, which is a real shame. But the shows' powerful messages transcend the theater stage. The Evan Hansen soundtrack is out now, and streaming on Spotify, and its offerings — like the stirring identity anthem "You Will Be Found" — are prime examples of the musical's moving themes. The soundtrack for Come From Away, meanwhile, isn't available just yet (it'll be out Mar. 24), but once it is, you can listen to that show's songs, too, and take in their messages of love, friendship, and community.
In a time when hate and anger are all too prevalent, shows like Dear Evan Hansen and Come From Away couldn't be more necessary. They're the reminders we need that good does exist — and that people have the power to brighten up even the darkest of situations.