Here's Your First Rundown Of All The Songs In 'Mary Poppins Returns'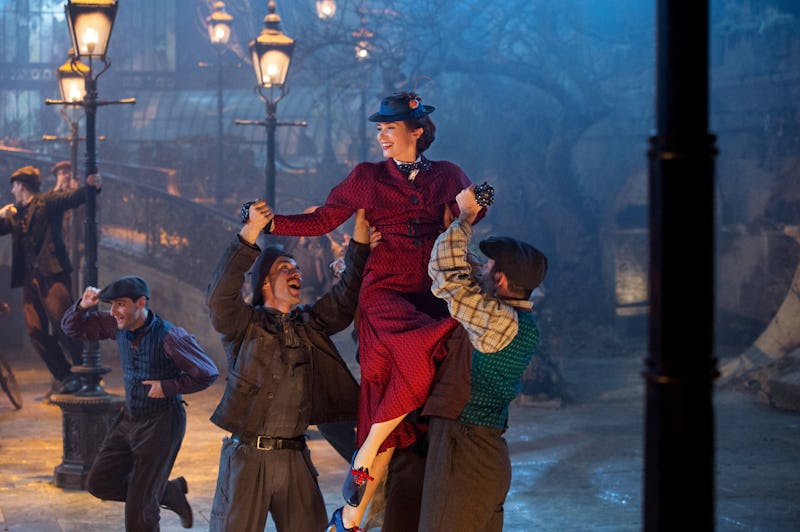 Walt Disney Studios
"Are you having fun?" Mary Poppins Returns' director Rob Marshall shouts to his hopping ensemble of lamplighters between takes of "Trip A Little Light Fantastic" on the movie's England set. "You look it!" Hidden away, the American journalists visiting the set (myself included) anxiously turn to the British journalists here, looking for their approval on Lin-Manuel Miranda's accent. Thankfully, they say it passes. So while the original songs in Disney's Mary Poppins Returns new soundtrack may reference the original, the actor's cockney promises to be not nearly as groan-worthy as dink Van Dyke's was, no matter how much you loved Burt.
"We're respectful of [Mary Poppins] and we pay an homage to the original tropes of the film," says producer Marc Platt when he speaks to reporters during the set visit, "and yet we confidently take those tropes and tell the story our way, with our personality."
For example, the number reporters glimpse involves Jack, played by Miranda, Mary Poppins (Emily Blunt), and three children as they recount their day to the lamplighters, known as leeries. It's the sequel's version of "Step In Time," the chimney sweep song from the original, for all intents and purposes. Without giving too much away, the song uses a rhyming slang known as "Leerie speak," or rather "schpeak" with the accent. Even the posh-sounding Poppins can speak Leerie.
For Miranda, doing a movie like this is a break from the norm. "The disconnect for me," he says, addressing the group in a Q&A, "having just come out of a year on Broadway, is finishing a number and waiting a year and a half for applause."
Though Miranda contributed songs and lyrics to Disney's Moana and is attached to compose new material for Rob Marshall's live action remake of The Little Mermaid, he just acts as Jack in Mary Poppins Returns. "I think it's been rather lovely for [Lin] to just be an actor in something and not have to write and produce and create everything," says Blunt about her co-star.
For Miranda, playing Jack is a big deal in terms of representation, too. "That's the dream for me," he explains. "Obviously, I started writing musicals because I didn't see a path for myself in musical theater. I was like, I don't dance well enough to play Bernardo [in West Side Story], and if you're a Puerto Rican dude, that's what you get."
Miranda's not the only one feeling blessed by his experience in Mary Poppins Returns. "I feel I had a great practice run with Into The Woods," says Blunt about singing on camera. "In this case, the songs were tailor made for me and my own abilities! So that was fabulous, frankly."
The sequel's music is written by Marc Shaiman and Scott Wittman, whose work you'll know from Hairspray, Smash, and the South Park movie. They drew inspiration from the Sherman Brothers, who wrote the music for Mary Poppins and were recently depicted in Saving Mr. Banks. "This score is such a love letter to that Sherman Brothers score and to the original," Miranda explains. "It's a joy to be a part of it."
Here's a full rundown of the other Mary Poppins Returns songs, besides "Trip A Little Light," as gleamed from the set visit — though be warned, there are song titles and details ahead that could be considered spoilers. So if you don't want to know the titles of Shaiman and Wittman's new tunes or whether or not Miranda does any rapping, wait until December. If you're game, carry on:
"Underneath The Lovely London Sky"
Jack's job is to light the gas lamps along the river Thames at the end of the day and douse them first thing in the morning. So, fittingly, his character opens the film, just as Burt opened the original with a version of "Chim Chim Cher-ee."
Production Designer John Myhre tells us that he and the creative team started using a term they invented, "London-y" (or maybe Londoney, or Londonie — he said the term can only be felt, not spelled), for what they were trying to achieve with this song.
"The Place Where Lost Things Go"
The new film takes place 25 years after the original in the 1930s — which, as Platt points out to us, is the same era in which P.L. Travers' original novels were published. The Banks family, which includes a grown-up feminist Jane and Bohemian Michael (Emily Mortimer and Ben Whishaw, respectively) as well as a new generation of children, have experienced a loss. "There's some beautiful music about what happens when you lose someone," says Platt. "Marc has written a beautiful ballad for Mary." You can hear a snippet in the new trailer, above.
Sad songs are no stranger to Mary Poppins. "Feed The Birds (Tuppence A Bag)," actually traumatized Miranda as a child, we learn. "I never got past 'Tuppence,'" he explains, "because 'Tuppence' was so sad, I would burst into tears and make them turn off the VHS. So I didn't see the end of the movie until I was like an adult."
"Can You Imagine That"
One of the most memorable songs from Mary Poppins is "Spoonful of Sugar," which helps Jane and Michael learn to enjoy cleaning their room. What else don't children enjoy doing? Why, taking a bath! This song takes that fear you may have had of going down the drain and turns it into an underwater musical adventure.
"The Royal Doulton Music Hall" & "A Cover Is Not The Book"
Everyone remembers the integration of animated penguins in the original film. Technology has changed and characters in Mary Poppins Returns will interact in frankly shocking ways, the production team promises us. Just take these two songs, which will remind audiences of "Jolly Holiday" in its animation and London Music Hall-style of tunes. Instead of jumping into pavement art, however, the penguins go into a Royal Doulton china bowl.
According to Platt, "what you would recognize as a rap" is a part of this sequence, too. Given the period and the genre, that would most likely translate as a patter song, a genre made popular by Gilbert and Sullivan. One example of more modern patter song is "Supercalifragilisticexpialidocious" from Mary Poppins itself — and there's some patter in "Jolly Holiday" as well.
"Turning Turtle"
Mary Poppins Returns is Blunt's "third film with Meryl Streep," the actor says, referencing The Devil Wears Prada and Into the Woods. "What a stalker she is." In the film, Streep plays a character named Topsy, adapted from P.L. Travers' books, who is an Eastern European distant cousin of Mary's and lives in a fixit shop that turns upside down every Monday. Sounds a bit like Uncle Albert and his penchant for levitation, doesn't it? The movie's production designer teased some fun instrumental moments in Streep's big "Turning Turtle" musical moment, because Topsy is more apt to turn a broken instrument into something else rather than fix it.
When Meryl was here," Platt recalls of the actor's time on set, "she turned to me and said 'it feels like we're giving a gift to the word.'" That's the joy that everyone involved with the movie seems to be taking in telling this new story and singing these songs.
"Nowhere To Go But Up"
Another musical cameo that should have Disney fans reaching for the Kleenex is Angela Lansbury, who plays another Travers character called "The Balloon Lady" and is featured in this song.
Other actors in the film include Tony nominee Noma Dumezweni as a character called Miss Farthing, Julie Walters as the housekeeper, and Colin Firth sporting quite a look as the antagonist William Weatherall Wilkins. 91-year-old dink Van Dyke also filmed a cameo as the son of the old man he played in the original Poppins. "He just needs less makeup now," jokes Platt.
And whether you're stepping in time or tripping the light fantastic, the musical adventures coming out of Cherry Tree Lane have one essential and timeless element in common: Mary Poppins. "There's dreams that are too audacious to dream," Miranda says. "Like, you could dream of being on Broadway someday. You could maybe dream of writing a show. To dream that there would be a sequel to Mary Poppins and you could play with Mary Poppins? This is like, beyond beyond."
The applause may be delayed, but when Mary Poppins finally does return on Dec. 19, 2018 it will be heartfelt.