Allison Janney Reprises Her 'West Wing' Role For Samantha Bee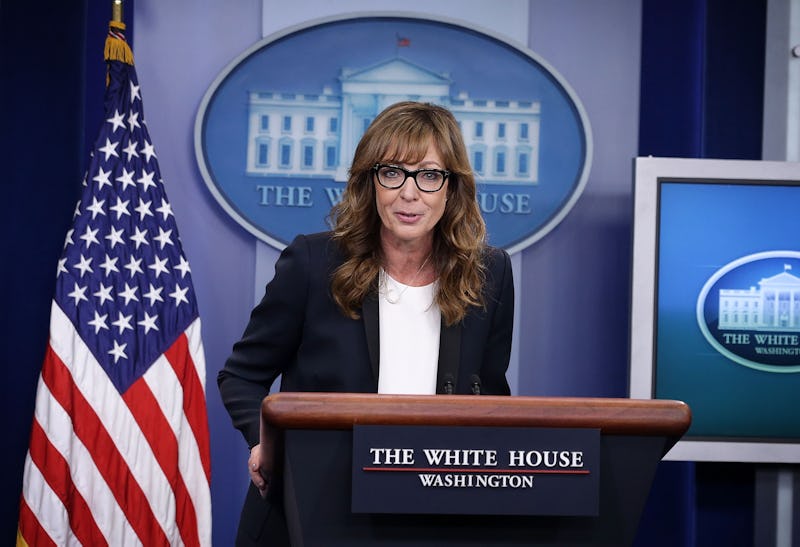 Alex Wong/Getty Images News/Getty Images
The White House Correspondents' Dinner is a Washington, DC tradition, wherein politicians, the media, and A-list celebrities get together to celebrate the nation's free press. The 2017 iteration is a little (OK, a lot) different, since Donald Trump will not be attending the event. The host of Full Frontal With Samantha Bee is acknowledging this bizarre year with a one-night comedy special, Not The White House Correspondents' Dinner, premiering at 10 p.m. ET. The one-hour event was filmed in advance in front of a studio audience, so its fun, clever celebrity cameos are already out there. In a nod to The West Wing fans, actor Allison Janney appeared as C.J. Cregg at Samantha Bee's special and delivered a few jokes at the administration's expense.
According to USA Today, an actor playing a reporter asked Janney-as-C.J., "Ms. Bee organized Not the Correspondents' Dinner on the same night as the actual Correspondents' Dinner. Is she trying to undermine the legitimacy of both the press and this president?"
To which, Janney responded in character, "No, Ms. Bee is trying to undermine the legitimacy of just one of those two things." I will let you form your own conclusion on which one she meant there.
The cameo is so brilliantly placed because Janney's West Wing character is probably the best known fictional interpretation of that important White House post: the press secretary. Janney won four Emmy awards for playing Cregg, press secretary to Martin Sheen's President Jed Bartlet, on the acclaimed Aaron Sorkin political drama. And Samantha Bee's special doesn't mark the first time Janney has revisited that character since the show ended in 2006.
Janney memorably briefed the real White House press corps in character at the White House towards the end of the Obama administration. In spring of 2016, the actor was the opening act for real (and at that time, acting) press secretary Josh Earnest. She gave a statement raising awareness about opiate addiction to the journalists in attendance, even throwing in some West Wing references, such as a nod to C.J.'s famous root canal and Josh Lyman's subsequent fill-in debacle in an early episode.
At a time when many are criticizing current press secretary Sean Spicer for his handling of difficult questions, it's especially bittersweet to get a visit from the poised and personable C.J on Not The White House Correspondents Dinner. Neither the fictional press room nor the real one have been the same since she hung up her blazer.