Amal & George Can't Steal Bey's Shine On Twitter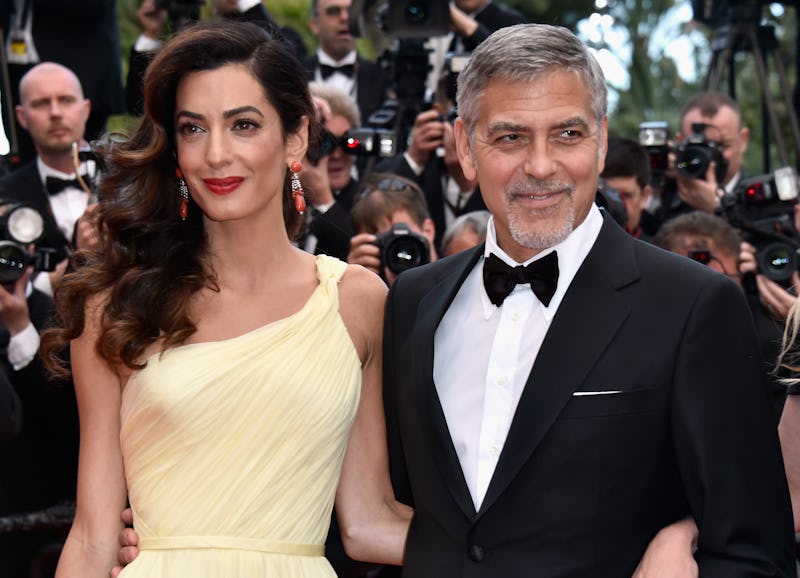 Pascal Le Segretain/Getty Images Entertainment/Getty Images
There is something in the water in Hollywood. Every other day, a celebrity is sharing a pregnancy announcement — and, recently, not just for one baby. Two is the magic number. On Thursday, reports spread like wildfire that Amal and George Clooney are expecting twins! (Bustle has reached out to a rep for George for comment, but has not yet received a response.)
While news of Hollywood's formerly notorious bachelor-turned husband becoming a first-time dad is mind-boggling to say the least, if you ask the Beyhive, Beyoncé had the greatest twin pregnancy announcement of all time! Just a week ago, the Carters were basking in internet glory when Beyoncé posted a photo of herself clutching her baby bump surrounded by flowers.
Fast-forward to Thursday, Feb. 9 to what started off as yet another day mindlessly scrolling through hilarious pregnant Beyoncé reactions, only to have Us Weekly report that daytime talk show host Julie Chen spilled the beans about Amal and George's (alleged) babies. "Beyoncé is not the only superstar expecting twins," Chen said on the CBS morning show The Talk. "Congratulations are in order for George and Amal Clooney!"
Although it sounds like today is Amal's day, she had betterWatch the Throne. One quick glance of Twitter may have you under the impression that Beyoncé broke the internet all over again.
See what the Beyhive is buzzing!
The Always On Trend Buzz
The Pregnancy Prediction Buzz
The Copycat Buzz
The Playdate Buzz
The Political Buzz
The Disbelief Buzz
The Repopulation Buzz
The "Tell Him 'Boy Bye'" Buzz
The Hater Buzz
The Movie Stars In the Making Buzz
The Wannabe Buzz
Well, that's certainly a lot of buzz! Take it easy, Beyhive — it's not a competition. There's more than enough room in Hollywood for famous babies. While it's too soon to tell whether the Clooney twins will be playmates with the Carter twins, the world can't wait for their B'Day.