Amanda Bynes Just Tweeted For The First Time In Almost A Year & You Need To See The Photo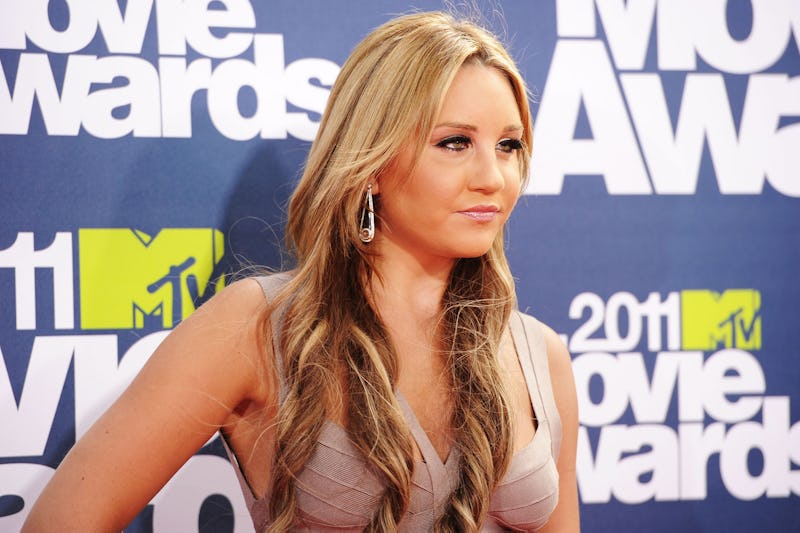 Jason Merritt/TERM/Getty Images Entertainment/Getty Images
Encouraging news for fans of Amanda Bynes — aka, everyone on Earth — after a long hiatus, the actor has seemingly returned to social media. Early on Feb. 10 (which would be late on Feb. 9, where the comedian is based) Amanda Bynes tweeted her first photo in almost a year. In the photo, which she captioned "Dinner with friends at Girasol," Bynes smiles serenely from a table with two friends. It's always exciting to hear news from a favorite, and often quiet performer, but this actor holds a special place in fans' hearts. After all, Bynes is a modern comedy icon, and has stayed out of the spotlight in recent years. She's reportedly attending school and tending to her mental health. A high-profile turbulent period in the media concerned her longtime fans, so it's all the more reassuring when she returns from an absence appearing happy and healthy.
Fan reactions poured in on Twitter, and they were all overflowing with love. People praised her, sent her strength, and wrote positive notes to her. It's obvious how many fans are invested in Bynes' well-being. She has every right to be private, of course, but deciding to share her intimate dinner with friends on social media is a sweet little reminder that she's around, and she wants fans to know she's doing well. Unsurprisingly, fans are living for it.
Bynes has been cautious with her updates in the past few years. Since her hiatus from acting, the actor has enrolled at the Fashion Institute of Design & Merchandising in Los Angeles, which she last spoke about in 2016. In December 2017, Us Weekly reported that the comedian is planning a return to the spotlight in late 2018. The magazine quoted Bynes' lawyer on the subject of Bynes' return to acting:
"Amanda is looking forward to ringing in the new year with her close friends this year. In 2018, she looks forward to completing fashion school and dipping her toe back into acting. She has had several offers but is waiting for the right one to come along for a comeback."
While that's not the same as a statement from the comedian herself, it does sound as if performances in 2018 are more than just a rumor. In June 2017, Bynes sat for her first interview in nearly four years, speaking with a Hollyscoop anchor on the subject of a career renaissance, stating that "I do miss acting, and I actually have something surprising to tell you: I'm going to start acting again... I want to do TV, maybe a few guest spots on a show that I'm a fan of and maybe another TV show where I'm the star of in the future." Judging by fan response to Bynes tweeting a simple photo of a dinner with friends, it seems that a full-on return to acting might actually cause people to melt down in the best way.
Bynes is not active on Facebook, Instagram, or any other forms of social media, which she reminds her fans of from time to time. She uses Twitter as her sole method of communication, which means her messages to fans are short, sweet, and easy to respond to. Bynes has struggled with a bevy of impersonators on various platforms, and has seemingly had the fewest problems with this on Twitter.
Her life updates are always a welcome surprise, especially as they're few and far between. Hopefully, this note from her L.A. dinner isn't the only time fans will hear from her in 2018! Fans will definitely be keeping an eye and ear out for hints of her Hollywood comeback before the end of the year.