Amanda & Robby Went To War On Social Media After 'BiP' & Put It All Out There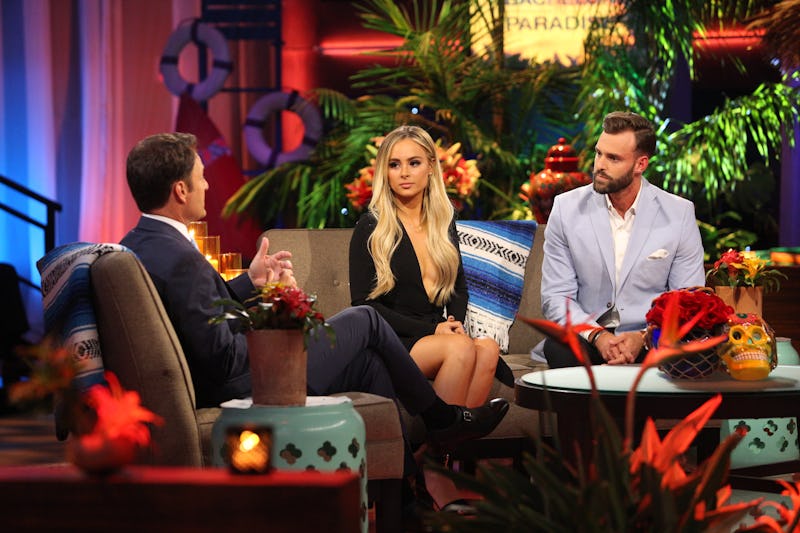 ABC/Paul Hebert
It seemed like Amanda Stanton and Robby Hayes were trying to stay cordial post-breakup during the Bachelor in Paradise Season 4 finale. But unfortunately, that is not what ended up happening after Bachelor in Paradise aired, Amanda and Robby took jabs at each other on social media, including Amanda posting the photo of Robby allegedly cheating on her.
During the episode, twins Haley and Emily Ferguson claimed Robby cheated on Amanda during a trip to Colorado. Robby denied it, and Amanda looked like she wanted to talk about anything else in the world. Even though she admitted to seeing a questionable photo, she chose to believe Robby that, while the photo shows him close to another woman, it doesn't show him cheating. Either that or she just wanted to get out of that conversation as soon as she could.
Watching the interview portion of episode, there was very clearly tension between Amanda and Robby, but it seemed like they both wanted to keep the drama away from the public and just get through their talk with Chris Harrison as quickly as possible. So much for that politeness. Robby and Amanda went at each other on social media later Monday night.
Previously, Bachelor expert and king of spoilers Reality Steve posted about the incident, and claimed "The woman who sat two rows behind [Robby and the woman in the photo] watched them make out the whole show, I spoke to her, she spoke with Amanda as well, and she has no reason to lie about what she saw. She even took pictures which she told me she sent to Amanda."
Amanda channeled her inner Taylor Swift and posted the photo she, Robby, and the twins referenced on the episode to Twitter with the caption, "Look what you made me do."
So, what led to this point? A whole lot of back and forth on both Twitter and Instagram.
First, Amanda tweeted "Never settle. Know your worth. Trust your gut. All that stuff etc etc." along with "#BachelorInParadise", strongly implying that her tweet was alluding to her breakup with Robby.
Once the episode started to air on the west coast, the two California residents really went in on each other. Robby posted a screenshot with a long rant about Amanda on Twitter and in his Instagram story. Ironically enough, it started off with Robby saying, "I won't be the one to resort to vicious social media attacks."
He also accused Amanda of "allowing allegations that are blatantly untrue be said about [him] by 'the twins' while one sits back and 'unknowingly' watches." Robby also replied to a fan who mentioned the twins by saying, "The twins? You mean the puppets?"
Amanda responded by telling Robby, "'A desperate need to present an innocent persona.' - the guy who denies cheating when there is photo proof #beamanalready" along with a GIF of a woman sipping tea.
A fan tagged Amanda and Robby in a tweet that said, "If @amandastantonnn lied about her kids meeting @RobbyHHayes who knows what else she has lied about." Robby liked the post and he even emphasized his point by replying with "Like."
In a now-deleted tweet, Robby replied to Amanda, seemingly claiming that he had met her children, along with his dog. (As you'll see, she later commented on the dog situation, too.) He wrote, "Tell Kins and Char I said hey! Dixie misses them :)."
In interviews before the finale aired, Amanda and Robby had both denied that he had ever met her children. In an Us Weekly story published on August 22, Robby said, "I haven't. That's something that, you know, she rushed into things last Paradise. She jumps right into things with Josh [Murray], and as much as her friends warned her, she kind of was overwhelmed by her emotions."
Amanda also said that Robby never met her daughters during a post-split interview with Glamour. The two-time BiP alum said, "No. I introduced the girls to Josh [Murray], and that didn't end up working out, so it's something that I'm very protective of them about." Amanda continued, "I will say, even with Josh, the reason I introduced them to Josh was because I really did feel like he was ready. He was really good with my kids. If I have one good thing to say about Josh, that's what it would be."
Not only did Amanda deny that Robby ever met her daughters, Kinsley and Charlie, she also explained why she didn't want it to happen: "With Robby, I just never saw that. Even if it was too soon now, it's something I wanted to be able to see in the future or work toward. But the more I talked to Robby and the more we hung out, the less and less I could see that happening."
Speaking of Josh, Amanda's other ex jumped in on the Twitter battle by replying to Robby. He later deleted his tweets. In response to Robby's long rant about Amanda, Josh chimed in and said, "I have 100 more page to add, u have no idea ... or wait, you do, kind of #urturn." Robby replied with "Let's combine libraries?"
Josh continued and wrote, "Not sure if there would be commercial space big enough for just 1."
And it was only a matter of time before someone brought Josh's other Bachelor franchise ex, Andi Dorfman, into the conversation. Someone tweeted Robby and Josh saying, "[Whose] library would be bigger? Yours and Robby's.... or @amandastantonnn and @AndiDorfman's?" Josh couldn't resist tweeting, "You mean more truthful?? Mine."
The saga continued, though. Amanda shared her side of the situation in an Instagram story.
Throughout a series of short videos, Amanda ranted about Robby's claim that he met her children. Amanda said,
"I'm still up watching Bachelor in Paradise, but I am kind of being called out for being a liar, so I want to come on here and clarify a couple things because I always like to be very honest with you guys. First off, on tonight's episode the whole cheating thing got brought up with Robby and I in Colorado. I actually didn't want that to be brought up and didn't know that was going to be brought up. When I had those photos to me- by somebody on Instagram, I told her to please keep them private. I had been through enough in my dating life. I had obviously been through a lot with my relationship last year that I just didn't even want that out there. I did not want that getting brought up. I know that probably wasn't great to have brought up for Robby. Regardless, I'm all for taking responsibility for your actions, but now I'm being called out because that was brought up. And the one thing that I will clarify — the rest of it I'm just gonna take the high road — the one thing I want to clarify because I want to be honest with y'all is that he is making it sound like I introduced him to my kids when I said multiple times that I had never brought him around my kids. So we dated from the time we got home from Paradise — we got together that weekend — and up until about a week and a half before the reunion. There was one time he saw my kids. They were in the car in their car seats. Other than that, there were times where we did dog sit his dog. He was never around. My kids were never here when he dropped off his dog or picked him up. So I just wanted to make that clear because I never want you guys to think that I'm lying to you. I've never had him around my kids. He was never over here hanging out. So to make it very clear: No, I never brought Robby around the girls. He's never hung out. He's never been at my house when my kids were here. We've never gone on an outing with him. Nothing. At all. Except one time him seeing them when they were in the car literally strapped in their car seats. Apparently he wants to use that against me.
While Amanda was posting her Instagram stories, Robby retweeted a post that said "I believe @RobbyHHayes. Never trust a woman who leaves her kids to find a man. Nope. #BachelorinParadise." In response Amanda wrote, "so disappointing."
As if breakups aren't hard enough, public breakups are a whole new ball game — especially this one with some big accusations from both sides. To paraphrase Chris Harrison, this breakup was definitely one of the "most dramatic in Bachelor history."