Amanda From 'Bachelor In Paradise' Thinks She Knows Exactly Why Robby Is Starting Drama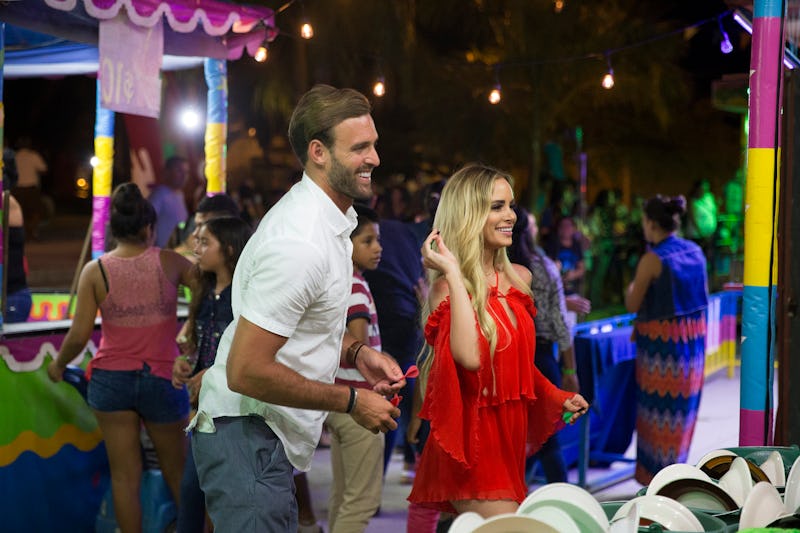 ABC/Paul Hebert
Even though they had a very short-lived relationship, it feels like Bachelor in Paradise Season 4 cast members Amanda Stanton and Robby Hayes are having one of the longest reality TV breakups of all time. The drama just never seems to end and it's very public. And now, Amanda's admitted she's embarrassed by their social media exchanges.
Yes, Amanda did look for love on reality television, but she is not about having her business aired out in such a public forum. Unfortunately, that's exactly what happened when Robby responded to one of her tweets with screen shots from one of their email conversations.
The mother of two appeared on the April 17 episode of Dean Unglert's Help! I Suck at Dating podcast. Amanda confessed to her fellow BiP Season 4 cast member, "I was actually pretty embarrassed by it, because when I tweeted that, I never, obviously, expected that to happen, nor did I want attention from it. So, I guess I was confused why he reacted that way, because no one would have known it was about him."
Amanda tweeted (and deleted) a post about an unnamed ex who emailed her about payment for his annual pass at Disneyland. It wasn't clear who it was about and it really just came across as a self-deprecating tweet about her own taste in men.
On its own that tweet wouldn't have garnered much attention, but when Robby replied, made it clear that she was referring to him, and attached screen shots of private email conversations between the two of them (in order to show that he wasn't asking her to pay for the Disney pass, just alerting her to the situation since it had to do with her credit card) it became a big deal.
Considering that Amanda's tweet didn't name the guy she was referring to and there was not even a subtle indication that it was Robby, it's hard not to wonder why he decided to have (another) very public social media exchange.
In the conversation with Dean, Amanda said, "I don't know if he just wants attention, and that's why part of me doesn't even want to talk about it, because I feel like I'm giving him what he wants. Like, he doesn't even care that it made him look bad. I feel like he just wants attention — whether it's good or bad."
Amanda shared, "I guess what I was so confused about is that it's been eight months, and I have obviously moved on with my life." It is unreal how long this breakup has lasted, especially in comparison to the length of their relationship. Amanda also shared that she doesn't even "consider him an ex," and based on her explanation it sounds like she included it because it would seem funnier. On the show, she even recognized that that would make it even less clear it was him.
Yes, Robby took things much further when he posted private email conversations, but Amanda is actually the one who tweeted first. Amanda owned up to that and admitted, "I think my mistake is saying anything on Twitter. I did think it was funny and that's why I said something. I had no idea and I was completely shocked that he reacted the way that he did."
Amanda added, "I wasn't going to ever tell anyone it was about him." Everyone knows now, though. It's a shame that things got so ugly so quickly, but Amanda shouldn't be "completely shocked" that it went down that way. This isn't the first time that the two of them argued on social media post-breakup.
In September 2017, Amanda and Robby had a social media war that spanned both Twitter and Instagram. Robby (allegedly) made out with another girl at a concert while he was "dating" Amanda, they broke up and twins Emily and Haley Ferguson called him out during the Bachelor in Paradise Season 4 finale. Robby and Amanda went back and forth on two different social media platforms for that argument, so the fact that they solely stuck to Twitter this time around could be viewed as progress.
On April 11 (the same day that the Disney argument went down), Amanda tweeted, "Some people don't even deserve your time..." And on April 12, she posted about forgiveness. Once again, Amanda didn't indicate who this post was directed at, but considering that this was just one day after the latest social media blowup with Robby and that it is applicable to the situation, it could mean that she's done discussing Robby on social media.
Robby did not respond to that last tweet, but he did joke about the Disneyland Twitter exchange in response to other followers. A fan tweeted "SOMEONE HAD TIME TODAY" and Robby replied with "it was between naps." When another follower tweeted a GIF of a shocked reaction, Robby responded, "Hahaha!"
Robby thought his reply was funny and even insisted that he was "just being courteous," so it doesn't seem like he's sweating the negative attention they both received.
Amanda said that she was "so embarrassed" by the Twitter fight on Dean's podcast. Hopefully, this means that she is done shading Robby publicly and the social media war is over. Amanda has 1.1 million Instagram followers and 171,000 Twitter followers. Now, she can get back to being the true social media influencer, sharing positive content about her family, fashion, beauty, or anything else that has nothing to do with this past relationship.