Amandla Stenberg Came Out As Gay In A Powerful Interview About The Freedom In Being Yourself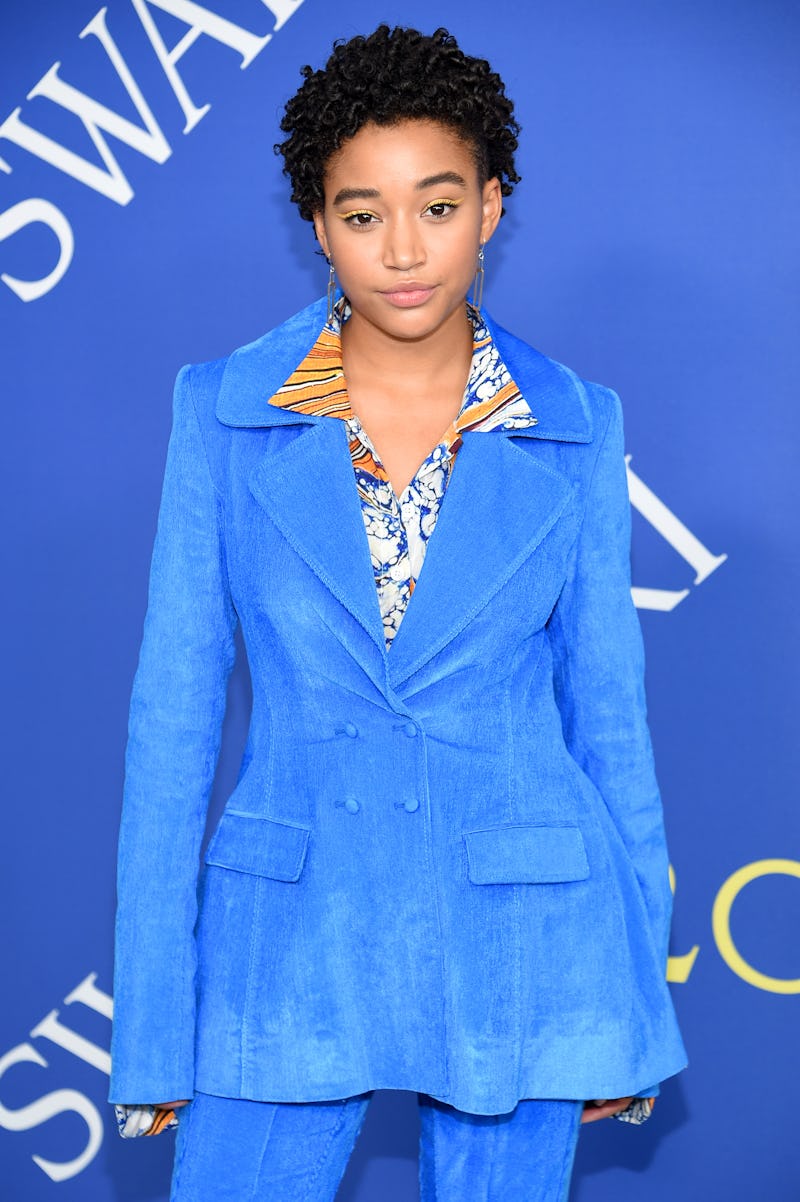 Dimitrios Kambouris/Getty Images Entertainment/Getty Images
Amandla Stenberg has been an outspoken advocate for diversity and inclusivity, and now she's speaking her own truth. In a new interview with Wonderland published Monday, June 18, Stenberg came out as gay, and her words emphasize the power in being yourself.
The actor told the magazine,
"I was so overcome with this profound sense of relief when I realized that I'm gay — not bi, not pan, but gay — with a romantic love for women. All of the things that felt so internally contrary to my truest self were rectified as I unravelled a long web of denial and self deprivation."
The Everything, Everything star — who previously said she identified as bisexual in 2016 on Teen Vogue's Snapchat, according to Time — told Wonderland that coming to that realization that she was gay was really freeing. She explained, "I was flooded with a sense of calm and peace because everything that I struggled with or felt discomfort around finally made sense to me, and once those floodgates opened and years of pent up pain and shame were released, I found the freedom to live my best life waiting for me just underneath."
The 19-year-old, who got her big break playing Rue in The Hunger Games, said that growing up she always connected to the poetry of lesbian writer Audre Lorde, and looked up to people like openly gay musician Syd, now one of Stenberg's close friends, who "was and is one of the only very visible and proud, black, gay women in media." Stenberg said the lack of black queer female representation in the mainstream made it more challenging to discern her own identity.
In the Wonderland interview, she explained,
"Had I had more representations of black gay women growing up I probably would've come to conclusions around my sexuality much earlier because I would've had more of a conception of what was possible and okay. Having more representations of black gay women now and seeing myself reflected in them has been a huge aid in seeing myself as whole, complete, and normal."
Stenberg also told the magazine that she is thankful to identify as gay, and for the unique perspective that her. She said,
"I'm grateful for how being gay has afforded me this ability to experience and understand love and sex, and therefore life, in an expansive and infinite way. The continual process of unlearning heteronormativity and internalized homophobia can be difficult, but one of the biggest blessings lies in the magic that comes from having to understand love outside the confines of learned heterosexual roles. It is the power to reveal the ethereal love that exists within us underneath socialization."
Stenberg took to Instagram on Sunday to share her excitement about the article and about coming out publicly, posting photos from the shoot and writing, "OUT & PROUD. So happy to say the words Yep, I'm Gay in official print," along with the some rainbow and sparkle emojis.
The actor also previously opened up about her gender identity, telling People in April 2017 that she considers herself fluid.
"I've said before that I'm comfortable with using the pronouns 'they' or 'them' alongside 'she' and 'her' just because that's a conversation that's important to me," she told the magazine. "I don't necessarily always subscribe to female pronouns just because I don't think that pronouns are necessarily very meaningful."
Stenberg's next film, an adaptation of Alexandra Bracken's The Darkest Minds, will hit theaters in August, which follows a group of young people who develop powers after disease has killed most of the children in the U.S., according to BuzzFeed, and Stenberg plays Ruby, one of the most powerful teens, which seems fitting.
Based on her Wonderland interview, Stenberg seems thrilled to be sharing her truth with the world, and fans can see her changing the world on-screen as well come August.