Amandla Stenberg's Election Night Story Has An Eerie Connection To America Under Trump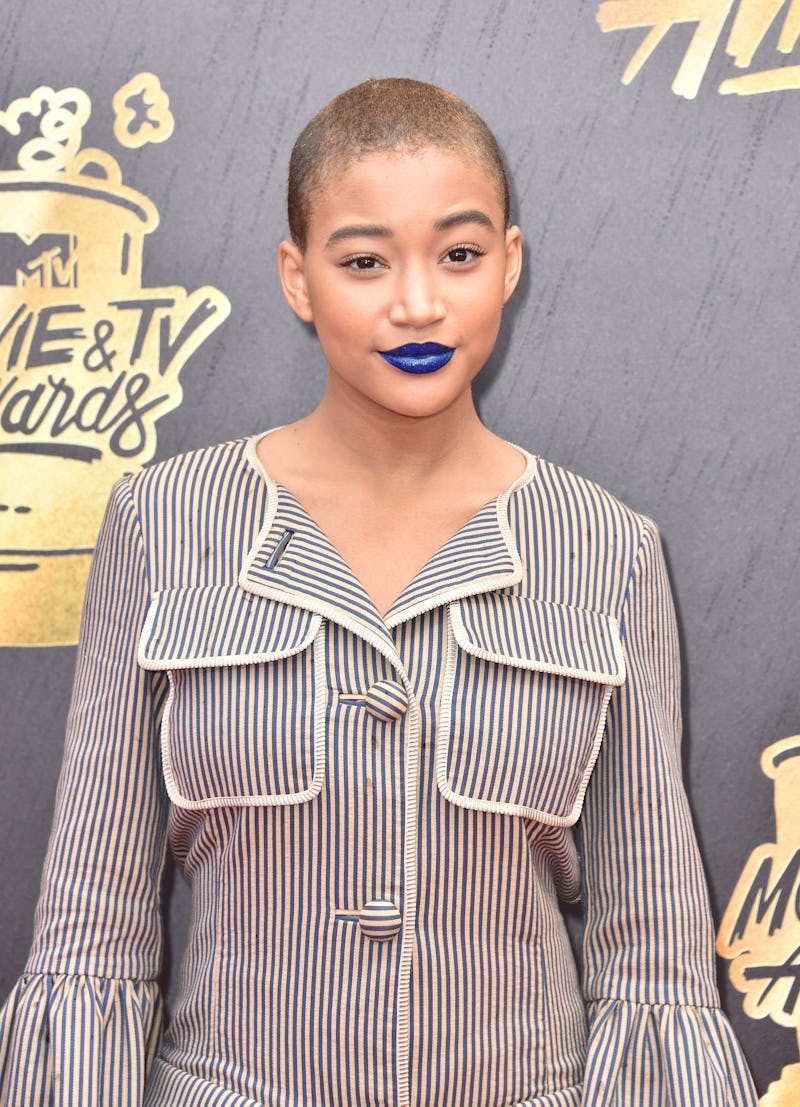 Alberto E. Rodriguez/Getty Images Entertainment/Getty Images
Countless celebrities have shared their Election Day horror stories since Nov. 8, 2016 following the election of President Donald Trump. However, in an interview with Janelle Monáe for Teen Vogue, actor Amandla Stenberg said they heard the election results from a visually shocking and strangely foreshadowing source — a fellow actor dressed as a Nazi. The 18-year-old said they were on a movie set for the film Where Hands Touch, "about a biracial girl growing up during the Holocaust," when a co-star shared the news.
Stenberg said:
"In the scene, my character's papers get taken away by a Nazi officer and the officer yells in her face, basically telling her that she does not belong in her own country. An actor playing a Nazi soldier took out his phone to refresh the news and announced that Trump was president. I was actually seeing this come out of the mouth out of an actor dressed in a Nazi uniform. Immediately, I excused myself because I felt like I couldn't breathe anymore. I started sobbing. It was shocking. It made me really question how we could reach a point where our country is so divided."
Sadly, this would not be the last time Stenberg would be confronted with this historic visual of hatred nor experience the extent with which the United States is actually divided. Their interview was published three days after thousands of white supremacists and neo-Nazis held a rally in Charlottesville, Virginia protesting the removal of a statute honoring Confederate Gen. Robert E. Lee. Although they weren't dressed in traditional Nazi uniforms, the protestors wore everyday clothes while spreading their message of anti-semitism, racism, and white power — thus making their presence and proximity to the public uncomfortably close. These men and women weren't actors. They were our neighbors, co-workers, and classmates.
As disheartening as the Charlottesville rally was, Stenberg responded with a subtle yet effective Instagram post — a black and white photo of a backyard with a small sign that reads "#RESIST."
Stenberg's emotional reaction to Trump's election in contrast to her blunt Instagram post captures the mentality they've chosen to adopt throughout Trump's presidency. From talks of building walls to denying transgender men and women the opportunity of serving in the military, the country's progress appears to be unraveling. Stenberg told Monáe their director on Where Hands Touch, Amma Asante, offered them wise words of comfort to get through the next four years. "She told me that progress is like a coil you have to go down in order to circle back up again. That's how it's worked throughout history. That's how it will continue to work."
One could argue the country has been in the midst of a downward spiral since Nov. 8, 2016. Nearly a year later, Stenberg's Election Day story mirrors the reality America has come to face. The country is and has been split on the basis of race, color, religion, gender, and sexual orientation. And now, white supremacists feel emboldened enough to show their faces, especially under a president who can take two days to condemn their blatant hate speech
Watching history repeat itself can be too much to bear for just about anyone. And in Stenberg's case, there's no one to call "cut" when confronted with actual hatred in the real world. Yet taking action, speaking out, and inspiring others as Stenberg does will lead others toward circling back up toward progress.