Amazon May Have 8 New Alexa Devices In The Works — Including A Microwave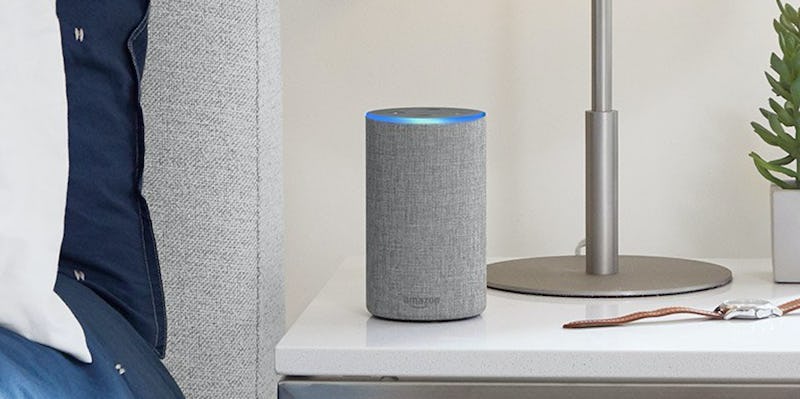 Amazon
Amazon Alexa devices have taken the world by storm over the past couple years. We use them to check the weather, listen to our favorite playlists, and get answers to our most obscure factual questions. Alexa has made its mark as a household tool, but today most of us (probably) still just regard it as a hi-tech speaker. Amazon, however, wants to expand Alexa's abilities far beyond telling us who the actor in the movie we're watching is and playing Top 40 hits — in fact, rumor has it that Amazon is making plans to release at least eight new Alexa devices before the year ends.
CNBC explains that Amazon's long-term goal is to make Alexa home assistants useful in as many parts of our lives as possible, especially in places we frequent: like our homes and cars. It makes sense — Alexa devices have skyrocketed in popularity ever since their release (TechCrunch reports that roughly 39 million Americans own smart speakers), so why not expand their influence? Amazon supposedly working to release eight new Alexa-controlled devices before 2018 comes to an end — what exactly do they have in mind?
According to CNBC, the variety of the new devices is pretty wide. Among them are an amplifier, a receiver, a subwoofer, an in-car gadget, and even a microwave oven. An Alexa-powered microwave? I don't know exactly what that entails, but I know it involves food — so there's reason to be excited.
"All of the devices will be Alexa-enabled, meaning they can easily connect to the voice assistant. Some of the devices will also have Alexa built in," Eugene Kim of CNBC reports. Be on the lookout for more information in the coming months, as Amazon is set to reveal more about the plans at an event next month.
Amazon has the future of fully-fledged smart homes in mind while they create new Alexa-controlled devices. They've already had success with the original Alexa speaker device, Echo home products, and have recently acquired smart-doorbell security startup Ring (at a hefty price of $1 billion). The new amplifier device would offer customers the ability to connect speakers throughout their home, while the microwave and in-car gadgets could expand Alexa's reach to the kitchen and car. Amazon is even going straight to the source and has been collaborating with home construction company Lennar (the nation's largest home builder) to build Alexa devices straight into Lennar houses.
In May, USA Today revealed that "standard features in [Lennar's] new homes will include built-in Wi-Fi, smart locks, doorbells, thermostats and lights — all controlled by Alexa, Amazon's voice-activated digital assistant."
"This will be the hallmark of why we buy a new home," explained president of Lennar Ventures David Kaiserman. "It's an important step in the mass adoption of all these technologies." With this huge step (which no other major home construction company has yet taken), it seems that Amazon is making strides in its goal to begin making Alexa devices the cornerstone of the modern American home.
Whether you love your Alexa or have some reservations about the increase of technology in your home, be prepared: this is only the beginning for Amazon.