Amazon Prime Members, Rejoice: You Can Get Discounts At Whole Foods As Soon As Monday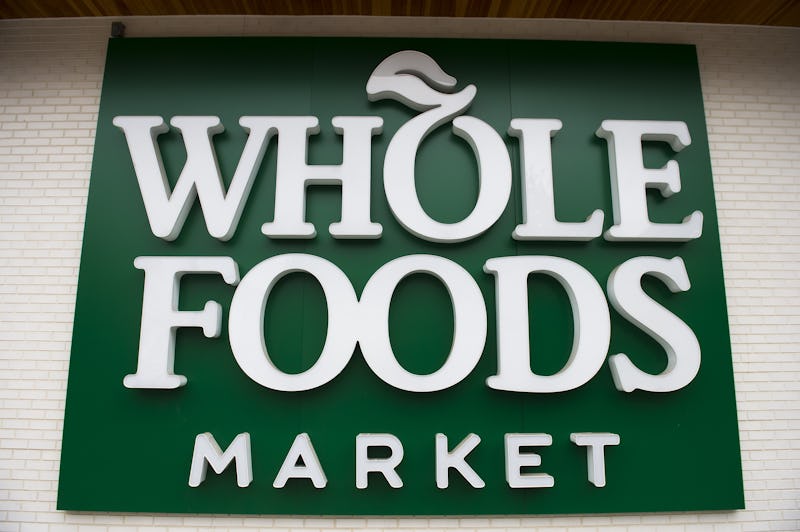 SAUL LOEB/AFP/Getty Images
Amazon has officially confirmed that their takeover of Whole Foods Market will go into effect on Monday, August 28th. Even better, the massive internet retailer says the first thing they're doing is making Whole Foods more affordable. So if you (like myself) have historically avoided Whole Foods grocery stores for the sake of your bank account, you might want to give the chain another chance. Amazon is lowering Whole Foods prices on Monday; and if you're an Amazon Prime member, you'll be eligible for even more discounts than the rest of us.
It's reasonably difficult to believe that the same retailer who once sold "Asparagus Water" for $6 wants to become a healthy neighborhood grocery store for The Common Folk. After all, it's only been two years since WFM had to pay $500,000 in fines because New York City's Department of Consumer Affairs accused Whole Foods of "systematic overcharging for pre-packaged foods." Still, Amazon seems pretty serious about making healthy groceries more accessible to their customers. As Jeff Wilke, CEO of Amazon Worldwide Consumer, said in a statement on Thursday: "Everybody should be able to eat Whole Foods Market quality — we will lower prices without compromising Whole Foods Market's long-held commitment to the highest standards."
According to reports, it looks like Amazon will be slashing prices on some of the grocery store's priciest items first. Of the many Whole Food items Amazon is marking down next week, organic groceries are at the top of the list. Organic brown eggs, organic apples, organic salmon, and organic avocados will reportedly be among the first round of Amazon's markdowns. Amazon Prime members will also start getting "special savings and other in-store benefits" soon, according to the statement.
It appears Amazon won't be doing away with the physical Whole Foods buildings, either. So if you already shop at Whole Foods, you can rest assured that your favorite store location probably isn't going anywhere. Though Amazon will be offering Whole Foods-branded items on Amazon.com and other Prime platforms, this doesn't mean the grocery chain is going full-on digital. Amazon has confirmed that they'll be setting up Amazon lockers — where customers can pick up or return items purchased on Amazon.com — but it's hard to tell exactly what Amazon's takeover means for the future of Whole Foods. The e-tailer is currently testing out no-cashiers convenience stores in Seattle, so there's really no telling what Amazon might come up with for Whole Foods.
I don't know about you, but it looks like I'll be spending way more time at my friendly and newly-affordable neighborhood Whole Foods. Here's to being able to say the words "affordable" and "Whole Foods" in the same sentence.