Amazon Black Friday Deals Include A Huge Discount On Kindles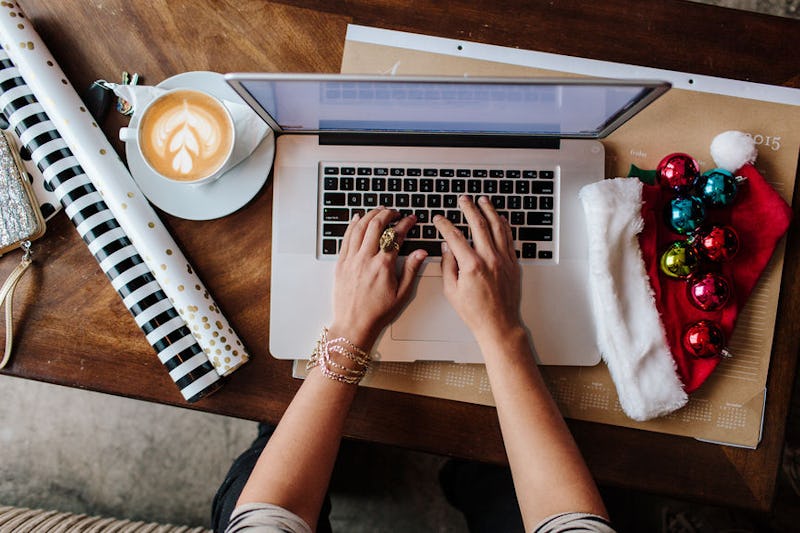 Kristen Curette Hines/Stocksy
If you're in the market for a new eReader this holiday season, you're in luck. On Thanksgiving, Amazon's early Black Friday deal includes Kindle Paperwhites and Kindle Paperwhite Essentials Bundles for $40 off the regular price. This deal for Amazon Prime subscribers allows you to snag a waterproof eReader for as low as $79.99. This isn't the first time Amazon has deeply discounted its Kindle models in 2018, but it might be the last time the Paperwhite goes on sale before the holidays kick off. Keep reading to find out more about Amazon's latest deals for eBook fans, as well as a new discount on Audible subscriptions.
The Kindle Paperwhite comes in 8- 32-GB varieties, and features a 5-LED screen to make reading in the dark easy as pie. If you have a bluetooth speaker or headphones, you can listen to Audible purchases on the Paperwhite as well. For first-time Kindle owners, the Kindle Paperwhite Essentials Bundle includes an AC adapter and a leather cover, available in your choice of six colors.
Entries in Amazon's Fire line of tablets are also going on sale. The Fire 7 and Fire HD 8 tablets will be $20 and $30 off, respectively. Shoppers can also get $39 off the price of a Fire HD 8 tablet with Show Mode Dock, or $59 off the price of a Fire HD 10 tablet with Show Mode Dock. Deals on Fire tablets begin on Thanksgiving for Amazon Prime members.
In addition to its Kindle Paperwhite sale, Amazon is also offering a huge discount on new Audible subscriptions, but you don't have to wait until Thanksgiving to claim that deal. New subscribers can get three months of Audible for just $6.95 per month, or $20.85 total. That's a 53% discount, which means you save $24 on your first quarter as a new Audible subscriber.
Included in that deeply discounted Audible deal, you'll receive three new eAudiobooks every month — one of your choosing, plus two Audible Originals. If you don't want or need a new book, you can roll over your credits for up to four months. Audible eAudiobooks remain in your possession even if you let your subscription lapse, so you'll never lose content you've paid for.
That isn't all, however. Monday only, new Audible subscribers will also receive a $39.99 credit toward any Amazon Echo Dot purchase made in the next two weeks, while supplies last. If you've been itching for the chance to upgrade your apartment to a ~smart home~, your time has come.
Check out all of Amazon's Black Friday deals here.