Listen To America Ferrera Read An Excerpt From Her Book 'American Like Me'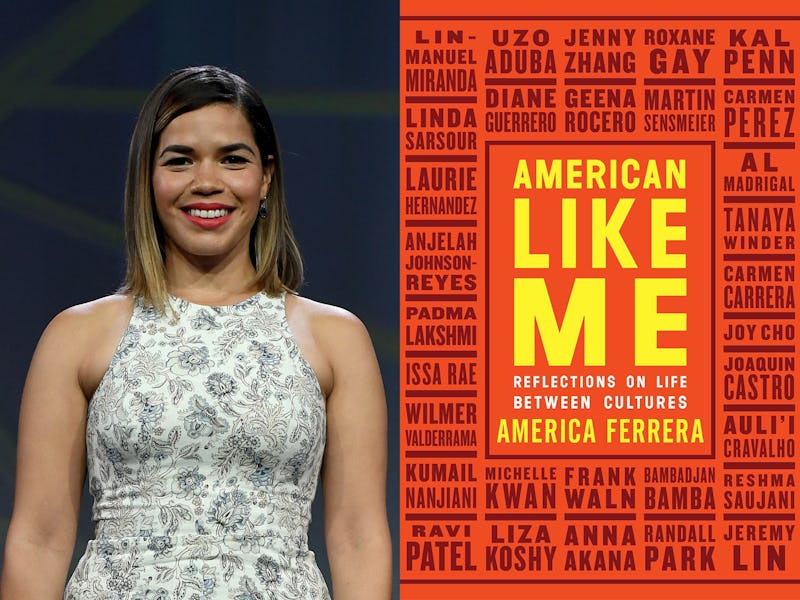 Ethan Miller/Getty Images Entertainment/Getty Images
What does it mean to be American? It's a question that has been asked repeatedly since 1776. And with the current political and social climate in the U.S., the discussion has only reached a fever pitch after almost 250 years — particularly for those who have roots in two different cultures. One such American, actress and activist America Ferrera, has gathered together an illustrious group of public figures for American Like Me: Reflections on Life Between Cultures, an anthology all about the experience of growing up both wholly American and yet decidedly something else, too. Bustle's got an excerpt from the audiobook, read by Ferrera, below!
American Like Me, out now, is edited by Ferrera and features first-person accounts from 31 artists, activists, writers and politicians — including Lin-Manuel Miranda, Roxane Gay, Auli'ICravalho and Randall Park — all about their lives as immigrants, children or grandchildren of immigrants, indigenous people, or people who otherwise grew up with deep and personal connections to more than one culture.
Ferrera was inspired by her own upbringing as the daughter of Honduran immigrants, where speaking Spanish at home, having Saturday-morning-salsa-dance-parties in the kitchen, and eating tamales alongside apple pie at Christmas never seemed at odds with her American identity. And yet, she could never really find herself represented in the larger narrative of "Americanness." Like Ferrera, each of the anthology's writers struggled to establish a sense of self. Each of them has come to develop a completely personal and unique take on their own identities.
In the clip below, Ferrera reads from her own essay in the collection, which shares a moving account of why, at nine years old, she'd grown to hate her own name, thanks in large part to the Pledge of Allegiance.
Ranging from the heartfelt to the hilarious, the stories in American Like Me promise to shine a light on a quintessentially American experience — one that will certainly appeal to anyone with a complicated relationship to family, culture, and personal identity. And if you've been paying attention at all over the past year, you'll probably know by now that stories like these are not only widespread, but that our collective embrace of them is crucial if we have any hope of truly embodying that lofty goal of "life, liberty and the pursuit of happiness" or, according to nine-year-old Ferrera, "life, liberty and a place on the Dodgers batting line-up."
American Like Me edited by America Ferrera (Audiobook), $14.88, Amazon
The collection is available now and features stories from Issa Rae, Jeremy Lin, Anna Kana, Joaquin Castro, Jenny Zhang, Diane Guerrero, and more.