Watch America Ferrera's Incredibly Powerful Speech At The "Families Belong Together" March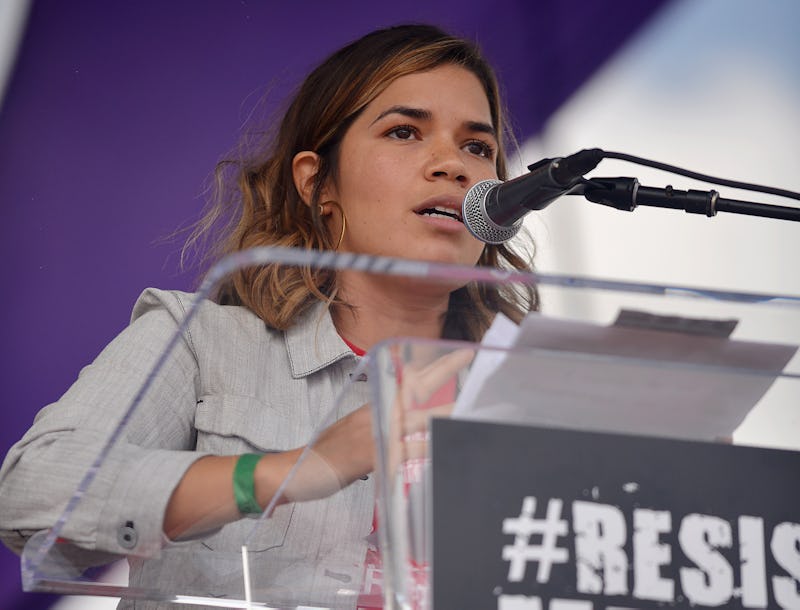 Chelsea Guglielmino/Getty Images Entertainment/Getty Images
On Saturday, June 30, the "Families Belong Together" marches took place in cities across the United States. Celebrities, humanitarians, and activists flooded New York City, Washington, D.C., and other cities to protest the Family Separation policy enforced by the Trump administration. Video of America Ferrera's "Families Belong Together" march speech, which she delivered in Washington, D.C., is especially powerful. In addition to her own words, she read the words of a letter of someone struggling to reunite with their children under the "zero tolerance" separation policies.
In the speech, she begged the crowd to imagine, just for a moment, that they were in the place of any one of the families torn apart by the current administration. "What makes humans remarkable is our capacity to imagine," Ferrera stated, "We have an imagination — let's use it."
Ferrera, who was born in Los Angeles, is the daughter of immigrants from Honduras. As part of her speech, the actor and activist then read a letter from a man trying to sponsor his granddaughter. "As I read these words from a grandfather who is fighting to be reunited with his granddaughter," Ferrera addressed the crowd, "I want you to imagine that this is your child — that you are this grandfather."
She went on to explain that while she was reading his words, the names were changed for both of their protection. Watch the video of Ferrera's speech at the "Families Belong Together" march below.
"I am the grandfather of Teresa, who is currently detained at Shiloh Residential Center," Ferrera began reading. "I am currently living in a duplex apartment in Oakland, CA. I work every day as a food vendor." The actor continued reading the heartbreaking letter:
"I want to be [Teresa's] sponsor because she is my granddaughter, and I am her grandfather. I spent a lot of time with Teresa when we both lived in El Salvador. I came to the U.S. when she was five years old, and I've helped to financially support Teresa and her mother ever since."
Ferrera then paused to gather herself. "I think I would be a good sponsor for Teresa," she read, "Because I want to take care of her" — here, the actor's voice broke for the first time — "And I am able to do so." She went on:
"In February 2018 a home investigator came to my house. She asked me a lot of questions and had me fill out a lot of paperwork. I got the impression the home investigator did not think I made enough money to financially support Teresa and myself."
At this point, Ferrera paused again, before continuing on. "I know I don't make a lot of money, but I make enough to care for Teresa," continued Ferrera, "Everything I have," and here the actor was choked up again, "I will give to her." Unfortunately, the letter did not have the happy ending most would hope for.
As the actor continued, the letter painted a grim image of the reality of the administration's policies. The letter concluded:
I have not heard anything since [the home investigation]. When I reached out to the social worker at the Shiloh Treatment Center, she told me that the Office of Refugee Resettlement threw out my application.
Upon this, the crowd gasped, booed, and a chorus of "Shame!" chants broke out. Ferrera soldiered on, as the final words were perhaps the most important.
"[The ORR] told me they are going to transfer Teresa somewhere else. The last time that we talked, she told me that she was starting to feel desperate. I told her not to lose hope, and that were are just waiting to see what the government says about me. Please remember these words, and Teresa: Please do not lose hope."
Ferrera was not the only celebrity to speak at a "Families Belong Together" march, as Alicia Keys and Lin-Manuel Miranda also offered powerful speeches. Miranda even sang a lullaby he wrote specifically to soothe the children separated from their families. Let's hope against hope that the literal dozens of marches taking place on Saturday will effect real and lasting change — for everyone.