Evan Peters' New True Crime Movie Takes On White Male Privilege & Here's What He Thinks About It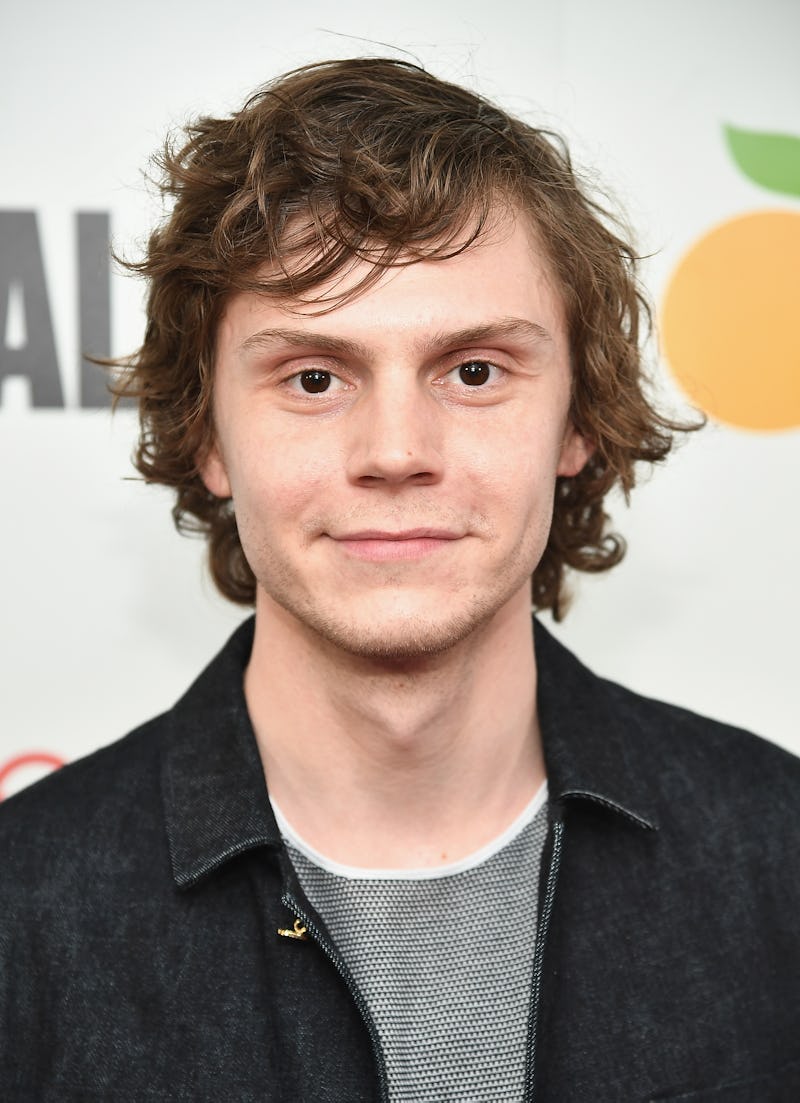 Dimitrios Kambouris/Getty Images Entertainment/Getty Images
When four restless college kids in 2004 Lexington, Kentucky learned of an extremely rare, poorly guarded book hidden in their library, they did what they felt was natural — try to steal it. The result, though, was unsuccessful, and the eyebrow-raising true story is being recounted in the new movie American Animals, out June 1. The film stars American Horror Story's Evan Peters as Warren Lipka, Barry Keoghan as Spencer Reinhard, Blake Jenner as Chas Allen, and Jared Abrahamson as Eric Borsuk, and it asks a valid question: why exactly would four privileged young guys choose to commit such a crime? Well, American Animals is a study on white male privilege and what happens when it's left unchecked.
Speaking over the phone in late May, Peters tells Bustle his theory for why Warren and his pals — who seemingly had everything they could need — decided to become thieves. "I think he felt trapped by, you know, everything," says Peter. "He felt like a caged animal. I think he wanted to get out, and he wanted to blow it up... and he saw this shortcut, and he saw this opportunity to do it."
The men "thought it would be fun and an adventure, and nobody was going to get hurt, and they were going to be rich and have a story to tell," Peters continues. "And I think [Warren] just didn't think about the consequences of that or that it was wrong."
Yet of course there were consequences to the crime, which centered on John James Audubon's Birds of America, worth $12 million. As the film portrays, the tomes were guarded by Transylvania University school librarian (played by Ann Dowd), but that didn't stop the men from plotting to steal them. As they prepared for the heist, it's clear they viewed the whole thing as a game; Warren even gave the group code names straight out of Reservoir Dogs — Mr. Black, Mr. Green, Mr. Yellow, and Mr. Pink.
It's only when things got violent that the men started to realize what they were doing, and that things got complicated. According to Peters, the heist was the most difficult scene to film. The "heightened emotion, intensity, and physicality of it all was pretty intense," the actor recalls. Shooting those scenes might've been difficult, but the cast had the real men to use as inspiration. American Animals is a unique marriage of documentary and dramatic reenactment, featuring interviews with the actual four men inter-spliced with dramatic scenes. At one point, Warren and Peters even appear on-screen together, which the actor recalls as being "an interesting, weird, surreal experience for him and for me." Clearly, all the real men were involved with the movie; the real Spencer even designed one of the posters.
Yet despite the men's involvement, Peters explains that director Bart Layton didn't want the actors to interact with their real-life counterparts — who spent time in jail after being convicted of their crimes — before shooting. "He didn't want it to color our performance," Peters says. "He was worried we would develop friendships with them." Still ,the actor reached out to Warren anyway and talked to him, despite Layton's objections. And when everyone finally met on-set, Peters says he was almost starstruck: "They're the real guys, you know, they actual did this, and...in a weird way — I wouldn't say looking up to them, but you're...trying to play them to the best of your ability, so you're...trying to learn everything you can about them."
Including why exactly they did what they did, something even audiences of the film won't totally understand. "I think they wanted things to come easy for them," the real librarian, Betty Jean Gooch, says in the movie. "They did not want to work for a transformative experience." Sounds like the very definition of privilege.