American Apparel Is Closing Its Doors For Good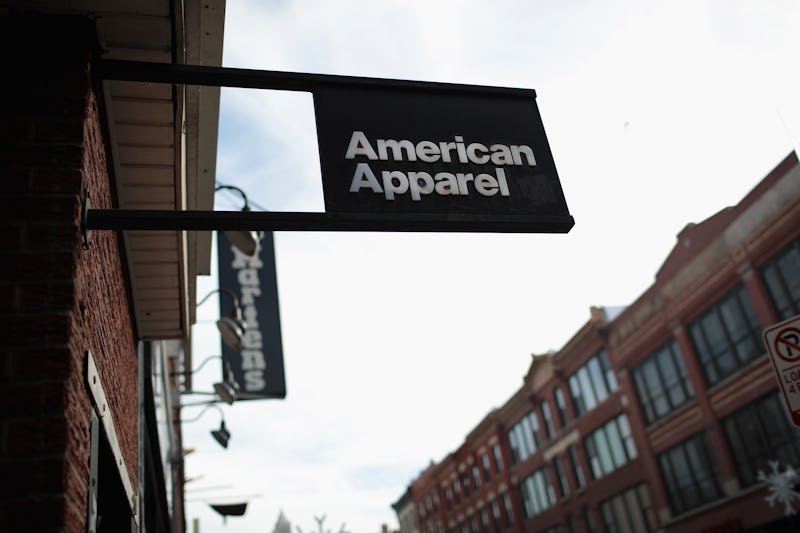 Scott Olson/Getty Images News/Getty Images
Bodysuit lovers and minimalist dressers, take note: American Apparel is closing, shutting down its American-made factories and 110 stores. The news threw Twitter into a mixed bag of conversation, including shouts of disappointment, sale alerts, and concern for workers for whom this news might mean unemployment.
The close might not come as a shock to some, as the brand has been surrounded with a number of controversies over the years — from their objectifying ads that glorify the male gaze to allegations of sexual assault within the company.
Despite all of that, the brand did operate the largest sewing factory in North America, employing approximately 3,500 factory workers. They also had hundreds of employees working in their stores and maneuvering high waist jeans on you from the sales floor, so the close is a big hit. They first opened in 1997, and according to The Atlantic, founder Dov Charney started the leg-warmer-touting company out of his dorm room at Tufts University in 1989. Decades later and at its peek, the company recorded "$633 million in sales with over 200 stores in over 20 countries."
But present day, the brand can't entice its consumers the way it used to. "The company is dead," Charney said to The Atlantic. "They're just tossing around a brand. It's like Polaroid or Sharper Image. The spirit of American Apparel is dead."
According to Nylon, the store was acquired by a Canadian-based brand called Gildan for $88 million, which purchased their intellectual property and some of their manufacturing equipment, but is shuttering the 110 store locations. Bustle has reached out to American Apparel for comment on the acquisition, but has not heard back.
Of course, Twitter had plenty to say about the news, and the topics of conversation truly ran the gamut.
For starters, a lot of folks were preoccupied with the upcoming closing sales that will slash prices way down.
Meanwhile, others feel it's high time for the brand to close seeing how it lacked diversity in race and body type, and the sexual assault controversies attached to the company and branding.
While some are applauding the close, others are heartbroken over losing their jobs — or their favorite place to shop.
There are a lot of mixed reactions, and all for good reasons. Here's hoping that everyone lands on their feet, and that at the very least, everyone who loves the brand will at least get a chance to score at the closing sales.