Katie's 'American Housewife' Journey Is Only Just Beginning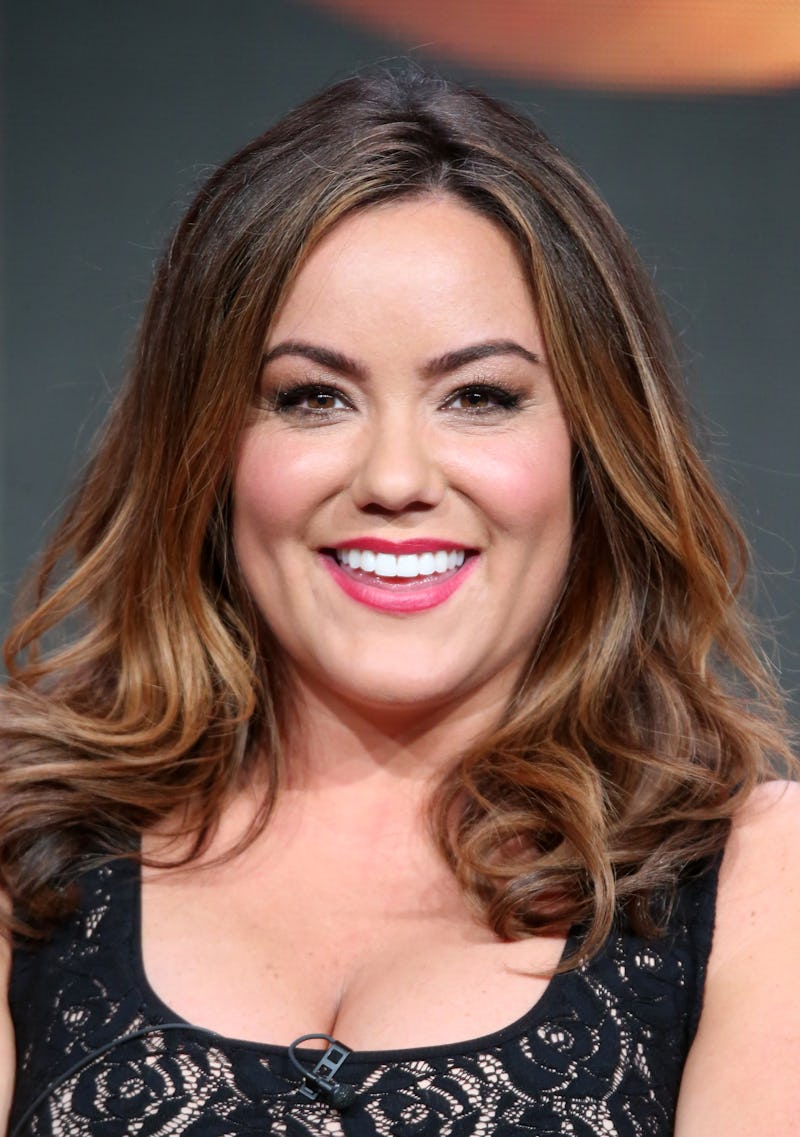 Frederick M. Brown/Getty Images Entertainment/Getty Images
If Katie Otto from American Housewife is the patron saint of screwing up and self-deprecation, actor Katy Mixon, who plays her, is the opposite. The bubbly and, dare I say, positive star helms ABC's best new comedy since black-ish (which is high praise coming from me), and just hours before the announcement that American Housewife was renewed for Season 2 (I would have thrown a huge protest if it did not), Mixon sat down with Bustle to talk about the show's evolution, her new unofficial role as the patron saint of self-acceptance, and the "divine appointment" of one of her co-stars.
Let it be known that Katie Otto and Katy Mixon are two different people — sometimes, it's hard to separate an actor from his or her role, but Mixon loves every minute of it. "Any time that you can play a character that is really kind of opposite of you, it's so intriguing, you know? I was looking forward to doing something so different than the Victoria character [from Mike & Molly] that I had been playing for six years, which I really adored," she says. "But truly, jumping from the Victoria character to a mom of three who doesn't wear hardly any makeup, baggy shirts, doesn't really care what she looks like … that totally was my jam. And so I got that four days after Mike & Molly ended … I walked into the room of American Housewife, honey, and the rest is history. It was kind of unbelievable."
American Housewife started as The Second Fattest Housewife in Westport, the story of creator Sarah Dunn's life in the suburbs, and, as the original name would suggest, a good portion of the beginning of the season was based on Katie's being bigger than the other moms in town. Now, at the end of the season, the show has taken on a life outside of body image issues, and it's just gotten better with age. According to Mixon, that's not a coincidence.
"I knew, at the beginning that yes, it was about the weight ... and yes, she's not a size two or a size four or a size eight, but we had to begin somewhere," Mixon says. "I've always said that the theme for me ... it doesn't matter what gender you are. It doesn't matter what background you come from, because everybody relates to insecurity. When you're given an opportunity to do what you want to do and be put in a role that has many different colors and many different levels, you always want it to last long enough so that people can see the evolution of it, you know?" She continues: "So I knew going into it that toward the fifth episode, the sixth episode, we're getting into all kinds of different things. I'm just grateful to be able to have been given that time to grow with the audience and it not stop short. It's many different stories to tell."
And as Katie has evolved (even slightly) in her own skin, Twitter and other social media is on fire with notes that Katie Otto is a new example for self-acceptance. "The thing is, honey, it's just who I am. You have to meet yourself where you're at. There's so much more to life than being self-deprecating and taking it so seriously," Mixon says. "I'm all for health and taking care of yourself, but everyone is so different! The journey, the way of life, you can't model yourself after one person. I'm a big [proponent] of just doing you."
One part of being able to be yourself has to do with the people around you, and for Katie Otto, that has a lot to do with her husband, Greg, played by Diedrich Bader. These two are my favorite couple on television, and according to Mixon, it was an instantaneous bond. "I knew it immediately when I met him," she says. "We did a chemistry read at ABC and there was no trying. It was a true divine appointment."
Thankfully, Katie and Greg (and the rest of the Otto clan) are ready to role for Season 2 of the show, so what is coming next for Katie? Mixon isn't quite sure, but she's happy to be along for the ride. Mixon says, "It's been fun to play a role where she just gets it wrong, and she tries, and she gets back up on the horse. You don't want to play a perfect person. It makes it so interesting to be able to bring to life a character." Fans will be able to see Katie continue to grow and make mistakes in the new episodes, and it sounds like it'll be quite the second season.