'American Housewife' Will Take You Back To Suburbia For Season 2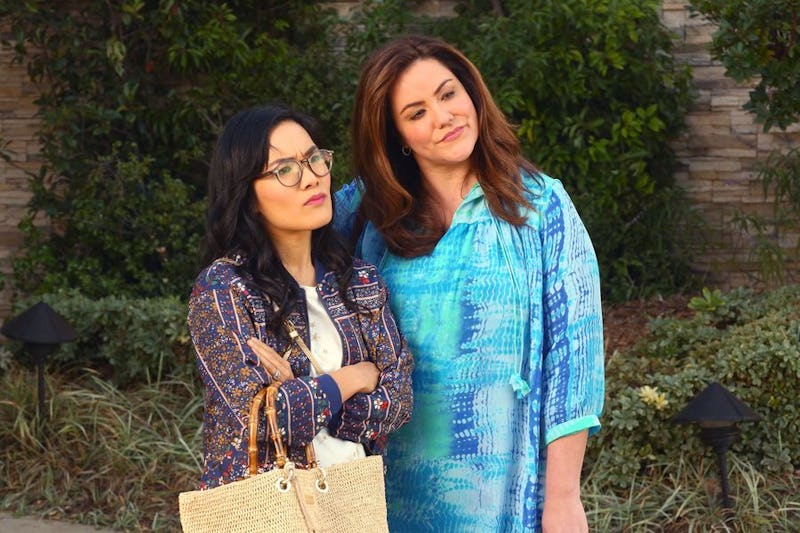 ABC/Michael Ansell
The grass is always greener on the other side of the fence, so the saying goes. And if your neighbor looks like a thin, impossibly flawless 19-year-old, her kale smoothies tend to look greener than your grass, too. That's the central premise of American Housewife, which stars Katy Nixon as an average mom struggling to raise her three kids while surrounded by outwardly "perfect," privileged mothers of Western Connecticut. Although some critics took issue with the prevalence of fat jokes in American Housewife early into its premiere season, the show has still managed to hold its own with viewers. So when is American Housewife coming back for Season 2?
UPDATE: ABC announced on July 25 that American Housewife will return for Season 2 on Sept. 27.
EARLIER: According to Deadline, American Housewife has already been renewed by ABC, and it's not hard to see why — when the show first premiered in October 2016, Deadline reported that it was the highest rated series on ABC that night. Apparently, it's the strongest series (ratings-wise) to come out of the network since Black-ish, even though it doesn't appear on ABC's regular Wednesday comedy block. While the network has not yet set a date for Season 2, it's safe to assume that Katie Otto and her wonderfully scrappy Connecticut family will be back in the fall for another 23-episode season.
Meanwhile, there are plenty of other hilarious shows about moms to catch up on while you wait for the next season of American Housewife.