North Korea Has Released American Otto Warmbier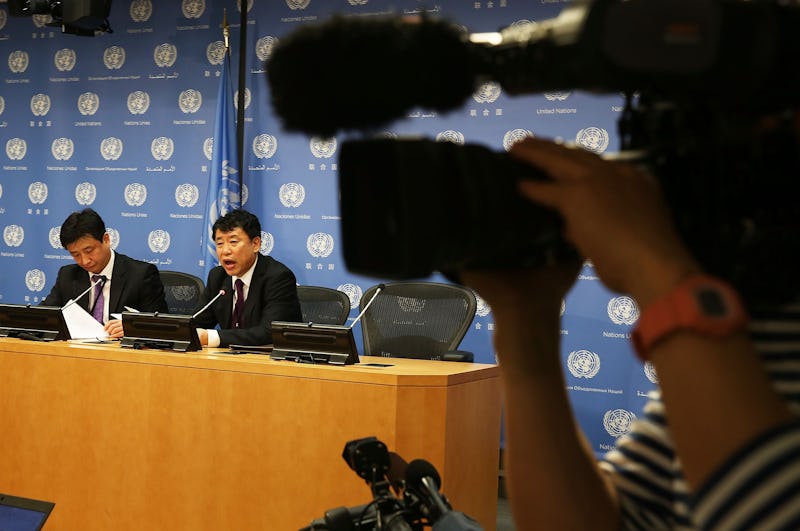 Spencer Platt/Getty Images News/Getty Images
Secretary of State Rex Tillerson announced Tuesday that North Korea has released jailed American Otto Warmbier. According to the Washington Post, the 22-year-old former college student has been medically evacuated from the country in a coma. Warmbier's parents told the Post that their son has been in a coma for more than a year, since shortly after his last appearance on North Korean state television. The terms of the release have not yet been reported.
While visiting North Korea over Christmas break from his junior year at the University of Virginia, Warmbier was staying at the Yanggakdo International Hotel in Pyongyang. It is there that North Korean officials claim Warmbier stole a poster that featured the name of former leader Kim Jong-il. The North Korean government accused Warmbier of "perpetrating a hostile act against the DPRK," with the intention of undermining "the foundation of its single-minded unity [with] the tacit connivance of the U.S. government and under its manipulation."
However, the evidence against Warmbier is inconclusive at best, and completely misappropriated at worst. The DPRK cited a grainy security video which showed an obscured figure removing something from a wall, which is far from conclusive evidence. The White House and State Department have both accused the North Korean government of overstating the charges and using Warmbier as a political pawn. Nevertheless, Warmbier was found guilty at his trial — which lasted less than an hour — and was sentenced to 15 years of hard labor in one of North Korea's notorious prison camps. At his last public appearance, Warmbier broke down sobbing, saying he had "made the worst mistake of [his] life."
It remains unclear if Warmbier will ever recover from the medical condition that he is reportedly suffering as he is evacuated from North Korea. According to the Washington Post, Warmbier's parents were told that their son contracted botulism shortly after his trial and was then given a sleeping pill, after which he never woke up. However, there's almost no way to verify this version of events.
Warmbier's release is a positive sign for tense U.S.-North Korean relations right now, but he was just one of several American citizens being detained in the DPRK right now. Plus, if Warmbier is found to have suffered human rights abuses, it could further destabilize the status quo between the U.S. and the DPRK. Whatever geopolitical consequences may come, Warmbier is on his way home to his family right now, something many people had believed may never happen.